Bird bloggers watch birds. We blog birds. We photograph birds. We write about birds. We study birds. We discuss birds. We feed birds. We chase birds. We listen to birds. We paint birds. We check birds off our lists of birds. We try to conserve habitat for birds. Sometimes we interact with birds.
Something as simple as looking at a bird can affect its behavior. Sometimes we might forget that as much as we are experiencing the presence of birds they are experiencing our presence. But this I and the Bird isn't going to plunge into a weighty screed about how humans have affected birds because this is a carnival! This is supposed to be fun! And what could be more fun than the bird watching you? It's about time the tables were turned!
I present your host and worldwide birderer, a Black-capped Chickadee: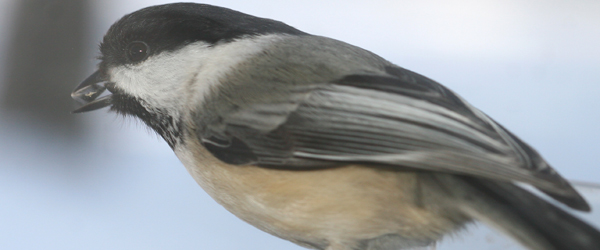 Oh, I'm on? Uh, let me eat this sunflower seed…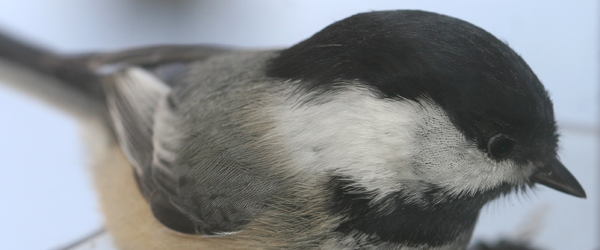 Much better. Anyway, as Corey was saying, I am a Black-capped Chickadee and the premier birderer in all the avian world! But lately I've noticed a big gap on my checklist where bird bloggers are listed. I think it must be all those hours that you folks spend inside, basking in the eerie glow of your computer screens. So I saved up my sunflower seeds and suet chunks and prepared for my around-the-world tour to see every bird blogger in this edition of I and the Bird!
My first check-mark of the trip was easy. Rich, a new bird blogger whose blog, Birding Rich Guthrie, chronicles his current Big Year in New York State, is a birder I have spotted many times over the years. I had to chase him down at the parking lot of a shopping mall where he was after a String of Pearls.
The next staked-out bird blogger was Mike from 10,000 Birds. I headed down the Hudson River to the Big Apple but was informed by a helpful pigeon that Mike hadn't been around for awhile…I guess even the best birderer dips on occasion. Oh well, at least GrrlScientist of Living the Scientific Life was easily viewable at her computer learning about an Ancient Roadrunner-like Bird from the Age of Dinosaurs. Neat!
I'd have stuck around to learn more but I had a hot tip on a couple of Pennsylvanian bird-bloggers. Sure enough I caught up to Drew of The Nemesis Bird watching Hungry Accipiters. My parents didn't stuff me full of bugs when I was still in the nest so I could be eaten by a sharpie so I kept to the bushes!
Next on my list was Carolyn from Roundtop Ruminations who educates all you weak humans about what to bring with you when hawkwatching in Hawkwatching 101. Ha! All I need is my eyes and my wits to spot a hawk and I have a lot more on the line than a check on a list!
Rather than continue west I decided to head south where my Carolina Chickadee cousins have been raving about the spread Jayne of Journey Through Grace provides for us avians. I spotted her investigating holes in trees, an investigation she wrote up in Just Take a Guess Who Did This.
I continued across the southern U.S. until I came upon Bill from the Gulf Coast Bird Observatory in Texas who has first-hand information about the First Glimpse of the Long-whiskered Owlet. I wish owlets were around upstate New York instead of those sneaky screech-owls.
On my way to Arizona I was amazed to see Mike from 10,000 Birds staring at sparrows on a Four Sparrow Day. He had eyes only for little brown jobs and never noticed me blending in with more of my Carolina Chickadee cousins. But I was thrilled at not having to return to New York City on list clean-up duty!
David from Search and Serendipity was there too but he was focused on Rainbows in the Blacklands and shorebird identification. Being a bird of the woods, I don't pay much attention to shorebirds so I couldn't help. Watch out for that snapping turtle though, he almost managed to grab one of my tail feathers. Those turtles will eat anything!
Rick from Aimophila Adventures wasn't around in Arizona but Kevin from Natural Visions was. I watched him photographing some pretty nice birds and some unfortunate House Finches in Watching Behaviors + 3 "Unusual" Birds. I feel for those House Finches: beak deformation and eye diseases are no fun.
From Arizona I took the long flight to Minnesota to track down Greg of Evolution…not "just a theory" anymore. He is enamored of The Rare Birds, including that Long-whiskered Owlet about which Bill also blogged. Birders and their rare birds…don't get me started.
While in the land of 10,000 lakes I was caught on camera while trying to check Laura from Laura's Birding Blog off my list. Her new blog features, well, me, which makes it an awfully nice place to visit in my humble opinion. She really gets to the essence of chickadees in Chickadees and Politics. And let me tell you, in addition to being the best birderer ever I am also the finest singer, if you know what I mean…
From Minnesota it was a shorter flight (with tail-winds) over to Michigan where I saw an invasive species in North America, Jochen from Bell Tower Birding. Unlike many of you birders I love invasive species as they save me a very long flight to spot them. I snuck through the bushes and watched him get The First Warbler of Spring. You birders and your wood-warblers. I don't see the big deal. I hang out with them all the time and let me tell you they're all flash and no substance. They don't even stick around for winter!
From Michigan it was a nice short flight to northern Illinois where Eddie from Birdfreak Birding Blog wants everyone to Meet the Montgomery Owlet. Owls are another bird I usually try to avoid but it was pretty neat watching the young Great Horned Owl trying to look mean.
After encountering Eddie I headed west and then north over the border to British Columbia, Canada to visit my Chestnut-backed Chickadee cousins and check Susannah of Wanderin' Weeta (With Waterfowl and Weeds) off my list. She was busy Invading the Privacy of Eagles so after invading her privacy I checked her off and was on my way.
Next up was my longest flight so far on this around-the-world-trip, a direct flight all the way to Singapore to see YC from Bird Ecology Study Group who was writing up his post on the Owls in Singapore. I didn't linger long because it seems that many owls call Singapore home and I would like to live to check a few more birders off my list.
On to Australia! Duncan from Ben Cruachen Blog proves it's all about Personality when photographing birds, which I agree with wholeheartedly. After all, who has more personality than me? I managed to avoid his camera which was good because it would probably start an international incident if a chickadee was reported in Australia.
The second check-mark I was looking for in Australia was Trevor from Trevor's Birding. He was so busy ogling a striking Diamond Firetail Finch that he never noticed me in my more modest plumage. I bet he wishes he could add me to his list of bird-bath visitors!
A House Sparrow friend of mine gave me a tip that Tai from Earth, Wind & Water could be found in South Africa. So off I went to learn about Basket-weaving for beginners. I'll stick to holes in trees because weaving looks like too much work! I'm just glad that weavers keep in touch because I don't know where I would've found Tai otherwise.
En route to Britain to track down Charlie from Charlie's Bird Blog I got lost and landed in Peru, where, just to show you birders how it's done, I put myself in harm's way, spotted 16 Long-whiskered Owlets and lived to tell the tale.
While I was there, wonder of wonders, I was tipped off by a migrating wood-warbler (maybe they aren't so bad) that Rick from Aimophila Adventures wasn't in Arizona because he was in Guatemala! Rick was absorbed looking at Pale-billed Woodpeckers so I checked him off and continued north, too tired to try to fly all the way to Britain to find Charlie.
My Mexican Chickadee cousins were a welcoming flock. Just as I was getting sick of the whole around-the-world thing they stuffed me full of seeds and dragged me off to see Charlie from Charlie's Bird Blog looking for wood-warblers in Desierto de los Lunes Recreational Park, Mexico City. My last tick! And a cracking one at that!
Well, my last tick except for that Corey character. He writes lovely dark and deep, the blog I'm typing this on now that I've flown back to upstate New York (and man are my wings tired (sorry, couldn't resist)). He was wasting his time making Much TUDU about Something, which involved the idiot losing his camera. The only good part about this everyday checkmark was stopping for a visit with my Boreal Chickadee cousins in the Adirondacks.
Oh, and another chickadee told me that you should send your submissions for I and the Bird #47 to Jochen of Bell Tower Birding at joroeder AT yahoo DOT com by April 17th (the earlier you send it in the easier it is for Jochen).
What, you wouldn't relax after flying around the world?