Is the heat wave that seems to have the entire U.S., or at least the lower 48, in a vise getting you down? Do what I did and fly to the balmy Bay Area. With the rest of the Core Team safely ensconced in the nurturing bosom of Potter County, PA, I've struck out for high adventure, or what passes for that during an extended business trip. Pleasanton, CA was my first stop so I flew into Oakland. Upon arrival, I couldn't help but stop at Arrowhead Marsh. After all, it's practically attached to the car rental center. The heat seemed to have gotten the East Bay birds down too as there weren't a whole lot of them when I visited. The ones that were there, however, where just the ones I was looking for! Anyhow, that's a story for another day. I want to talk about Cliff House.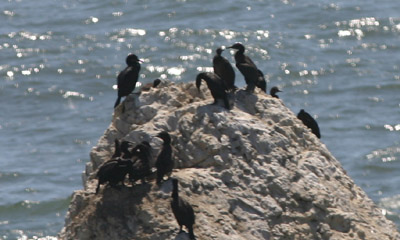 Brandt's Cormorants
Long has it been since I've gazed upon the Pacific Ocean. Oakland was as far west as this trip was going to take me unless I made a special effort, so I exerted myself over to the coast. My destination was Cliff House, a sensational spot on Point Lobos right about where Golden Gate Park meets the sea. The menu ranges from pricy to extra pricy, but who can complain when the view includes roosting Brandt's Cormorants on the Seal Rocks below. You see, while many visit this locale for the history or the surf, others come for the birds. This location includes a number of great gimme birds, species that will be where they're supposed to be when they're supposed to be there. The man with the plan for specialties of San Francisco and the California Coast is Harry Fuller of Towhee.net. Harry, an absolute genius in this area, graciously turned me on to the likely locals, which fell out pretty much the way he described:
At Cliff House look north toward Land's End and walk out to the parapet. (I did.)

Brandt's Cormorants on the rocks and in the sea. (They were.)

Brown Pelicans abound as do large Western Gulls and more slender, white-headed Heermann's Gulls. (They did.)

Black Oystercatcher stick to the dark rocks. (They did, and I almost missed them until I spotted one flying gracelessly with long, powerful wings.)

Pigeon Guillemot on the cliff face north of the parapet or in the water. Bright white wing patches key field mark, on these little dark flying footballs. And small brownish alcid likely a Cassin's Auklet. Common Murre, simple bicolored bird, possible far offshore. (Unfortunately, the only alcid I spotted was the reliable pigeon guillemot.)

Terns: Large-Caspian, medium-Elegant; Forster's stick to the Bay generally. (Fortunately, though only three ocean side terns flew by, they came in both large and medium sizes.)

With some luck you could hit the first wave of Black Turnstone or Surfbird as they come through. (No luck with these guys or Wandering Tattler either.)
Black Oystercatcher and Heermann's Gull, the latter one of the finest looking larids anywhere, were my primary targets and new additions to my life list along with Elegant Tern. I hoped for Sooty Shearwater as well, as that species tends to flock offshore in visible swarms during the summer. That's alright, though; it's not like I won't be visiting San Francisco again.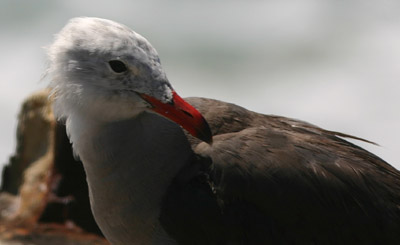 Heermann had exquisite taste in gulls
The Cliff House/Sutro Baths complex was very good to me, even delivering unexpected view of Whimbrel and some unidentified cetaceans. I regret to say I did not do as well by land as I did by sea. Exploring Sutro Heights and Point Lobos brought Common Raven, Brewer's Blackbird, Western Scrub-jay, California Towhee, Black Phoebe, White-crowned Sparrow, Dark-eyed Junco, and Anna's Hummingbird, but that's no trick at all in these parts. I whiffed on Hooded Oriole, Chestnut-backed Chickadee, and Pygmy Nuthatch. Now, the oriole I understand, but how does someone miss chickadees and nuthatches? Again, it's not like I won't be back here some day…