When I woke up bright and early on Saturday morning the air was clear and cold and moving fast (by which I mean it was windy).  It had been weeks since I made a proper tour of Forest Park so I was out and about and looking for birds as quickly as I could get coffee brewed and drank and warm clothes on my body.  The trees of Forest Park had pretty much dropped all of their leaves so sight lines were better but despite the longer distances visible I felt half-lost several times simply because of the change in season.
The birds didn't seem lost though, and I quickly started finding a variety of expected birds for November in New York City.  Fox Sparrows kicked leaves up looking for food underneath them in several spots and Winter Wrens foraged in thick ground cover and around downed trees.  Several Hermit Thrushes were mixed in with American Robin flocks and I enjoyed watching a Red-bellied Woodpecker chase a Downy Woodpecker from a prized tree.
Lucky for me the Downy Woodpecker, a female, decided to land on the very log I was using as a seat, and I got to watch her work the log over looking for food in every crack and crevice in the bark.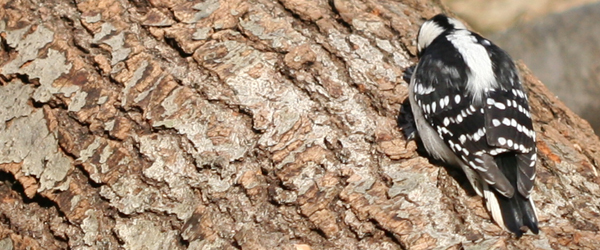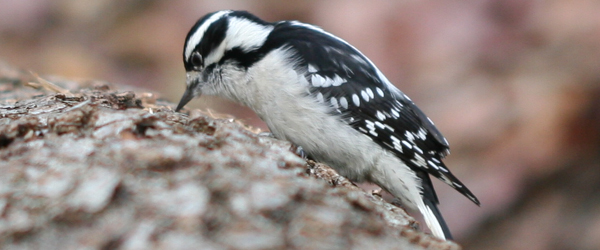 I didn't stay in the park for too long: I had forgotten my gloves and was getting cold (to say nothing of wanting breakfast).  Once I got home I ate some cereal, surfed the internet for a bit, spoke to my folks back home, and made a run to the grocery store for Daisy.  Basically, I was enjoying a lazy Saturday morning.  Then my cell phone rang, and the conversation went a little bit like this*:
Me: Hi Jean, what's up?
Jean: Not much, what are you up to?
Me: Well, I birded in Forest Park this morning and now I'm entering old sightings onto eBird.
Jean: Did you see anything good in Forest Park?
Me: Not really, just the expected birds. The Fox Sparrows were nice though.
Jean: Oh, well, I asked because C____ had some good birds there this morning.
Me: Really? Like what?  Better than my Winter Wren?
Jean: A Winter Wren, so what! He had a Saw-whet.
Me: Say what? A Saw-whet? Owl? Great Audubon's ghost! Where!?!?!
Jean: Well, it was in…
Needless to say I was on my way to Forest Park within minutes.  Those of you who are not birders might not understand why, but if you had some inkling as to how cool Northern Saw-whet Owls are, well, you might have beat me out the door.  First off, they are tiny, smaller than a robin.  Second, they are adorable: if one had to rate them on a scale of cuteness with a ten being as cute as can be they would rate a fifteen at least.  Third, they are vicious cold-blooded killers.  Fourth, I had heard one before but had never actually managed to see one.  And if there is anything cooler than a never-seen-by-me, adorable, pint-sized, killing machine I don't know what it is.
I was back in the park as quickly as I could walk, and at the sighting site so fast that I was gasping for air like a first-time marathoner.  Now, I had pretty darn precise directions in terms of where I could see the bird but I couldn't see the bird.  I knew where to stand and which direction to look and the approximate height the Northern Saw-whet Owl was perched at but for all intents and purposes the bird was invisible.  Talk about frustrating…and I was worried that the two adults, three screaming children, and two off-leash dogs that had vacated the area as I approached must have flushed the owl.  But my worries were unfounded, because it only took me about fifteen minutes to see this:
Northern Saw-whet Owl in Forest Park, Queens, NY
Well, actually when I first saw it was in profile and its eyes (so far as I could tell) were closed.  It only looked around this once, in response to another group of dog walkers with dogs off the leash, one of which decided to come check me out, making a racket as it ran through the underbrush.  I dared not try to get closer for better pictures, because, despite the fact that these owls have a reputation for fearlessness I would not be able to forgive myself if I chased it from its roosting site.  I drank it in for as long as I could stand the cold and then headed home…very pleased indeed!
*The conversation as represented here is a dramatization of the actual conversation.  I wish I was cool enough to pull off using an expression like "Great Audubon's ghost."