Way back on 30 October of last year a Lewis's Woodpecker was seen coming to a backyard bird feeder in Ontario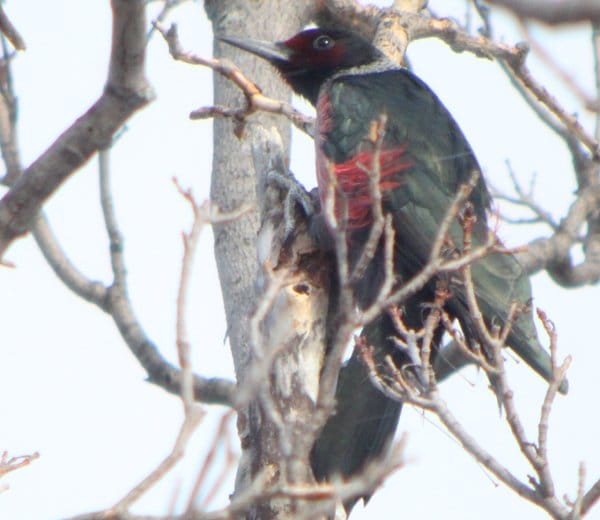 County, New York, and was quickly identified.  Why is that awesome?  Well, first of all, Lewis's Woodpecker is one of the most amazing woodpeckers in North America, with a color scheme of pink, red, green and gray, or, as Julie Zickefoose once typed: "this creature looks and flies just like a crazy little crow, dressed up for Mardi Gras."  It is high on most birders' lists of most-wanted birds in North America, at least those who have not yet seen one.  Melanerpes lewis is, to put it simply, a really cool bird.
Second of all, Lewis's Woodpeckers are birds of the west and they rarely stray to New York State.  In fact, the bird is the fifth recorded in the history of the state,* and the first spotted in the Empire State since 2001.
Third of all, the bird that was first seen on 30 October is, as of this blog posting, STILL THERE!  It made it through the rough winter and is still coming around to the feeders.  The homeowner, Fred Jordan, has been hosting visiting birders who heard of the bird through word-of-mouth since November.  He had put an embargo on the bird being reported to the internet for fear of a mob scene that would both alienate his neighbors and scare the bird off but because visiting birders have been so well-behaved he has had a change of heart.  Or perhaps it is because over 200 birders have already visited, and that, coupled with the remote location that is Ontario County, means that there aren't many birders left that are likely to chase the bird.**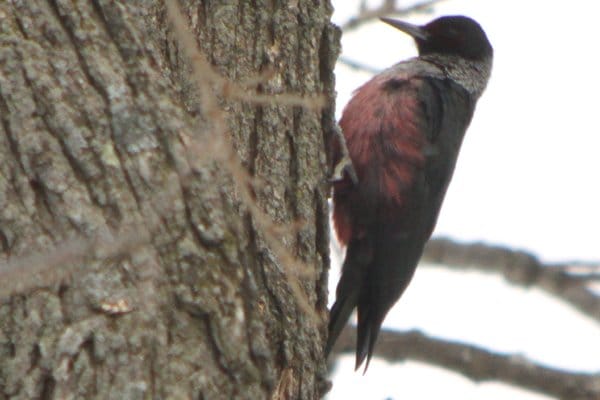 What a bird!
But what does any of this have to do with 10,000 Birds?  Well, way back in January, on the ninth to be exact, I loaded myself into a car with two intrepid Staten Islanders, Isaac and Tom, a fellow Queens birder, Andrew, and an Orange County birder and extraordinary wheelman, Gene, and made the long and arduous journey north and west to the promised land of Ontario County.  And when I say "long and arduous journey" I mean over five hours through snowstorms, bad jokes, and growing anticipation of a great bird.  Fortunately, Gene drove well.  Really well.  So well that we didn't even have to slow down for snowstorms or traffic or anything because he just doesn't flinch.  It was a virtuoso performance by someone who should be making a living driving for NASCAR.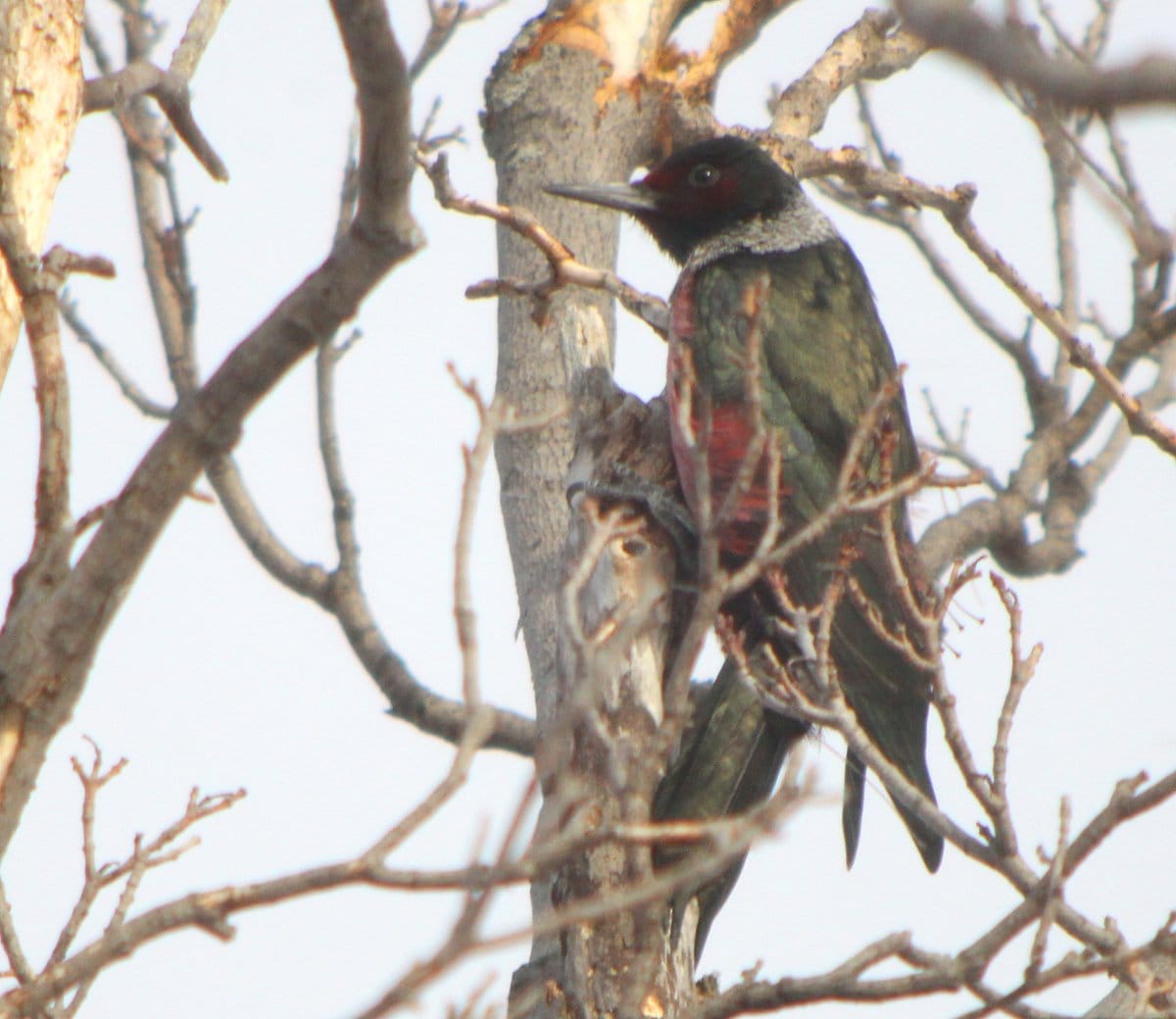 my life Lewis's Woodpecker (click to make it bigger)
Of course because Mike (you know, the guy who started 10,000 Birds) lives in Rochester, which is a whole heck of a lot closer to Ontario County then New York City is, I had let him know about our long-range twitch and he agreed to not only meet us at Fred Jordan's house but to make sure that he had the woodpecker in sight when we arrived.  So you can imagine our disappointment when we crawled out of the car after our trip to find out that Mike was in fact relaxing in the warm kitchen and had no idea where the woodpecker was!  Fortunately, Tom spotted it flying in and landing in a tree over the house and we all enjoyed scope views of a great bird, a lifer for most of us and Isaac's 400th bird in New York State!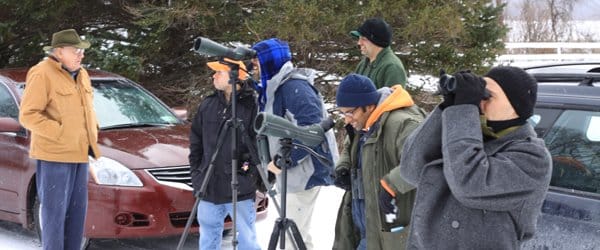 from left to right Fred, Mike, Isaac, Andrew, Gene (in back), Tom
Though it was an absurdly long trip and the ratio of birding to driving was not ideal the twitch was well worth it.  I might never get to see a Lewis's Woodpecker where they normally occur so the chance to see one within driving range of home was too good to pass up.  Many thanks to Fred Jordan for being a wonderful host with great enthusiasm for his awesome avian visitor.  Here's hoping this bird makes it back to its home turf to breed and comes back to spend another winter in New York State!
…
*In 1954, from 27 October until 6 November there was one in Ossining, Westchester County, in 1997 there was one in Richfield Springs, Otsego County from 10 June until 21 June, and a second bird in Horicon, Warren County from 17 November until 29 November, and in 2001 there was one at Fort Drum from 1 May until 3 May.
**If you are interested in chasing the bird just look at the New York State birding listserv for info on how to contact Fred Jordan.
…