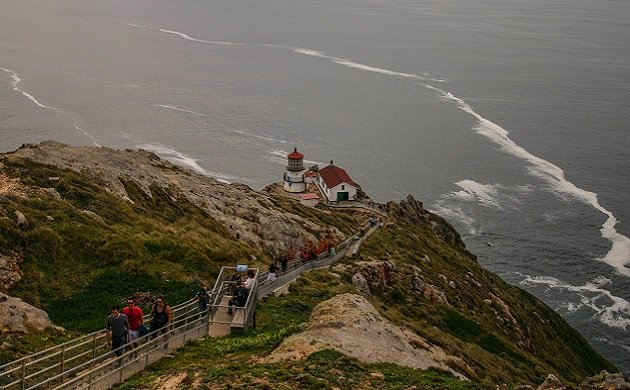 California is big. Not just the state itself, which covers over 150,000 square miles, but also its parks, natural areas, and, as I was soon to learn, national seashores and recreation areas. I only had a few days in California while visiting my brother at Berkeley, but we couldn't pass up on the opportunity to visit one of the most famous birding sites in the country: Point Reyes National Seashore.
We rented a car and drove to Point Reyes from San Francisco early on a Saturday morning, stopping for a quick detour at Muir Woods (because who wouldn't stop there?). We headed into Point Reyes with vague plans to meet up with one of my college buddies, which turned out to be a big mistake. Point Reyes National Seashore encompasses 111 square miles, and includes very little cell phone service. There had been some talk about meeting near the Point Reyes Lighthouse, so we blindly drove on, marveling at the rolling hills and the Western Scrub Jays flitting to and fro among the power lines.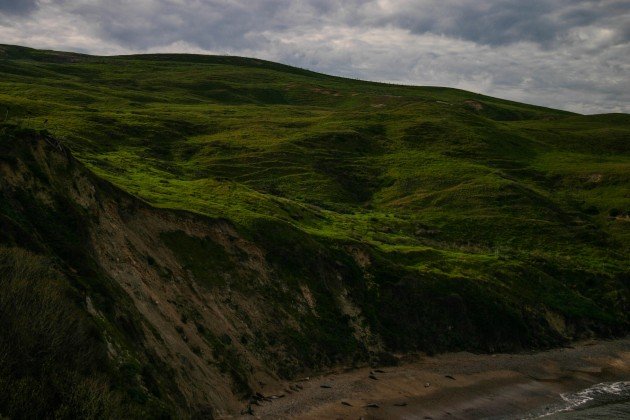 The rolling hills of Point Reyes
When we finally arrived, almost an hour after our appointed meeting time, the road to the lighthouse was actually closed. We disembarked on one of the nearby beaches where a helpful staff member told us we could board a bus to the lighthouse. Miracle upon miracle, I actually ran into my college friend at the visitor center, and now that that logistical snafu was taken care of I could actually focus on where I was and, even better, what wildlife we could see.
The beauty of traveling lies in the unexpected. We were woefully under-prepared in terms of planning – which almost kept us from meeting our friends – but we were also surprised and thrilled to learn that not only were Gray Whales migrating past the lighthouse, but Elephant Seals were lounging on a nearby beach! Add those life mammals to the life birds I already expected to see, and I was practically vibrating with excitement. We all jumped on the bus, cameras and binoculars ready.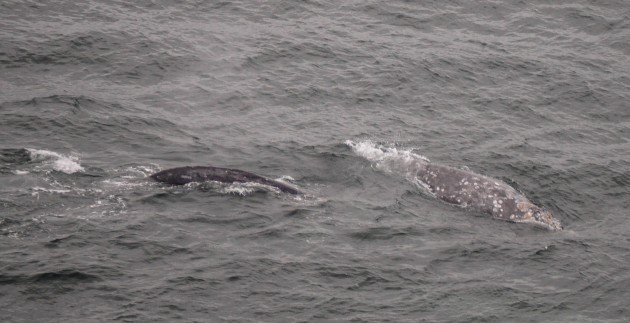 Migrating Gray Whales
Point Reyes is a magical place. Though California is in the midst of a horrible drought, the hills were covered in bright green grass, providing fodder for Tule Elk that roamed the property. The hills gave way to rock and sand cliffs that sloped steeply into thin beaches, creating beautiful and dramatic scenery. Normally the lighthouse is obscured in fog, but when we arrived the air was crystal clear, and in addition to seeing groups of Gray Whales migrating past, I spotted hundreds of Surf Scoters, a Pigeon Guillemot, and a pair of Peregrine Falcons from my perch atop the lighthouse cliff. I have only ever seen one Peregrine Falcon, and the scoters and guillemot were lifers for me!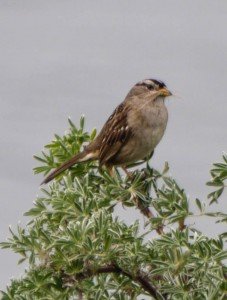 White-crowned Sparrow
The same bus would also take us to the Elephant Seal look-out, so after we had had our fill of the whales we strolled back to the bus stop. The road was lined with scrub and short trees, and I spotted not one but two new sparrow species. White-crowned Sparrows are possible winter sightings where I live in North Carolina, but not at all common, while the Savannah Sparrow has been one of my nemesis birds for quite some time. Though I could see both on the East Coast, Point Reyes seemed to offer them up to us birders, one after another in easy viewing fashion.
Red-tailed Hawks were everywhere as we made our way to the look-out. They perched atop electric poles, on fences, and even on roofs of nearby farm buildings (Point Reyes allows cattle farming), and I soon lost count of how many large raptors we had seen. My brother and I mutually agreed that never in our entire lives had we seen so many hawks in one day. Given the large expanse of field habitat and the abundant little critters, I'm sure the Red-tailed Hawks have no food shortages!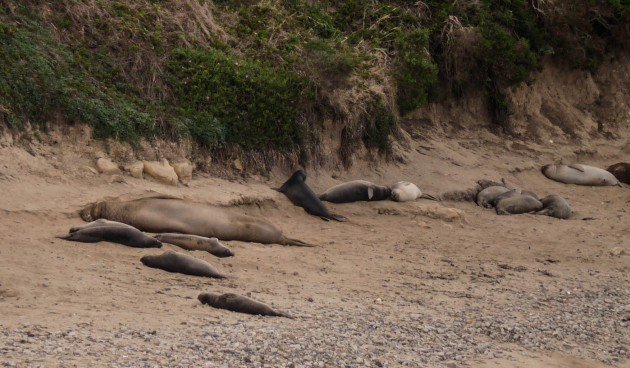 Elephant Seals
The look-out sat atop one of the grassy cliffs, allowing us to see the seals basking on the beach far, far below us. The male Elephant Seals are huge, and I was happy to watch them at our safe distance. Think Elephant Seals have deep, reverberating calls? Think again! Loud they are, but their calls are high-pitched, and almost whiny. The noise was actually hilarious, and we couldn't stop laughing at their lounging shapes.
From my vantage point I also turned my binoculars to seabirds on the ocean's surface far below. A lone Brown-Pelican was dive-bombing for fish, while a Red-throated Loon slipped beneath the waves and added another life bird to my list.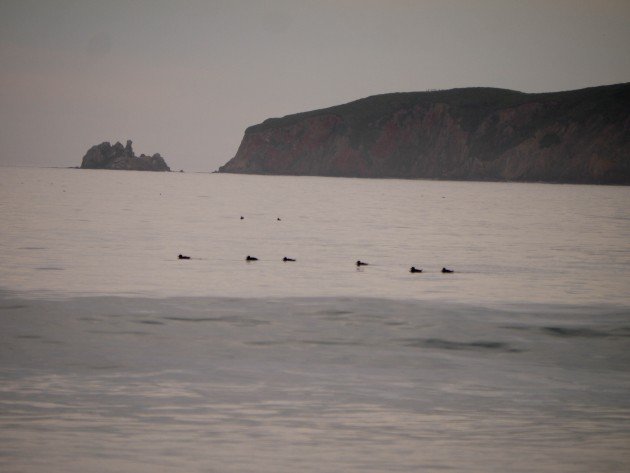 A line of Surf Scoters near the beach
We were reluctant to leave, and upon returning to the visitor center we too lounged on the beach for awhile, wiggling our toes in the sand and watching a Harbor Seal poke its head out of the water. I've said it before and I'll say it again: Point Reyes is a magical place, and I think we all felt it sitting there amidst the cliffs. I've only explored a fraction of the giant National Seashore, and if I return for another California visit Point Reyes will be my first stop!