Only two weeks ago, I commented that I had seen all but two of the wrens that can normally be found in Michoacán. The ones I had not yet seen were the Rock Wren, and the Sedge Wren.
Oddly enough, only a couple of days before that post came out, a member of a regional birders' chat had posted a photo of a wren seen on the edge of the Morelia area (near one of my favorite sites), to confirm that it was, indeed, a Sedge Wren. Which it was! So I contacted him for the exact location, which turned out to be a beautiful 14-acre property that belongs to his family, and he kindly invited me over. We didn't manage to make it happen the first Monday, but on the 28th of June, we birded his property together.
But there is another twist to this story. On June 29th, the American Ornithological Society published their decision that the Sedge Wren, Cistothorus stellaris, should be split from the Grass Wren, Cistothorus platensis. The name Sedge Wren is to be used for the migratory wrens that summer in the U.S. and Canada and winter in northeastern Mexico, while the sedentary wrens of central Mexico, Central America, and South America are now to be identified as Grass Wrens. So the wrens in my new friend Ignacio's lot should be, in fact, Grass Wrens.
Did they show up for us? Why yes, they did! Ignacio is a biologist and a rather new birder. His family's property includes an south-facing slope that has been used for agriculture, a lovely marshy meadow down the center, and a wooded north-facing slope on which they are continuing to reforest. The marshy meadow is home to not one, but several of the wrens in question, and we saw at least three. This is not a species that loves to be seen, but one helpfully posed on a fencepost for me (although it was early, and a hurricane off the coast was giving us dense clouds with intermittent rains, so the light was bad).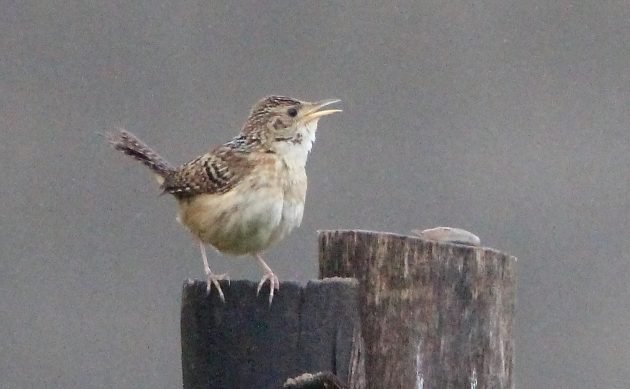 Still, the very next day I discovered that my long-awaited Sedge Wrens were not, in fact, Sedge Wrens. Unless you asked eBird, with which the best I could do was to list them as Sedge Wren (Grass Wren). In other words, they were definitely lifers. I just don't quite know which one, yet!
There was one downside to this outing… It was really, really wet. Drizzle from Hurricane Enrique made me wait in my car for a half hour before I could even get out. And I should have known I was in trouble when Ignacio opened the gate wearing galoshes, while I was wearing my usual leather boots. Boy, were my socks wet an hour later.
The property's lower section sure looked like a meadow from most angles. But the Mexican Ducks say otherwise.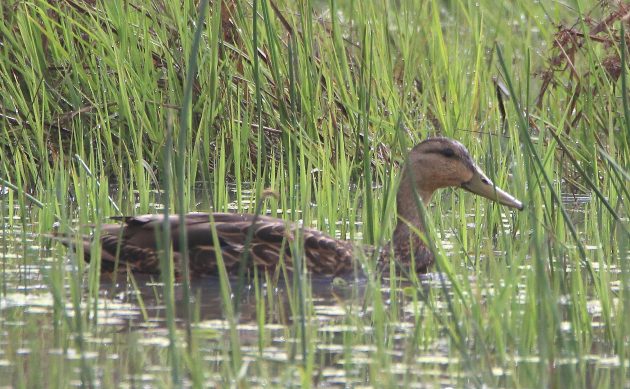 As I mentioned above, the constant clouds and intermittent rain made for some very low light. Fortunately, low light works quite well for certain deeply-colored birds, like this one of the several Blue Grosbeaks that were to be found.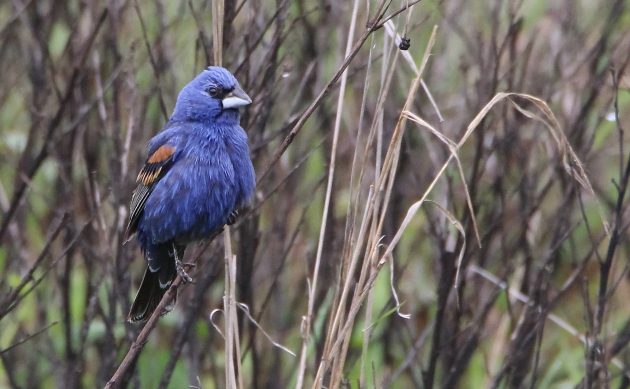 Along with the Sedge/Grass Wrens Ignacio had reported, he had also posted some fine photos of a Great Horned Owl that had roosted on his property. I hardly ever see owls, except for Ferruginous Pygmy Owls, so this was another big draw for me. And I did, in fact, see the Great Horned Owl, however briefly, as it flew away from what is apparently its standard perch. (FOY!) But neither of us expected a cypress we were walking by to start shaking and release an adult Barn Owl, which then flew away from us as fast as it could. First-Of-Year for me, and First-Of-Yard for Ignacio!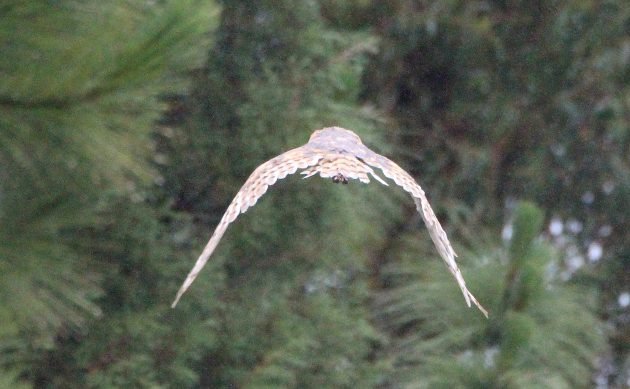 That's 100% Barn Owl butt, right there.
Perhaps my interests are a bit… eclectic, but I just have to show you two of Ignacio's dogs before I close this out. They have some seven dogs in total (kept behind a fence during my visit because the newest one is still a bit aggressive). One is an aged Xoloitzcuintle, or Mexican Hairless Dog. It is quite old, and quite, well, hairless. But its two mixed-breed children would make an 80's British soccer club proud, with their punk hairstyles. Their image should be shared with the world.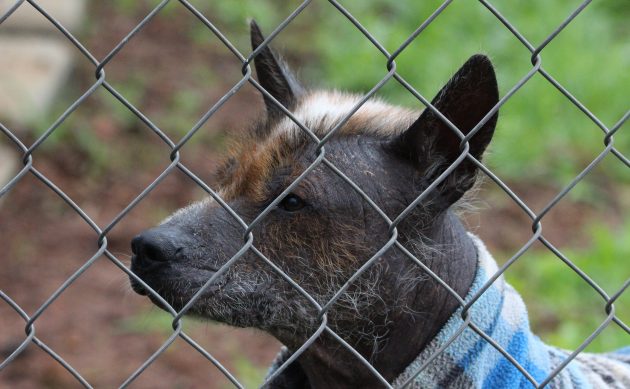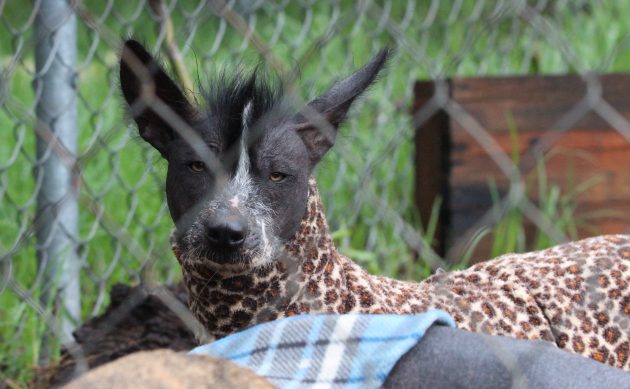 Don't worry, the leopard pattern is from a sweater. But the mohawk is all his.