When one is trying to see as many birds as one can in a year without resorting to an automobile one must not only see as many as the expected birds as possible but must also chase the rarities that can be chased. Chasing rarities, of course, is normal for any big year, but when one is limited by the reach of a mass transit network chasing rarities can become a slow-motion exercise in futility. Not that the birds that I missed this past weekend were missed because of some defect in New York City's fine mass transit system, no, I missed my two target birds the usual way, by sheer incompetence.
The two birds I really wanted to see this weekend were two birds I did not see during my New York State Big Year last year, a Western Grebe and an Orange-crowned Warbler. Western Grebes, you are probably not surprised to hear, tend to live in the west and are pretty rare visitors to New York. Orange-crowned Warblers, on the other hand, regularly come through the state in fall migration but tend to take a more western route north in the spring. Both have been reported from the south shore of Staten Island over the last week or so but Staten Island is so far out of the way from anywhere that I had no chance of getting there until this past Sunday.
But getting to Staten Island, well, it's not exactly easy. From Queens I had to take my usual F train into Manhattan and then transfer to the 1 train. The 1 deposited me at the Staten Island Ferry terminal two minutes before the ferry sailed so I sprinted up the stairs and on board, not wanting to wait the half hour for the next ferry. And while I didn't see any good birds on the free ferry ride I did see a rather famous landmark. Perhaps you recognize it?
From the ferry terminal on Staten Island I made my way to the S78 bus, which stops every fifty feet or so, and took it to Wolfe Pond Park, a place I had never visited. I got off the bus, dreading the walk along the road to the beach where the Orange-crowned Warbler was reputed to be spending time in the beach grass. A trail off the road into the forest seemed like it might head int he direction I wanted to go so I took it and found myself walking parallel to a small stream that led to Wolfe Pond. On the way a mix of year-round resident species and some migrants caught my attention. I watched Golden-crowned Kinglets foraging high above me and was pleased to see three species of woodpecker (Hairy, Downy, and Red-bellied).
Wolfe Pond itself was loaded with waterfowl.  Everything from Red-breasted Mergansers to Mute Swans to Greater Scaup were swimming around and feeding.  Two Great Egrets, still not terribly common this time of year, were a treat.  But I was there for an Orange-crowned Warbler so I got on my mission.  And looked.  And listened.  And looked.  And couldn't find the bird.  I ran into a couple of other birders also looking for the bird and was somewhat heartened by the fact that at least they hadn't found it either.  Eventually I gave up and started down the beach.  My plan was to walk south to Lemon Creek Park, where the Western Grebe had been reported offshore with regularity, find the grebe, and continue south along the shore until I got too tired to continue at which point I would walk inland to Hylan Boulevard and catch the bus back to the ferry terminal.
Along the way Song Sparrows sang from the vegetation along the beach and an occasional Killdeer flushed from ahead of me.  Eastern Phoebes were everywhere along the beach and a pair of American Oystercatchers loafed on the beach with the three common gull species (Ring-billed, Great Black-backed and Herring).  Then I spotted a very odd-looking gull with thin wings set too far back on its body.  Holy moly a Northern Gannet!  I quickly spotted several others flying north offshore.  That is one cool bird to see from land!
Then I came upon an obstacle.  Lemon Creek Park, is, apparently, named for Lemon Creek.  And Lemon Creek, like most creeks, flows downhill.  In this specific case downhill meant towards the ocean and directly across my path.  To continue south along the beach I would have to find a way across the creek.  Wading was impossible: the water was deep.  So I walked inland until I came to Hylan Boulevard and used its bridge to get across the creek.  It wasn't a total loss though as I found a Belted Kingfisher and a Swamp Sparrow along the creek.
Back at the beach I looked for the grebe.  I found a grebe, a Horned Grebe, but not the grebe for which I was looking.  I knew the bird wasn't north so I continued south under the illusion that the bird must have moved south.  I never found it.  When I got home that evening I did find this in my email inbox:
 As previously posted, the Grebe continues throughout today, March 30th. Best viewing is from the Lemon Creek Pier, the bird has barely moved all week.
Sigh.  Oh well.
I didn't have any more really noteworthy bird sightings, except for a fly-by Great Cormorant, for the rest of the distance I traveled south, though American Black Ducks and American Wigeons became increasingly common in the surf and on the rocky beach as I continued along the shore.  I did, however, come upon the remains of some kind of Stone Age civilization that I can only imagine went into irrevocable decline because of the psychic blow of missing out on the sighting of a rare bird (it was hard to see distant rare birds in those days before binoculars).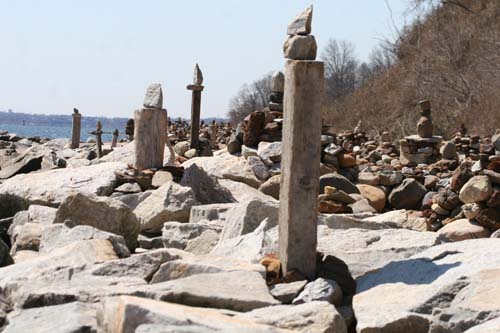 I think that, once these prehistoric beach dwellers heard that a rare bird from the west coast had been around for over a week and they had somehow missed it they all walked into the sea, preventing them from building even bigger monuments for future birders to find…or something like that…
While I missed my target birds I did add three species to my Anti-Global Warming Big Year list: Great Cormorant, Belted Kingfisher, and Northern Gannet.  Staten Island might be the forgotten borough but the birding is good if you can get there.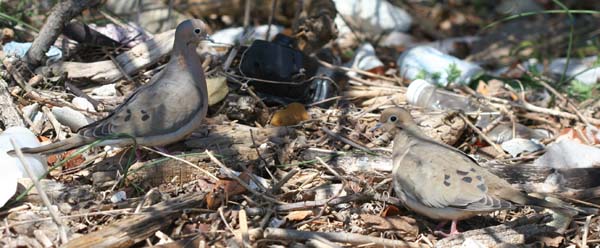 Staten Island Mourning Doves