I-95 is an iconic East Coast highway that runs from the Canadian border to sunny Miami, FL, in the process passing through more states than any other Interstate in the U.S. And yet, though these 1,927 miles of prime highway carry travelers through subtropical habitat and even the Carolinas themselves, few realize that their best chance to spot parrots from their car window while speeding along I-95 is in the Bronx. The Bronx?!?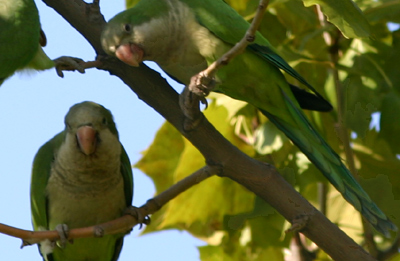 Yes indeed, the east Bronx is blessed with a stable, ABA-accepted population of Monk Parakeets. These raucous revelers, also known as Quaker Parrots, dominate a portion of the expansive Pelham Bay Park. Fortunately for us, their domain encompasses one of the finest playgrounds in the borough. Having not visited since December 2005, a Core Team parrot pilgrimage was long overdue, so on Labor Day, we packed up the kids along with Sara's mother Ann and made for the monks.
The first clue that one has entered Quaker parrot country is not the species' splay-tailed flight or even the constant cacophony, but rather the impossible clusters of branches these birds call home. Monk Parakeets are the only parrots in the world to build their own nests and these birds build big. The towering light stands used to illuminate one of the park's baseball fields are heavily burdened by knobby globes well over 10 feet in diameter. From these treacherous tangles issue exotic avians adorned in chartreuse, powder blue, and pearly gray. Parrots!
These exceedingly noisy birds clearly own the park. Whether streaking through the skies bearing branches, flocking in a tree or on a backstop, or even lounging in the grass like lions, the parrots are everywhere. Even when they escape one's gaze, their relentless din establishes an undeniable presence, one which seems unwelcoming to other avifauna. While House Sparrows flocked in their shadow, few other birds appeared at all, with the exception of a single Peach-faced Lovebird who has apparently found solace among its larger, convivial kin.