My first full day in Guatemala during the Fifth International Birding Encounter started with a stellar trip to Cerro Alux. Following that was a pit stop for coffee and hummingbirds en route to the fabulous Finca El Pilar outside Antigua. This working coffee farm is a perfect example of the power of private landowners to support conservation. If I understand correctly, the family that owns the finca, particularly one of the sons, prizes both conservation and ecotourism. And while they're setting aside pristine montane habitat for wildlife, they also do quite a bit for the community including proving clean water and recreational facilities.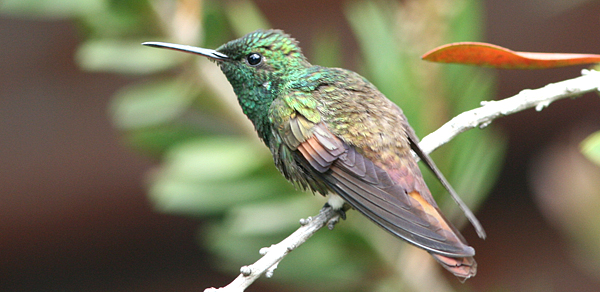 Berylline Hummingbird
I loved Finca El Pilar when I visited in 2008. Yet, just as I became a better birder in the last year (or so I tell myself) the finca has transformed into a far superior site for birding. For example, one of its finest features, a touch that tells how sincerely the owners were courting bird watchers, was its impressive array of hummingbird feeders, admirably stocked with terrific trochlids. I saw my life Berylline, Blue-tailed, Magnificent, and Azure-crowned Hummingbirds, not to mention Rufous Sabrewing, here but couldn't help but notice that the placement of the feeders didn't facilitate photography. Now, the feeders are deployed along a much more auspicious axis in close proximity to a broad viewing platform. Even better, it took only a few moments to spot my first Violet Sabrewing this time around!
El Pilar offers far more than simple upgrades to existing attractions. To be honest, the ambitions of the owners blew me away. A handful of us hitched a ride to an elevation even higher than the finca's lofty baseline in order to walk back down to the base. Your bloggers on the scene (since it's not a scene without us) were Sharon Stiteler of Birdchick, Rick Wright of Aimophila Adventures, and yours truly. Add to this power trio guides from Guatemala (Hugo and Marco), Texas (Mel Pineda), Peru (Gustavo), and Nicaragua by way of Denmark (Jorge) along with my pal in publishing, Lisa White and new amigo from Ohio, Jen Sauter. Clearly, this crew was well-equipped to appreciate a superior nature trail. And what a trail this is!
Finca El Pilar fulfills that fantasy we all secretly share of flying bridges and steep stairways descending endlessly into a cloud forest gorge echoing with exotic yips and calls. The spirit of the Swiss Family Robinson must have visited the architect of this wondrous walkway, inspiring him to construct a winding wooden path covering what felt like thousands of meters of forest. How freaking cool! Plus, with every new landing or level, we encountered excellent avifauna. Many of the vireos, warblers, and woodcreepers were ones we found at Cerro Alux earlier in the day but also on the scene were anticipated species like Rose-throated Becard, Bushy-crested Jay, and Black-vented Oriole. I seldom get excited over empids but encountering my first Empidonax flavescens – Yellowish Flycatcher – was a bit of a thrill.
As is typical of this kind of thick, vertical habitat, many of the most enticing birds remained audible but unseen. Swainson's Thrush and White-tipped Dove may not move many ABA birders to fits of either ecstasy or anxiety (depending on whether only hearing a bird is good enough for you) but how about the cry of a forlorn Collared Forest-Falcon or a phantom flyover of Pacific Parakeet? The calls of Emerald Toucanets, Highland Guans, Gray-breasted Wood Wrens, and Squirrel Cuckoos confirmed that we truly did walk within a Neotropical paradise.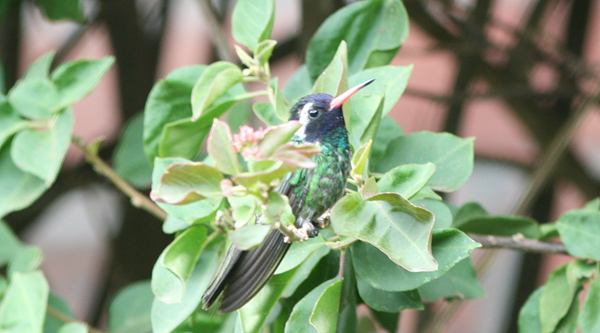 White-eared Hummingbird
Finca El Pilar was highly worthwhile when I first visited in 2008. Now, I believe it is mandatory for any bird watcher visiting Guatemala. The commitment of the landowners to a superior birding and nature immersion experience coupled with the rich variety of avifauna at different levels of the finca ensure a truly memorable time. Considering how easily one can depart Guatemala City, hit both Cerro Alux and Finca El Pilar, and be perfectly placed for fine dining in Antigua, I'm looking forward to many more reports of phenomenal birding at the finca. And of course, I look forward to my next visit!