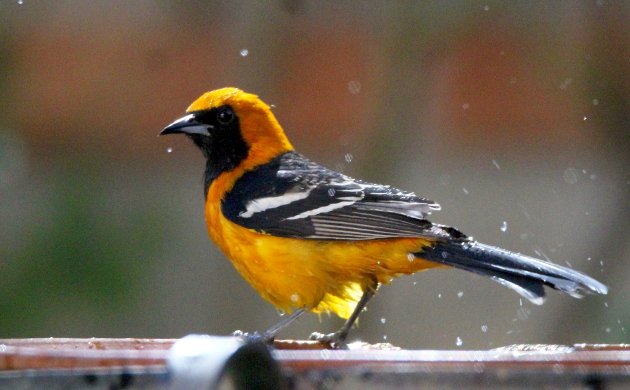 My area of central Mexico has a true monsoon climate. That means that we have little or no rain through the winter months, and almost daily rain during the warm months of June through September, with May and October being transitional months. May is always our hottest month, while our recent rains keep temperatures in October much lower.
Días de precipitación = Days of precipitation
I don't consider my little garden to be a terribly birdy patch, although years of observation have resulted in my seeing 59 species there (64, if you count the White-throated Swifts, Black and Turkey Vultures, Red-tailed Hawks and Common Ravens that may fly high overhead). But I can say that during our driest months of December through April, and especially the last three of these months, it does become a much more active site. The reason? Water.
This photo is from 2015, and shows part of my garden early in the rainy season, when everything looks best. You can see the birdbath at center left. Since I have never found a well-designed birdbath for sale here, I have used a pair of large, waterproof pot saucers. This first one rested on a metal plant stand.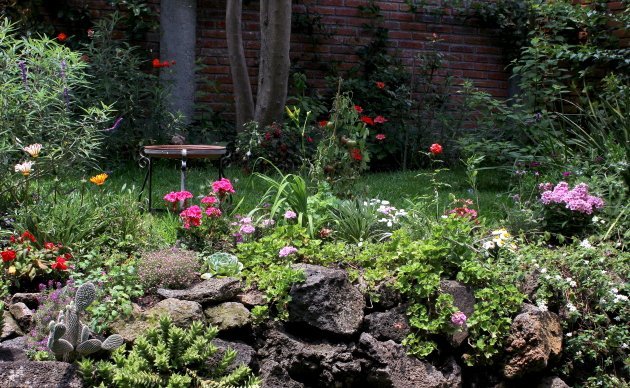 The current incarnation of this birdbath rests on a large pot, putting it out of reach of our curious small dog. It is deeper than the saucer shown above, so I have placed a handmade, curved roof tile in the middle for birds that prefer shallower water. It seems to work well, since we can have as many as 7 or 8 birds bathing in that one little saucer.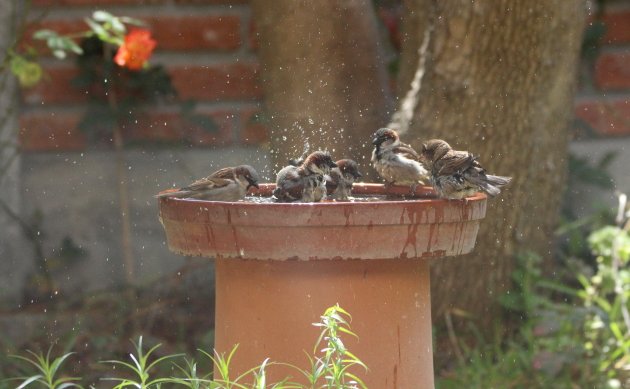 Unfortunately, during much of the year, most of those birds are from among the House Sparrows that nest in the vines that I planted along the three-story building next door. A few Inca Doves will also turn up at some point each day, as well as our local Black-vented Orioles. During the rainiest months, they may drop by only for a drink, preferring to bathe further away from humanity, in some puddle.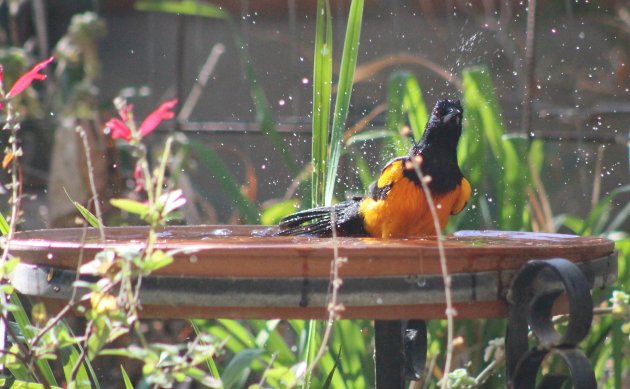 one of our Black-vented Orioles
But in the fall, as conditions get drier and the migratory species arrive, things start to get much more interesting and colorful at the birdbath. The first winter regulars to visit are the Wilson's Warblers, as early as August or September. A month or so later, they are joined by Hooded Orioles, Yellow-rumped (Audubon) and Orange-crowned Warblers, and at least one Northern House Wren. But it isn't until late December that the Nashville and Black-throated Gray Warblers join the party, as well as Summer and Western Tanagers, and Warbling Vireos. I took the following photos through our dining room window over the past couple of days, in mid-February: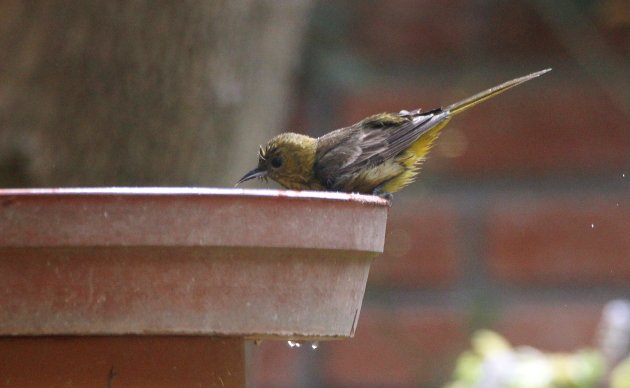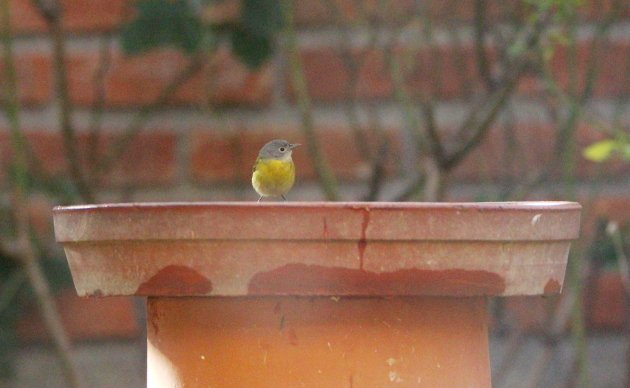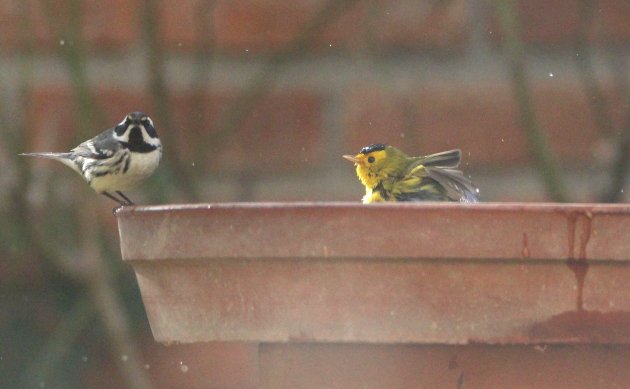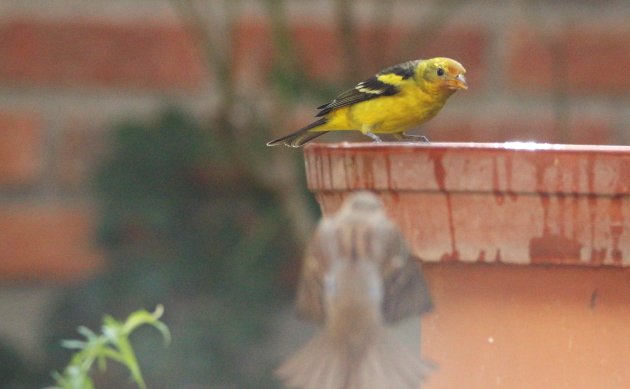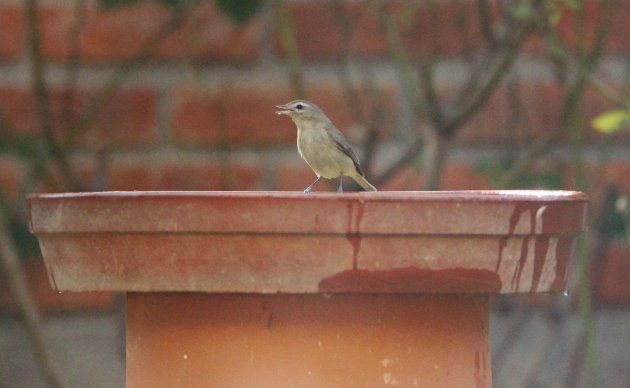 But the most interesting time of year at my Mexican birdbath, for which I do not yet have photos, is just beginning. That is when the lack of water forces some of our more interesting local residents to overcome their healthy fear of settled areas. Varied Buntings are already arriving (although not during my recent 2-day photo session), as well as the Cinnamon-rumped Seedeater I will show below. Soon, I expect to see Spotted Wrens, Blue Grosbeaks, Bronzed Cowbirds, Black-backed Orioles, and perhaps a Northern Beardless Tyrannulet, Rufous-backed Robin, or Blue-black Grassquit. I'll have to wait for the blackberries to ripen, to bring in the Blue Mockingbirds and Groove-billed Anis. Water shortages and blackberries also bring in House Finches, which, oddly enough, like our neighbor's yard, but not ours. [News flash: A few hours after writing this paragraph, a flutey call alerted me to the presence of my first Blue Mockingbird for the year in the yard. It was dusk, so the sighting was clear, but the photos were not.]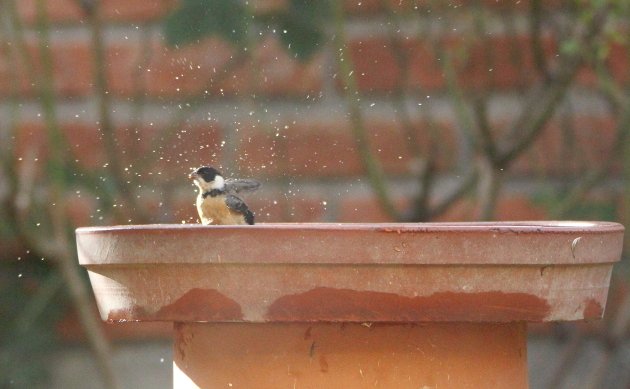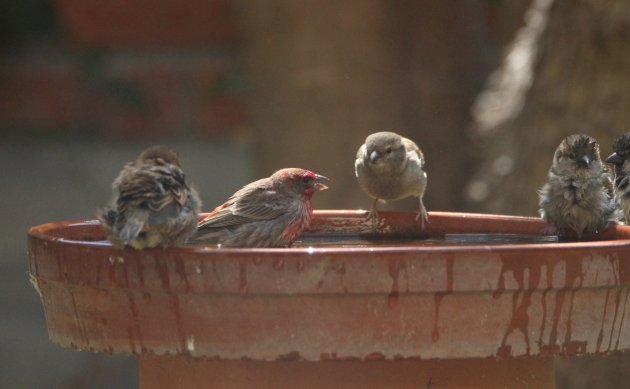 I'm curious whether our California readers have a similar experience. Your Mediterranean rain schedule is exactly the opposite of our monsoon season, but I imagine the effect is the same. Do your birdbaths become much more interesting places during the height of the dry season?