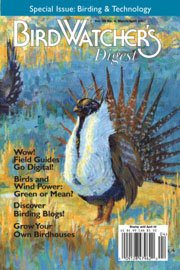 I've been sitting on this news a long time, but I can finally share that I've had my first article published in a respected birding magazine. That's right, you can now read my inimitable blatherings about birds and blogs both online and in print. How cool is that?
Some of you, mainly those with enough actual experience observing avifauna to know that I'm not the best bird-spotter around, may wonder what unique insights I might offer the discerning readership of a major industry publication. While it's true I'm not be as accurate in separating scaup or shorebirds as some (yet), I do know a bit about birding blogs. In fact, there may be no greater fan of the form and its myriad practitioners than me. This is the topic I expound on in the March/April 2007 edition of Bird Watcher's Digest, an issue with clear collector's item potential.
You'll have to pick up the new Bird Watcher's Digest to read my full disquisition on the intersection of birding and blogging. However, the BWD website shares a couple of interesting tidbits from my article. The first is the untold though not untoward story of how 10,000 Birds was born, the second, a list of many of what I consider the world's best blogs to discuss wild birds. Of course, this list is painfully partial; a more complete catalogue of my favorite nature blogs can be found on my links page. It's also a good example of how far magazine editors have to plan into the future… since I submitted the article, no fewer than three sites on the list changed URLs. But what hasn't changed is that I still love them all!
Many thanks to Bill Thompson, III for graciously offering me space in his fine publication to share my thoughts on a subject I'm passionate about. With hope, readers will discover the inspiring abundance of brilliant wild bird writing (and writers!) those of us in the know already take for granted.