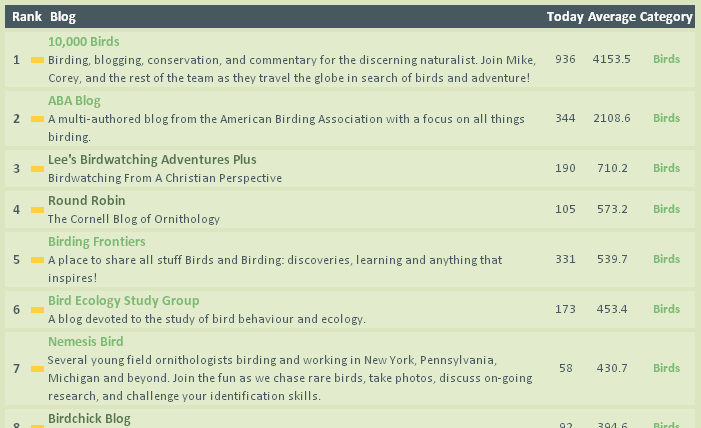 Can you remember the world before blogs? I'm tempted to say I've been blogging for all of my adult life, but if you've seen the gray in my hair, you recognize that statement as, at best, exaggeration. And yet the nature blog feels like something we've always had and enjoyed. Just like Facebook. And eBird. And cellphones that take decent landscape shots. Clearly, we can become accustomed to good things quickly.
Yet, when I started 10,000 Birds 11 years ago, the vast firmament of nature blogs was shockingly dark and, for a new nature writer, somewhat lonely. The former condition obviously improved rapidly over time as luminous new blogs populated our starry skies. Surprisingly, though, that initial feeling of writing in the wilderness faded quite quickly. Other bloggers were writing about birds and nature back in 2003, some even before then, and many of us found a communal spirit sparked by comments and crosslinks that carried into the world we wrote about.
Remember the blog carnival craze? We nature bloggers were part of the scene, first as part of the seminal science carnival Tangled Bank and later with our own community carnivals like, of course, I and the Bird. Some people might still argue whether such a thing as a "birding community" exists, but anyone who shared avian observations on the internet in the late 2000's and beyond could have been part of a vibrant bird blogging community.

The great struggle then, as now, was reaching new readers and cultivating an engaged audience. Community helped. Carnivals helped. Sometimes even recruiting readers offline helped. But we nature bloggers, in our tiny corner of the internet, needed more avenues to connect to larger audiences. We (and, by then, this blog was a wonderful "we") enjoyed a good volume of relevant traffic from toplists like the FatBirder 500 but had to jockey for position with forums, merchant sites, and even pet sites. Nature bloggers deserved a more tailored solution, which is why I issued the following invitation in January 2008:
Blogs are special. We deserve our own toplist, don't we? And ours shouldn't isolate birding blogs from our natural (pardon the pun) allies exploring topics like invertebrates, mammals, reptiles, amphibians, flora, fungus, and ecosystems of every kind, right? That's right…

Presenting the Nature Blog Network, the toplist for the nature blog community. A site like this has the potential to be a phenomenal resource for readers and publishers alike in identifying the very best nature blogs on the net. If you write about birds, bugs, plants, herps, hiking, mollusks, mushrooms, ecosystems, or any other natural topic, adding your blog to this toplist is the perfect way to reach new readers interested in exactly what you have to offer. As a bonus, you'll get to see where your site falls amongst those of your respected peers. And, in true blogging fashion, it's FREE!
As usual when launching new initiatives, I wasn't certain of the NBN's prospects. But we had hundreds of enrollments within weeks and new bloggers joining our network every single week from our inauguration until just recently.
The Nature Blog Network was, at its heart, a community meant to promote this very personal, very beautiful commitment so many of us have made to sharing our experiences of the natural world. It takes a community to drive a community, which is why we're fortunate that folks like Nate Swick, Jane Blumenthal, John Riutta, Seabrooke Leckie, Rosie Nixon, Nicole Burgoz, and our dear departed friend April Lorier volunteered their time and passion to make this one blossom.

But the title of this message probably confirms what you may have suspected if you've been keeping up with the Nature Blog Network. The bad guys have won. Our decrepit toplist software, which just didn't keep up with the times, couldn't hold up under the assault of literally thousands of spam registrations. At first we couldn't approve new members. Now we can't even log in. Worst of all, the toplist isn't showing up. The damage is, as far as I can tell, irreparable.
As a result, I'll be pulling the plug on the Nature Blog Network and taking the whole thing down. But while we're gathered here to bury the Nature Blog Network, spare a few moments to praise it as well. Rosie took some time to capture the Nature Blog Network experience:
I was always excited when Mike sent me a new batch of blogs to be given a warm welcome through the NBN blog. NBN was such a great place to find niche blogs that I'd never have found through any search engine …easily! There were so many specialists in their own field of work sharing their stories and their images from across the world. It was far better than subscribing to a nature magazine as I was able to get to know the writer 'behind' many of the blogs and I formed some good friendships thanks to NBN.
Based on the feedback so many of you have shared over the years, the Nature Blog Network has fostered countless connections involving well over 3,000 nature blogs. And just about every one of these blogs is worth reading… believe me, I've visited most of them!
In some ways, this is the passing of an era, but, in Jane's words, communities don't end because one platform ends.
Not just birders, but also herpetologists, marine biologists, mothing enthusiasts, writers, conservationists, artists, bloggers, and myriad other specialists, observers, and supporters who fall into the broad community we might call the network of nature lovers will continue to connect and work together to make our world a little better by protecting, fostering, and sharing nature at its best.

TL; DR, the Nature Blog Network has run its course. Thank you to every one of you who joined our ranks or enjoyed what our international community cared so much about sharing. The community, which is the only part that really mattered, lives on. I, for one, cannot wait to see what comes next!