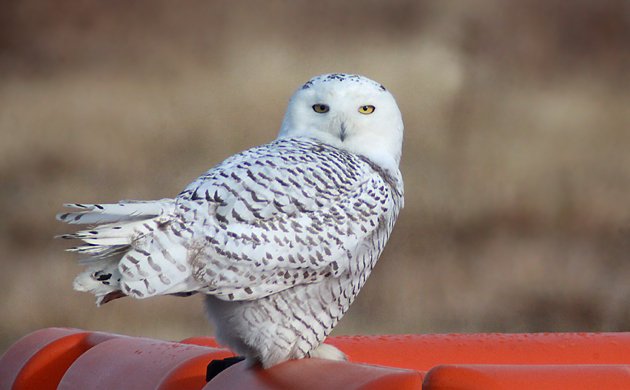 Late-breaking Update! It looks like we are well on our way to victory on this issue! The following has been released by the Port Authority of New York and New Jersey:
FOR IMMEDIATE RELEASE
December 9, 2013

CONTACT: Port Authority of New York and New Jersey
212-435-7777

STATEMENT FROM THE PORT AUTHORITY ON SNOWY OWLS

"The Port Authority is working with the New York State Department of Environmental Conservation to move immediately toward implementing a program to trap and relocate snowy owls that pose a threat to aircraft at JFK and LaGuardia airports. The Port Authority's goal is to strike a balance in humanely controlling bird populations at and around the agency's airports to safeguard passengers on thousands of aircrafts each day. Over the past two weeks, five planes at JFK, Newark Liberty and LaGuardia airports were struck by snowy owls that have been migrating to our region in far higher than typical numbers this year."
Below is the blog post as it originally ran:
It's not every day that you get a call from Jeff Gordon, president of the American Birding Association, asking if you will reach out to a reporter who has contacted him about a story on the Snowy Owl killings happening at JFK Airport. But, when you receive such a call, and your supervisor agrees that you can have the rest of the day off from work as personal time, you end up showing  a Snowy Owl for a very nice reporter and on then you end up on the news for NBC's New York City affiliate.
Here's the link to the story, which unfortunately can't be embedded on the blog. I just wish I had said some things differently though it might not have mattered as not everything I said made the air anyway (obviously).
And, while you're here, why not sign the petition to stop the senseless slaughter of Snowy Owls at JFK?
Other steps you can take include:
(1) You can contact the Port Authority directly by sending a message from their web site at:  http://www.panynj.gov/contact/contact-us.htm
(2) Contact the NYSDEC Region 2 Natural Resources Supervisor at R2natres@gw.dec.state.ny.us and ask them to engage with the Port Authority to stop the practice of shooting the owls.
(3) You can write or call Governor Cuomo at:
New York State Governor's Correspondence Unit
1 Commerce Plaza
99 Washington Ave.
Albany, NY 12231
(518) 474-8390
Do it for the owls!
…