Moving means finding your new birding haunts. We all have them: our favorite places to take friends and family when they visit, the bird-friendly areas we pop in on when we have the chance, the landscapes that entrance us. Now that I live away from the beach, Wakulla Springs has become that place for me.
My mom – a true angel – arrived on a Friday evening to spend a week with me, unloading boxes and helping pick out furniture. Loathe to have her whole trip be devoted to chores, we stole away one morning to Wakulla Springs. Though temperatures rapidly climbed into the nineties, the end of tourist season meant that the crowds wouldn't be so bad, not in the historic hotel and restaurant on the property, nor in the cool springs themselves.
Wakulla holds such bird delights because it is completely protected. You can swim in the springhole – and hundreds do each day – but you cannot paddle for three entire miles down-river. In fact, the only way to explore this section of the waterway is to take a 45 minute tour on one of their shaded boats, a treat in and of itself because the raised seats mean visitors can take in not only the birds above the water, but the fish and manatees beneath the rippled surface.
Mom has spent most of her life in the Northeast, and birds that call our southern summers home remain uncommon or downright rare to her New Englander eyes. We opted for the 12:30 p.m. boat trip, and despite the heat of the day quickly ticked off Tricolored Herons, White Ibises, Little Blue Herons, and even Yellow-crowed Night Herons hunting in the reeds or resting at the base of towering cypress trees. Both Black and Turkey Vultures swooped overhead, occasionally upstaged by a shrieking Osprey.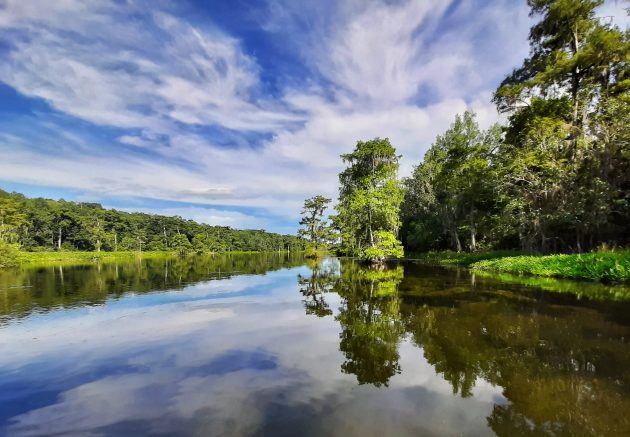 Alligators may have drawn the loudest cheers on the boat – especially from the two elementary school boys on the bench behind me – but we remained drawn to the small Pied-billed Grebes and Common Gallinules. Why? They still had babies!
Have you ever seen a Common Gallinule chick? Oh. My. Gosh. Black and fuzzy, they walk up out of the water on giant legs and feet, their disproportionate body parts adding to overall cuteness. Every few minutes we saw these bunched families of gallinules, sometimes mixing with the striped heads of the young grebes as well. I see grebes and gallinules all the time, but one can never tire when watching successful breeding birds.
We wrapped up our boat ride just hot enough for a dip in the cool currents and an ice cream cone. Though I've now been to Wakulla on a trio of birding trips, I know that when my next visitor arrives I will make a bee-line for my new favorite wildlife-watching destination!