The event that I am most looking forward to at the 15th Annual Space Coast Birding and Wildlife Festival is the "Noon Blog" that I will have the great pleasure of facilitating. I love meeting other nature bloggers and have had the great pleasure of birding and otherwise spending time with a host of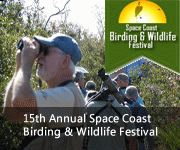 other bloggers in the nature blogosphere. There is nothing much like getting together with like minded people doing the things that we all enjoy doing.
The Noon Blog will be, according to the program,"a discussion about creating relevant content, integrating social media, and reaching your target audience."  Even better than the discussion will be the free lunch that comes with it, courtesy of the festival! Anyway, the event will be on Thursday, 26 January, from noon until 1:30 PM in room 121. I really look forward to discussing nature blogging with fellow festival participants but thought that it might be nice if I had some idea of who might be there and what they are interested in discussing.
So, have you registered for the festival yet? If not, why not?  Florida in January sure beats anywhere with copious amounts of snow, ice, and cold! And, assuming that you have registered, are you planning on attending the Noon Blog? Of course you are! But what do you want to talk about?  Does the description in the program sound good to you?  Or do you want more? I know that when I'm in the company of other bloggers one of the things we like to do is gossip about those nature bloggers that are not in the room…though that might have to be outside of the Noon Blog.
Please let me know if you are attending and what you would like to see as part of the Noon Blog. Otherwise, I will just show screen shot after screen shot of 10,000 Birds posts while talking in a monotone like the teacher from Ferris Bueller's Day Off.  And no one wants that, right?
…
10,000 Birds is a Scrub Jay-level sponsor of the 15th Annual Space Coast Birding and Wildlife Festival.