It was Saturday afternoon.  I was chatting on the phone about blog stuff with Mike, as we tend to do, when he heard what must have been a string of incomprehensible babble before the line went dead.  What had happened?
I had spotted a Turkey Vulture!  Well, I had looked out the sliding glass door that leads to my balcony and spotted a large bird that seemed to have the flight pattern of a Turkey Vulture but I needed to drop the darned phone and grab the binoculars that live near the door for exactly this purpose.  Bins grabbed, up to my eyes, and, darkness?  Lens caps!  Aah, here we go, there's the bird, TURKEY VULTURE!!!!!!!!!!!!!!!!!!!!!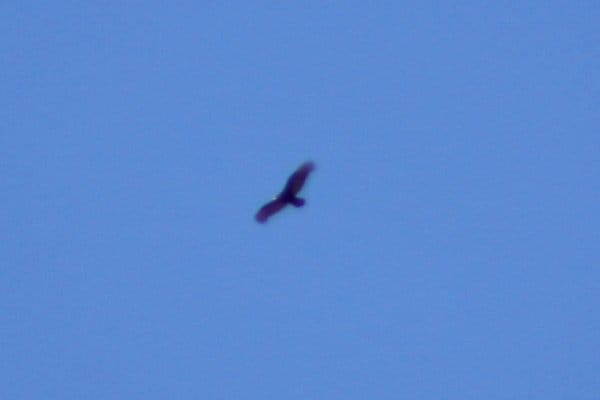 the worst picture of a Turkey Vulture you will ever see on this blog
What's the big deal about just another Turkey Vulture?  I had, up until that moment, never seen a Turkey Vulture in Queens.  Which, considering that I had seen 276 species in Queens without seeing a Turkey Vulture, is just absurd.  Species number 277 in my home county, finally, and only 23 more to make it to the elusive 300 mark.  I wonder what will be bird number 300?
…