I am so sick of the East Pond of Jamaica Bay. Now don't get me wrong, Jamaica Bay is a world-class birding destination that rarely disappoints, but how many times in one year can a birder walk out on those stinking mud flats and look at shorebirds? Fortunately, after Sunday's trip there I don't have too many species of shorebird left to find in the state this year so maybe I won't have to go back. Who am I kidding? I'll be back at the first opportunity!
When I left off Rich, Jory, Christine and I had just had an amazing morning's birding at Jones Beach but were still begging for more. Seeing as reports out of Jamaica Bay placed an Eared Grebe, Hudsonian Godwits, Red-necked Phalaropes, White-rumped, Western, and Stilt Sandpipers (all birds that at least one of us needed to see for the year) on the East Pond we intrepid birders made a beeline for its fragrant and fertile confines. We were not disappointed.
Within ten seconds of walking through the phragmite-lined path into the northwest corner of the pond we were on the Red-necked Phalarope, a year bird for all of us except for Rich. We didn't get looks like these but the looks we did get were sufficient. The bird was accompanied by a Wilson's Phalarope which was a bit more accommodating in terms of photography.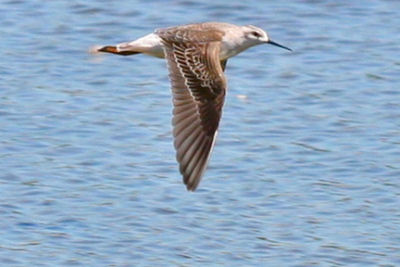 Wilson's Phalarope in flight
After enjoying the side-by-side comparison for awhile we decided it was time to head south along the west side of the pond to search for our next target species, the Hudsonian Godwit. I had never seen one, and everyone else hadn't seen one this year, so this was a bird we all wanted to see. We arrived at the area known as the point after a short stroll along the surprisingly not-that-mucky shoreline (not much rain lately) and met some other birders who managed to give us a general idea of where the godwits were. I say a general idea because there were a ton of birds and the godwits were obscured by gulls and geese.
So we walked through the thick and oozy mud that surrounded "the cove" and, after a couple of false alarms, managed to get on a Hudsonian Godwit. Lousy looks at a lifer to be sure, but once you see a godwit you know it is a godwit. At this point I heard a cuckoo calling from beyond the reeds that I called as a Black-billed Cuckoo but Christine correctly called it a Yellow-billed Cuckoo.
Then Christine, Jory and I (Rich had lagged behind scanning through all the peeps trying to find his year Western and White-rumped Sandpipers) continued south until we came to a gentleman birder (his name eludes me now) with a spotting scope who seemed to have a pretty good bird in his sights. The flock in front of us was loaded with Black-bellied Plovers, Forster's Terns, Short-billed Dowitchers, a variety of peeps, and just basically a whole big bunch of birds. We asked what he was looking at and he told us to look through his scope and tell him. Jory started looking through the scope, and, on a hunch, I put up my bins and said "American Golden Plover." I was right, it turned out, the guy thought he had an American Golden Plover, but he was quite impressed with my seeming ability to pick it out of the somewhat distant birds with just my bins. Then one of the three raptors (Bald Eagle, Peregrine Falcon, and Northern Harrier) that had occasionally flown over flushed all the birds and we were despondent. Neither Jory nor the birder who had first seen the bird were sure that it wasn't a juvenile Black-bellied Plover and some of the birds that had taken off hadn't come back.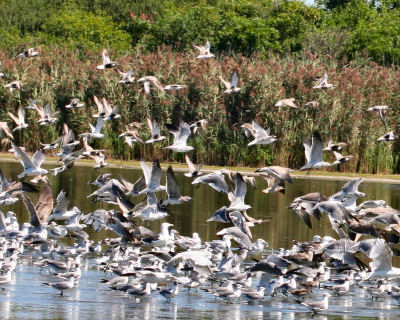 birds flushing on the East Pond

But we scanned the flocks until Jory miraculously refound the bird and got several other people on it. It was definitely smaller and smaller-billed, with a brighter forehead and different patterning (yeah, lousy description I know) on its back than the Black-bellied Plovers but none of us felt truly confident calling the bird. Then Rich showed up, looked through Jory's scope, said "American Golden Plover" and explained why. Lifer!
Then the three of us, sans Rich, who was still sorting through peeps, though he had already found his year White-rumped and Stilt Sandpipers, continued south to scan as far south as we could in search of the Eared Grebe which had been visiting the East Pond off and on for the last two weeks. We didn't find it. But we did find Western Sandpipers and Rich came down and got them and then we turned around and started walking back.
Other than meeting a few more birders and getting more looks at the Red-necked Phalarope on the way out of the East Pond that was about it for our birding day. Sure we went into the North Garden trying to find the Yellow-breasted Chat that had been reported that morning but the only warbler we found was an American Redstart. We couldn't even find the White-eyed Vireos that are almost almost present so Jory will have to go back. The fact is it was mid-afternoon and the birds were quiet. A look around the southern end of the East Pond was also unproductive, though we did get good looks at the Peregrine Falcon that had been buzzing the birds.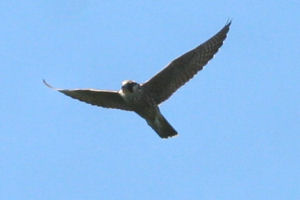 lousy shot of a Peregrine Falcon
On the way back north we took a detour into the Bronx hoping to find the Cattle Egret so Rich and Jory could tick it off their year list. No such luck. But I was content with 5 year birds, making 7 for the weekend, and 2 life birds, making 3 for the weekend. I did not expect to have so successful a weekend so late in the year and I want to thank Rich, Jory, and Christine who made the wonderful day possible. 279 down, 21 to go!