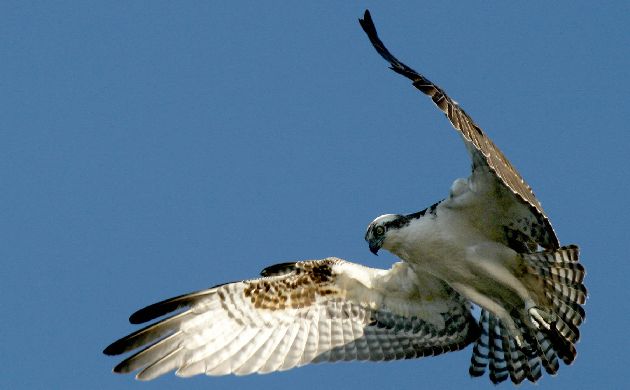 This Wednesday I saw my first of season Osprey soaring over the Clark Fork, not far from the nesting platform at the entrance to Hellgate Canyon. It was flying relatively low, easy to see against Mount Jumbo, and a couple of bystanders spotted it too.
"Look," one said to the other. "Do you see the eagle?"
I didn't correct them — maybe I'm getting old — but it was a tourist mistake. Missoula knows Ospreys and embraces them.
It's not that they're some special, rare endemic that would readily symbolize our own unique little mountain valley. The Osprey is one of the true cosmopolitans of the avian world, found on six continents and breeding on five. It can and will live near most any body of water with an adequate supply of fish — fresh or brackish, wild or crowded with human activity. As such success suggests, it is adaptable, taking readily to artificial nest platforms, coping well with most human developments save DDT and mercury pollution.
The Osprey I spotted might just have been passing through to points north, but if it was one of the locals, then it was most likely a minor celebrity. The Hellgate Canyon nesting platform has a nestcam trained on it. So does another located at Dunrovin Ranch (in the background of which you can occasionally see poet Mackenzie Cole and others of my MFA buddies working on horse training.) Most notable of all, though, is the nest at the baseball field.
Ogren Park Allegiance Field is the home of the Missoula Osprey*, a farm team for the Arizona Diamondbacks. In a town of this size they're a sporting Big Deal. Besides three Pioneer League championships and a bounce house for kids down the left field line, the Osprey have a vital distinction among minor league teams: the only example in pro baseball of a live mascot living simultaneously in its natural habitat and at the stadium. Because the stadium is by the river. And Osprey love them some nest platforms. In fact, the stadium nest was one of the most successful in the rough 2011 breeding season — only four of the 35 local nests in one survey had live young by the time July rolled around, but the stadium is located near a stocked fishing pond and the birds there reared two of their four hatchlings on the trout that the local primates thoughtfully provided. Adaptation has its privileges!
Early April is a fairly typical time for the earlier-migrating Osprey to arrive (both birds at Dunrovin are already onsite,) but eggs probably won't appear until late April or early May. Time enough, I suppose, for our newcomers to figure out that those aren't eagles.
*although in real life Osprey are most likely to face off with thieving Bald Eagles and the occasional Raven, the Missoula Osprey's avian opponents include the Idaho Falls Chukars and Orem Owlz. Borderline case: the Ogden Raptors, whose mascot is a dinosaur that hasn't evolved feathers yet.