Tuesday was the day for me to use my third-to-last day off of the year for, what else, birding! The Catskill-Coxsackie Christmas Bird Count, in its forty-seventh year, is always held on the first Tuesday of the count period. It also manages to attract some top birders as the habitat is good and varied, the list of possible birds is long (among the rarities on the composite list is Mountain Bluebird), and who doesn't want to take a weekday off in the middle of holiday madness in mid-December to go birding?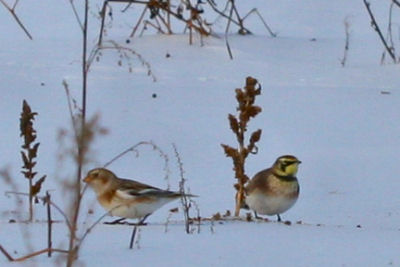 Snow Bunting and Horned Lark
I had never participated in this particular CBC before so when Will Raup of The Nightjar, Matt Medler of the Boreal Songbird Initiative, and I were assigned one of the choice territories, territory A to be exact, I was ecstatic. We were on the east side of the Hudson River in Columbia County and our turf included small farms, thick hedgerows, small woodlands, marshes, and a chunk of the mighty (and mostly frozen) Hudson River.
We got on territory at 7:15 AM in cold (7 degrees Fahrenheit) and cloudy conditions. Our first bird was a Red-tailed Hawk perched near the road, one of 38 we would count for the day. Our first "good bird" was a Belted Kingfisher perched over one of the small open spots on the Hudson River. Many more good birds would follow.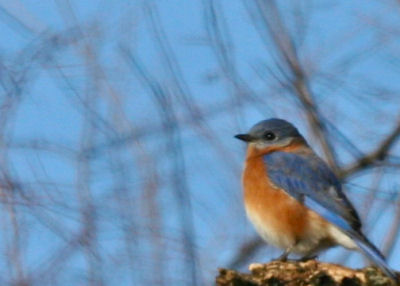 One of twenty-four Eastern Bluebirds
After the kingfisher we walked down to the river's edge at Nutton Hook and found a flock of over a hundred Canada Geese that had managed to use their body heat to keep a chunk of the river open overnight. Shortly after counting them they took off and scattered: talk about good timing! We also spotted three Common Mergansers flying north, four flying south, and a large flock of 51 flying south. That was all the Common Mergansers we would see all day.
Not surprisingly, European Starlings were our most common bird other than Canada Geese, with 402 totaled for the day, mostly in flocks of ten to twenty individuals. The geese only caught up to and passed the starlings because of several large flocks flying south at the end of the day, including one that had two Snow Geese at the end of the V formation.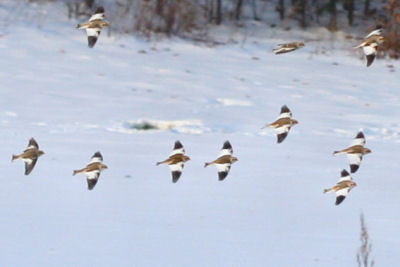 some of our 43 Snow Buntings
My favorite part of the day was when we were at Stockport Station and were looking longingly at the large expanse of marsh inaccessible to us because the only way to it was via an active railroad bridge. I decided to go for it anyway, ran across the bridge, dodged a freight train, and was rewarded with our only Swamp Sparrow of the day, a tough bird to find in the dead of December. Later I was almost ran over by an Amtrak train at another location along the river when we were busy counting some of our 115 White-throated Sparrows.
Other highlights of the day included a Hermit Thrush feeding on berries, three Savannah Sparrows, six Common Redpolls, nine Purple Finches (oddly all female), two Yellow-bellied Sapsuckers, nine Brown-headed Cowbirds, 43 Snow Buntings, and 34 Horned Larks.
The best bird of the count, however, was near the end of the day. We had been scanning through the Snow Bunting and Horned Lark flocks we had seen all day hoping to find a Lapland Longspur without any success. We had just pulled over to the side of a busy road with a grassy margin where some snow plow driver had gotten overzealous. I spotted an odd sparrow as we pulled over and Matt jumped from the car to make the ID as it flushed across the road and then back across to land in front of the car. A Lapland Longspur in the company of American Tree Sparrows and two Savannah Sparrows! It flushed again when I opened the car door to try to get a good picture and was almost hit by a speeding truck, so when it landed again we left it be and went on our way. That's why this is the best shot you get to see: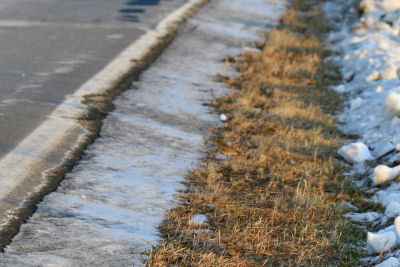 Our total species count for the day was 49 which is pretty darn good for December. The Lapland Longspur was the only species we found that no other group reported and was in the running with Saw-whet Owl and Pine Grosbeak as the best bird of the count.
The compilation dinner was a well-attended, high-spirited affair with delicious food and excellent company. Rich Guthrie, in his element as the Master of Ceremonies/Compiler, made sure everyone had a good time and we did.
Here's the list, in order of sighting, with totals for our sector for those of you who are way too interested:
Red-tailed Hawk 38, House Sparrow 52, Northern Cardinal 14, White-breasted Nuthatch 26, Dark-eyed Junco 191, Blue Jay 63, European Starling 402, Tufted Titmouse 24, American Goldfinch 107, White-throated Sparrow 115, Black-capped Chickadee 70, American Crow 102, Mourning Dove 175, Downy Woodpecker 22, American Tree Sparrow 71, Red-bellied Woodpecker 8, Belted Kingfisher 1, Eastern Bluebird 24, American Robin 219, Canada Goose 854, Common Merganser 58, Ring-billed Gull 2, Great Black-backed Gull 4, Song Sparrow 8, Carolina Wren 5, House Finch 38, Pileated Woodpecker 3, Hairy Woodpecker 3, Northern Flicker 5, Hermit Thrush 1, Common Redpoll 6, Snow Bunting 43, Horned Lark 34, Brown-headed Cowbird 9, Northern Mockingbird 6, American Black Duck 20, Mallard 12, Bald Eagle 2, Rock Pigeon 135, Swamp Sparrow 1, Yellow-bellied Sapsucker 2, Cooper's Hawk 1, Purple Finch 9, Sharp-shinned Hawk 2, Savannah Sparrow 3, Snow Goose 2, Lapland Longspur 1, Northern Harrier 1, Wild Turkey 7.