Yesterday was the day I would break 300 birds for the year in New York State. A plethora of rare-for-New York birds had been spotted way out east on Long Island, birds I had been too lazy to chase the previous weekend. This past weekend, however, fueled by fine Thanksgiving food, I knew I had the energy to make the nearly two-hour drive east, it was just a matter of if the birds would stick around long enough for me to see them. They were reported on Saturday, and the plan that formed was for Daisy to drive out with me, doing her law-school homework in the car. She was, however, relieved when it turned out that Jory, a fellow New York State Big Year birder who had already broken 300 species, was driving down from Albany and was willing to pick me up in Queens en route to the rare birds. You'd think I was a serial killer by the way Daisy acted like she had dodged a bullet (what, you mean you don't want to drive for a couple of hours to stare into a field loaded with horse poop?).
Anyway, Jory picked me up at just after seven in the morning and we made tracks out to Deep Hollow Ranch, where the rare birds were reputedly being repeatedly seen.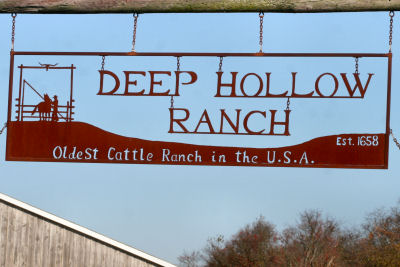 Once we arrived we quickly gathered the latest intelligence on our objectives: one of the Western Kingbirds and the Pink-footed Goose, which we both needed, had been seen in the field on the south side of the road and were still being spotted and the Ash-throated Flycatcher, which Jory needed but I did not, was being seen off and on near a trail on the north side of the road, but the Barnacle Goose, which I needed and Jory did not, had not been seen all morning.
Now I might need to stop and explain about this amazing array of avian rarities. Both Barnacle and Pink-footed Geese are European species of waterfowl that are rare vagrants to the East Coast of the United States. Ash-throated Flycatchers and Western Kingbirds are western birds that regularly show up in the east but are still quite a coup to see in New York State, especially when you are on a Big Year. The fact that all four of these species were present on the same parcel of land at the same time can only be attributed to the amazing geographical area that is the east end of Long Island and the hotshot birders that make it their special mission to scour that special geography in the hopes of attaining the glory deserved by those who find rare birds, report them in a timely fashion, and await the accolades of the birding community.
We decided to head to the south side of the road first and see the two birds that were present at that moment. Do you think we had a hard time figuring out where to look?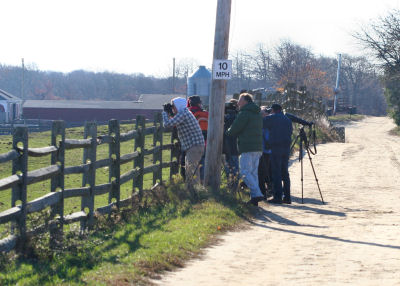 We caught up to the bunch o' birders and set up our scopes. I was surprised when I saw both the Pink-footed Goose AND the Barnacle Goose right next to each other and remarked (just a bit excitedly) that I had both birds. Apparently the Barnacle Goose had chosen that exact moment to pop up from behind a dip in the ground. Then, while we were appreciating the two rare waterfowl, a Western Kingbird FLEW DIRECTLY THROUGH MY SCOPE'S FIELD OF VIEW!!! Mind you, after nearly eleven months' birding across New York State I had seen 298 species of bird and the kingbird made three new species for the year in the same scope view at the same time! How ridiculous is that? And how ridiculous is it that the two geese tied for numbers 299 and 300? Talk about an embarrassment of riches; I don't even know what bird was number 300! At least I know the Western Kingbird was number 301.
And, to make the story even more absurd, you might remember that back in October I was in Germany, where Pink-footed Geese are, you know, native and spent a good chunk of a day searching for and failing to find one with Jochen and Hendrik. Instead I get my life Pink-footed Goose in Long Island, thousands of miles away from its usual migration route. Birding is weird.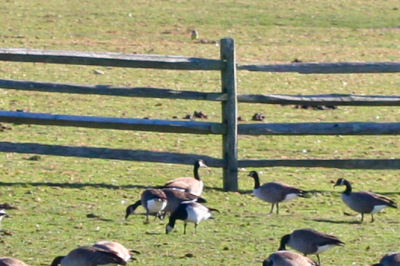 Barnacle Goose and Western Kingbird (with Canada Geese)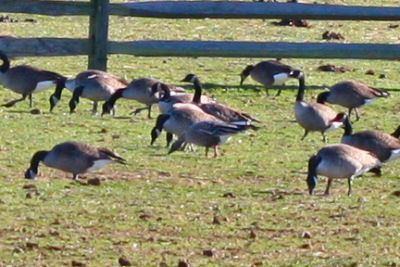 Pink-footed Goose with Canada Geese
After enjoying the three year birds (two for Jory) we headed to the north side of the road and searched for the Ash-throated Flycatcher for about an hour without any luck. So we decided to head out to Montauk Point and look for seaducks for awhile before coming back to try again, but you'll have to wait until tomorrow to find out how that went. Until then, good birding!