A few days ago, a Rufous Hummingbird was banded at a feeder of a birder near Asbury Park, NJ. Rufous/Allen's-type hummingbirds have become an almost annual fall visitor in NJ since the mid-'90s. NJ also has multiple records of both Black-chinned Hummingbird and Calliope Hummingbird since the mid-90s. In 2005, we were even graced with a Green Violet-ear. You can read more about that sighting here. There are a few rare hummingbird records in the early '90s and zero records prior to the '90s. I imagine there is a connection between an increased awareness of butterfly and hummingbird-friendly gardening practices, availability of hummingbird-friendly garden plants, and easy access to and increased popularity of hummingbird feeders. Furthermore, birders now know that by leaving their feeders up later into the fall, they increase their chances to attract these rare visitors.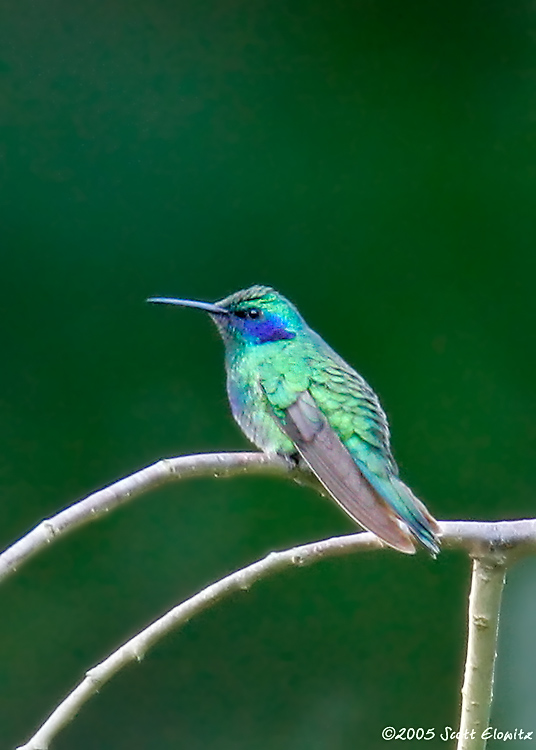 The actual Green-violet Ear from NJ – thanks to photographer Scott Elowitz
The vast majority of rare hummingbird sightings are in the southern counties and you can bet that Cape May boasts a bunch of those sightings. The slightly warmer climate of southern NJ helps keep hummingbird feeders unfrozen longer and allows plants to flower longer. I've heard the late-blooming Pineapple Sage is a real favorite of the hummingbirds down there. It bloomed too late at my house and only got a few blooms before expiring.
Sightings of Selasphorus hummingbirds are the most common throughout the state and most sightings occur between late September and January. Yes, January! Quite a few of these birds stayed for several MONTHS from late fall into the winter. This likely took some TLC from the home owner to care for the feeders during freezing temperatures.
For the Selasphorus hummingbirds, banding is often required to make a positive identification as immature and female birds are virtually indistinguishable in the field. In the individuals where a positive identification is made, there have been 14 Rufous Hummingbirds and 3 Allen's Hummingbirds (as of 2007 records). I personally have not seen an Allen's in NJ. Photo evidence has usually been sufficient for the other rare hummingbird species seen.
Despite the pleasure these rare visitors bring us, there is a negative side. These birds are lost and their future is likely not good. The feeders and plants in our yards are likely only helping them temporarily. But, temporary help is better than no help at all. So, keep those hummingbird feeders up and plant some hummingbird-friendly, non-invasive plants. Remember to maintain your feeders and ignore the myth that leaving your feeder up will prevent the local hummingbirds from migrating. Have you been lucky enough to have a rare hummingbird visit your yard?
To view a list of all the accepted hummingbird records in NJ, refer to the NJ Bird Records Committee's list of accepted bird records.