This guest post is written by Hope Batcheller, a young dynamo in the New York State birding scene.  In it, she asks for support for The Razorbills, a team of five keen teenage birders (who probably don't want to be referred to as "keen").  Please support them, because, well, teenagers who are not mugging little old ladies or whatever it is people are worried about teens doing, deserve to be supported.  The Cornell team with their eBird publicity certainly don't need your help as much as a team of teens so pledge to support The Razorbills!
The World Series of Birding. The infamous 24-hour birding marathon in New Jersey. The day when "Eat, Sleep, Bird" becomes reality, except without the sleep. The only time I've actually hallucinated bird song. Why would anyone participate in such a thing, you ask? Well, because it's a blast: an excellent way to combine birding and camaraderie, while supporting conservation efforts.
The World Series of Birding (WSB) is a midnight-to-midnight birding and fundraising event. Sponsored by the Cape May Bird Observatory, it takes place annually in New Jersey. During those 24 hours, teams traverse an area of their choice (eg, whole state, Cape May County only), finding as many bird species as possible. By designing a strategic route, they cover a huge variety of habitats, from marshes and swamps, to forests and grasslands, to mudflats and beaches. Many teams covering the whole state find over 200 species; the winning teams find up to 230.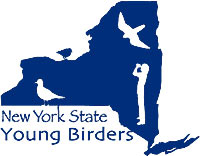 This year, I will be heading to New Jersey to compete in the WSB on May 9th. My team, The Razorbills, will traverse the whole state, with a goal of finding 200 species. The Razorbills consists of five bird-obsessed high-schoolers from New York State: Brent Bomkamp, Benjamin Van Doren, Brendan Fogarty, Jacob Drucker, and me. These five team members are all very active members of the New York State Young Birders Club (NYSYBC): our fundraising beneficiary for the event.
This is where you come in: I am asking that you consider supporting our team.
The NYSYBC is a relatively new organization devoted to encouraging young birders. Teenage birders, as you likely already know, are a rare species, and this club provides much-needed networking. Sponsored by the New York State Ornithological Association (NYSOA), the club opened membership (for youth, supporting adults, and sponsoring clubs) last August. Since then, it has grown by flaps and glides, with current offerings including monthly field trips, a quarterly newsletter, and an online listserv. I have been very active in the club's development, and am thrilled to see so much coming together – and for this opportunity to raise funds to support and expand its endeavors.
If you'd like to contribute to this worthy effort, donations can be made per species (recommended—it provides fun motivation!) or as a lump sum. If you pledge per species, keep in mind that we expect ~200 species. I will keep track of pledges, and notify you with our species total and amount owed after the event.
To pledge, or ask questions, please email me at hope.batcheller AT gmail DOT com. Thanks in advance for your consideration and support! An update of our Big Day adventures – guaranteed to be many and bizarre – will be posted after the event. In the meanwhile, enjoy the spring migration, and I'll see you in the field!
So, dear readers, please support these young birders, if only to prevent them from turning to a life of crime to support their birding habit.  Even a nickle a bird will add up if several of you out there pledge…and you'll be helping keep birding alive in the next generation!  Just take a look at the New York State Young Birders Club website and you'll want to pledge for sure.