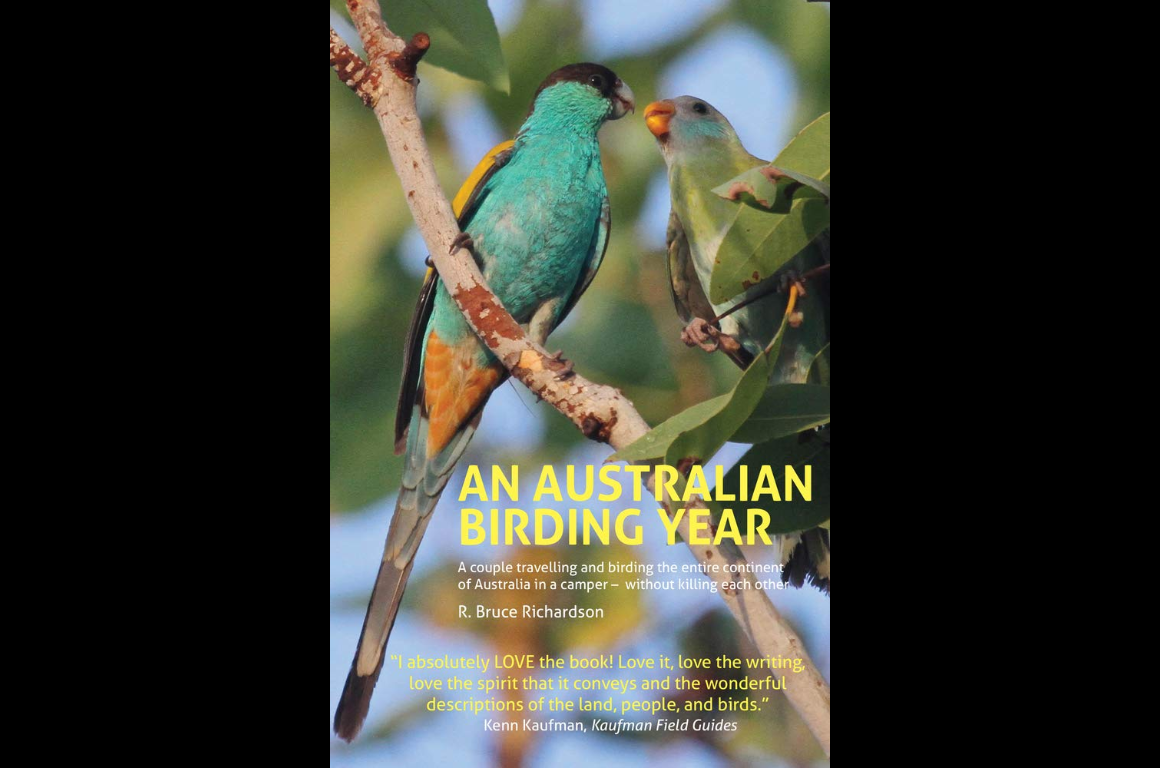 I believe that writing is easy. Everyone can do it. So easy that I am writing, too, in my second language that I learned only in my 20s. Then, why am I so surprised when I encounter a good writer??

R. Bruce Richardson is a good writer. His words touched something in me at page 1, and by the end of the book, he still had my undivided attention. Now, that's a rarity.

I love to travel and to read, hence, I clearly love travelogues, from James Cook to Noah Strycker. There is something that many travelogues share: at first everything is new for the author, he or she pays attention to every little detail, but as the long trip continues, they become tired, impressions become second or third hand – they've seen it all before, they become exhausted, and the writing style changes, from an amazed child to a deeply bored old man, within the same covers.

"An Australian Birding Year" is an honest story of a couple in their 60s driving around the Land Down Under and chasing birds en route. They are both birders… Well, that is a bit outstretched.

While Bruce is a passionate birder, Lynn seems to be in it for the ride. They both saw an impressive 640 species (plus a dozen or two more each, but not together), yet, while Bruce is still birding nowadays, Lynn is quite happy to forget birds and pursue other interests. They travelled thousands kilometres confined in a small space, and they are still in love – that could be the single greatest achievement of this impromptu Big Year.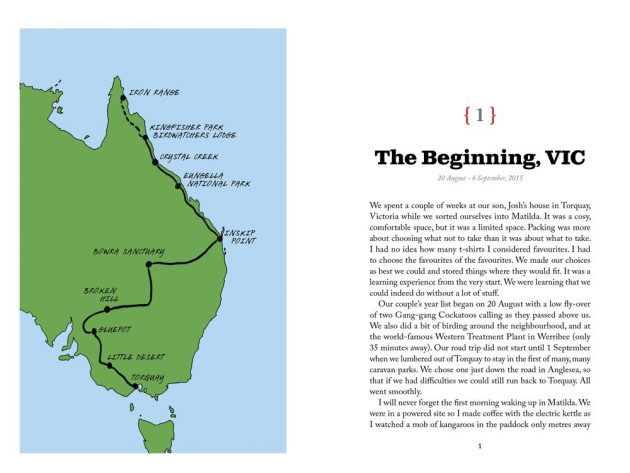 Why impromptu? Instead of January, they started by mid-year and ended by the next mid-year. Well, there are no fixed Big Year rules and everyone makes his/her own decisions. They were trying to see more birds, but weren't madly chasing after them. More importantly, they weren't trying to make or break any record, but to explore the country they were moving into.

In order to get their residence visa, Bruce and Lynn needed to spend a full year in Australia. But, since finding and buying a house didn't go as quickly and smoothly as they hoped for, they bought a camper van and explored the continent instead. And in 2015- 2016, they travelled the entire continent of Australia birding and writing about it.

I do not know the Australian birds, nor do I have any book on them. And writing about birding is hard because it is so predictably repetitive, sightings blend into each other, all of them have the same common elements repeated over and over again. So, how did I follow their sightings, how did I follow their excitement over seeing something new to them and at the same time, having no clue how it looks (and knowing that there were simply too many birds to search for, I never googled for them)?

Bruce has a moderate but steady rhythm in which he is telling the story: it doesn't quicken, it doesn't slow down. If I had to compare it with music, I'd say "reggae". A fair share of humour helped me to swallow a bit too many road diner reviews, but the important point is, Bruce didn't got tired or bored with their travels, and it is his enthusiasm and humour that made me have yet another "lifer pie" with them. The other reason could be, I am a birder.

"An Australian Birding Year" is published by John Beaufoy Publishing, Oxford, England.