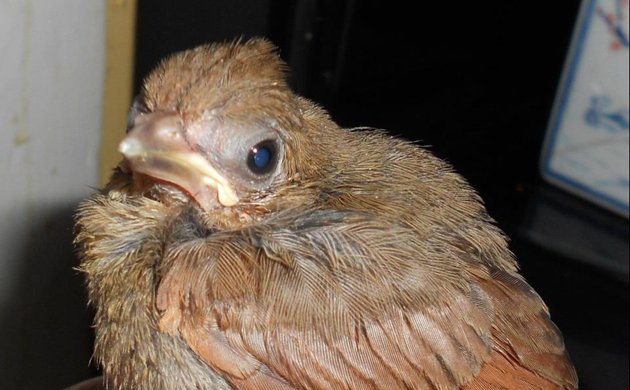 When the wolf is at the door, a wildlife rehabilitator will let him in.
And feed him.
That's why we're always broke.
Jodi Swenson is a bird rehabber in Gloucester, MA. She is the only one on Cape Ann, and one of only a handful in the state. Her fine china repair business pays her bills, but her budget is often strained past the breaking point by the 250-300 birds she takes in per year – such as this Eastern Screech Owl, who is recovering after being hit by a car.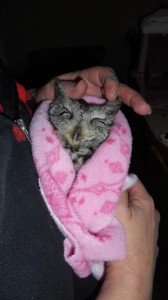 When my bird rehabbing memoir came out in 2009, HarperCollins sent me on a New England book tour. Before each stop I always called a nearby rehabber, asking if they'd like to bring their education bird(s) to the book signing and possibly drum up some local support for their operation. Jodi, who I'd never met, didn't have any education birds, but showed up anyway.
I walked into the Barnes & Noble and there she was: many earrings, multicolored hair, a ready grin, and an air of effortless hipness that dazzled my 14-year-old daughter, who was accompanying me on the tour. "Mom!" she whispered, in awe. "You KNOW her?"
My mom stock skyrocketed, thanks to Jodi.
Normally I would give a short talk about birds and rehab, take questions, and sign books. This time, however, Jodi turned it into a boisterous back and forth between rehabbers, adding her wickedly humorous two cents to everything from how hard robins can bite you, to where you store raptor food when you're short on freezer space, to what happens when a sleep-deprived rehabber attempts to say "Marbled Murrelet," to how we fall crazily in love with the most unlikely birds – in Jodi's case, a gull.
"I just love those gulls," I remember her saying. "They're such jerks! You go down to the beaches and there they are, just waiting for the nice families to take their little kids down to the water. The second they do, wham! The gulls bullet over and start tearing up their stuff, pulling everything out of their backpacks and beach bags and flying away with all of it. They're terrorists! Aren't they cool?"
The crowd loved it. I wanted her to join the tour.
Jodi is still all things to all injured wild birds (and the occasional homeless domestic one) on Cape Ann, but she is now badly in need of funds. Her rented house is threatened with foreclosure, and she's trying to figure out a way to turn it into a permanent home for Cape Ann Wildlife, Inc. Meanwhile, the birds keep arriving …
Are there any Good Samaritans out there? Jodi's winter food bills are steep ("Every time I turn around, there's another owl hit by a car!") and she has the classic rehabber problem of being unable to say no to a bird in pain. With luck, someday her revolving cast of songbirds, raptors and waterbirds will eat her out of a permanent house and home instead of a rented one.
Jodi Swenson
386 Essex Ave.
Gloucester, MA 01930
cawildbirdrescue.org
https://www.facebook.com/CapeAnnWildlifeInc?fref=ts