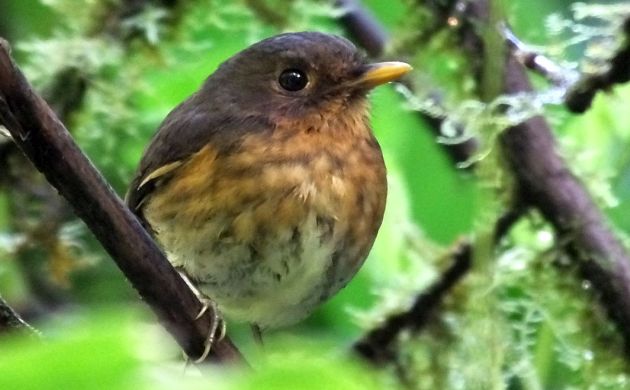 Up north, January is that coldest month. I remember it as the one in Niagara where the Arctic would come on down to bring ice for the roads, cold blue for the sky, and, with luck, birds from the north. Looking for Northern Shrikes and redpolls was a test for winter gear and wind chill factors but the birds weren't going to be there in the hot days of summer. Heck, they wouldn't even be close to being present during spring or fall. You had to make that resolution to go outside and trudge through the snow, brave those temps but the Great Gray Owl was worth it, those three Bohemian Waxwings lording over a flock of Cedars was priceless.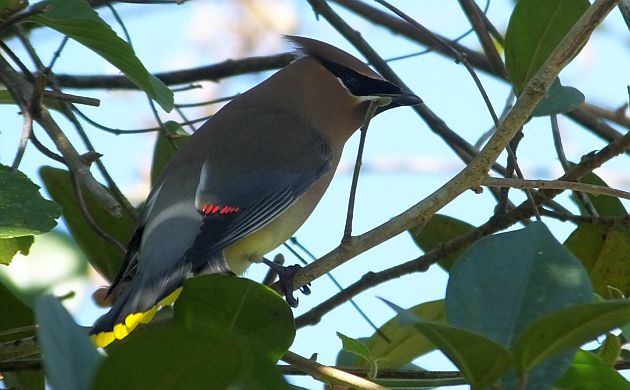 I actually really hope to see this bird in 2019 in Costa Rica.
Living in warm Costa Rica, I no longer need to worry about venturing into the "frio extremo" to see a Pine Grosbeak or some errant gull. However, the lack of cold doesn't mean that we don't have our own set of birding challenges in Costa Rica. For example, around here, we have to watch our step for vipers wonderfully camouflaged in the leaf litter.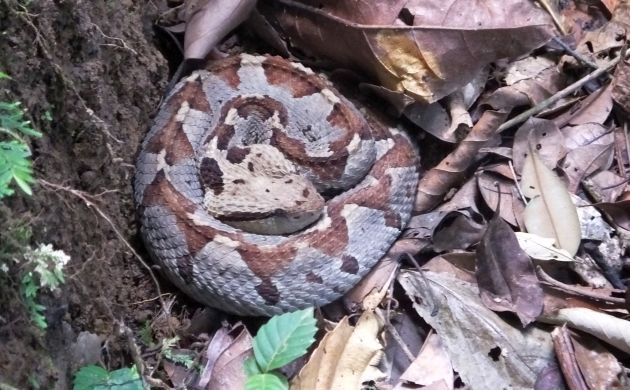 Four very experienced birders walked right past this potentially dangerous living sculpture of a snake during the Arenal Christmas Count.
We have to be careful about staying hydrated in hot, humid conditions, and keeping with the patience needed to find Bare-necked Umbrellabird, Sharpbill, or other rare and challenging species. As with every new year, a birder can also make resolutions to keep for the next 12 months, these are mine:
Identify 700 species in Costa Rica
It's very possible, I did it in 2017 and a few other birders manage to surpass that number every year. But, it can only be done with the right birding in the right places. This means looking for rare wintering warblers and other migrants, making trips to each corner of the country, and, most of all, going birding as much as possible. There will be challenges because I also have to work, have a ten year old daughter, and hope to see most of those 700 birds with my partner but the year is underway and we are already off to a good start!
Find more sites for Ochre-breasted Antpitta and other uncommon species
A lot of birds are out there at more sites than are known. That's always a given, it's only a matter of effort and access to find them and this is what I hope to accomplish for Ochre-breasted and Scaled Antpittas, Wrenthrush, and many other uncommon and/or skulky birds.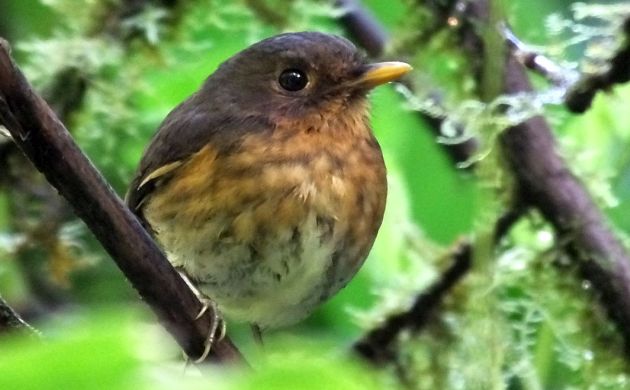 In Costa Rica, the Ochre-breasted Antpitta is usually found near streams or other similar microhabitats in wet, mossy, middle elevation forests.
See some cool stuff from the ferry
Since I always see something cool from the Puntarenas-Paquera ferry, this should be an easy resolution to meet. It will probably take several trips but the storm-petrels, Bridled Terns, Brown Noddy, and maybe a mega or two will be worth it.
Take my daughter birding more often
I really need to do this. She might not want to watch birds the same way I do but I will be happy and grateful for any sort of watching of birds.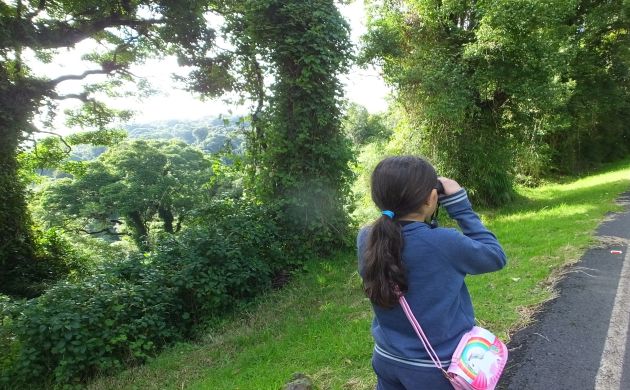 Scout for and do a major Big Day
I have already been working on part of this resolution for several months. Every bit of guiding or birding on the Big Day route also acts as scouting. The more I know the route the better our chances of truly breaking some records and that's of course what we always hope for. We will still need other factors to fall into place but at some point during the year, we will be giving the Big Day a serious shot, probably one accompanied by Red Bull and chocolate and maybe a bottle champagne to celebrate our record breaking feat.
I'm always scouting for Barred Hawk.
Add 10 species to my Costa Rica list
This resolution won't be easy. I am one bird shy of 800 for the country and most of the rest are very rare or just really tough to find. Or, they are pelagics that I won't see because the high seas just aren't my cup of tea. The most likely additions will be Dunlin and Yellow-throated Warbler because these are the most regularly occurring species lacking from my country list. Others of the ten could take the form of Forster's Tern, other wood-warblers, and maybe a nightjar or two.
Promote birding
Most of all, I am making a resolution to do more to promote birding. Although I already do this in a few different ways, I will do more to promote this special endeavor to more people while guiding or just out birding.
Well, those are my resolutions for 2019. Will I keep them? Will my partner and I do a record breaking Big Day? Will my daughter lay eyes on a quetzal? Stay tuned at 10,000 Birds!