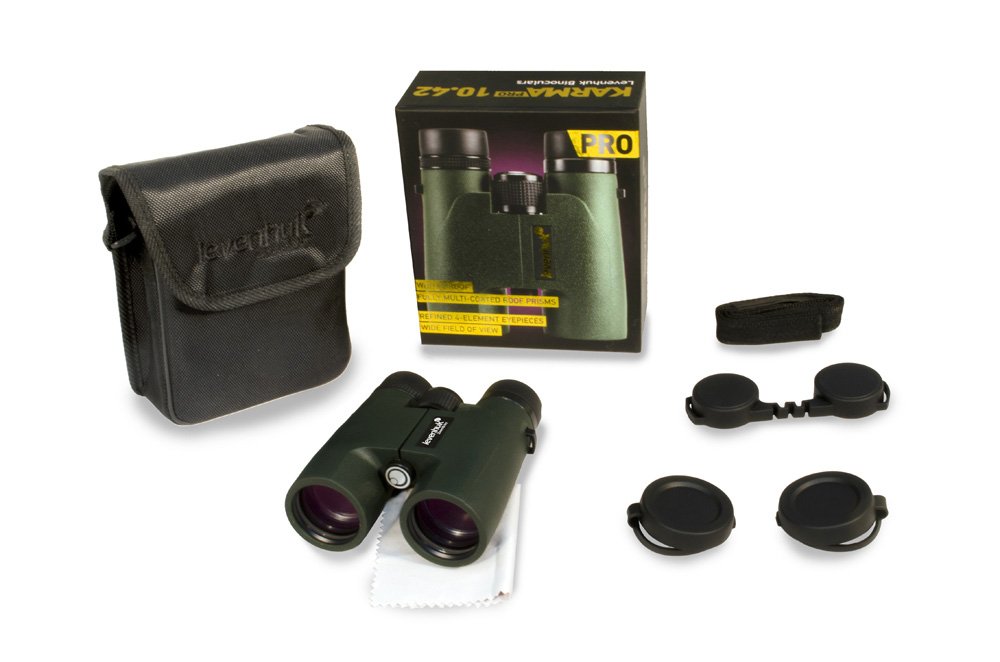 When it comes to binoculars, I've long been devoted to my trusty Nikon Monarch 8x42s. They feel great, they function beautifully, and they've seen me through most of my best birding days. (Plus they managed to survive a momentary lapse of reason on the beach at Indiana Dunes relatively unscathed.)
But just as in a good romantic relationship, it's natural to wonder what one might be missing. That doesn't mean you adore your sweetheart any less. A wandering eye from time to time can help you appreciate the beauty and virtue of your loved one even more. All of which is to say I was game to try out the Levenhuk Karma PRO 10×42 binoculars.
I took them out for a spin side-by-side with the Monarchs on a cloudy day birding in Carpenter's Woods and along Wissahickon Creek, both in northwestern Philadelphia. Both clocked in at about the same weight (1.5 lbs), which was a nice surprise, and both have decent cases. The first difference I noticed was the strap; the Karma's lacks padding behind the neck, which didn't bother me greatly in the short term, but I could see how it would be an issue during a long day's birding.
I assumed that the Karma's much lower price point would not only mean fewer such amenities, but inferior quality. Again, I was proven wrong. The binoculars were solid and well-designed. They felt good to my hands and my eyes. Adjustments were easy to make, and the manual was straightforward and simple. The extra magnification was a welcome change of pace from what I'm used to, even if it meant the field of view shrank a bit.
Both binoculars gave me great views of a backlit Wood Thrush singing on an open branch near the top of a tree across a field. I didn't anticipate that the Karma would fare well in terms of resolution and clarity, but the image was just as crisp as what the Monarchs provided. (And the rush of brightness was like Technicolor; now I totally get what Paul Simon was singing about.)
In sum, the sturdy Karma model fared pretty well for me. It may not have some bells and whistles that more expensive binoculars boast, but I found it to be perfectly fine for basic birding needs. The Karma strikes me as a very good entry into birding for a beginner, and an equally good all-around backup. (The review model is definitely getting stashed in my car for random on-the-road ID purposes, and will also come in handy when I've got a guest along for some birding fun.) Swap out the standard-issue strap for a more comfortable one, and the Karma is worthy of your consideration.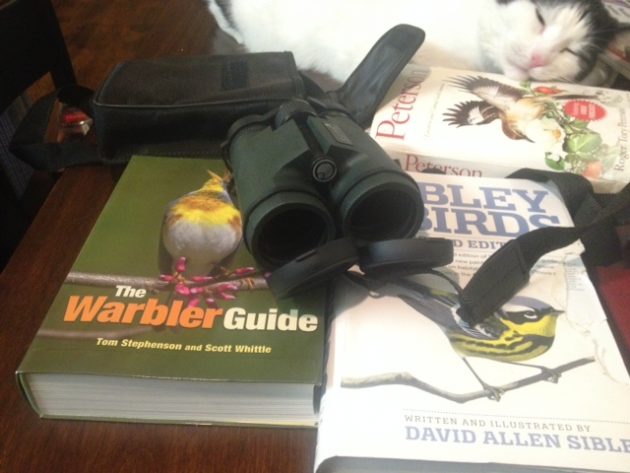 I call this one "Still Life With Dylan"