My birding adventures this week, while Western, were far from Interior (three words for you: Black-bellied Whistling Duck). Fortunately for you, though, when I got home I found a review copy of National Geographic Backyard Guide to the Birds of North America by Jonathan Alderfer and Paul Hess ready and waiting to be dissected for your delectation.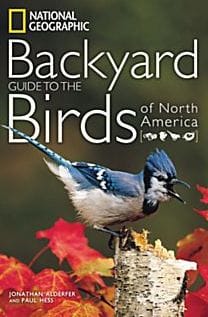 The target audience of this book is not the jet-setting hardcore birder, or even the dedicated local lister. As the title implies, it is the casual to very casual birder, and by extension the gardener, walker-in-parks, or general noticer-of-things who is curious about the birds s/he encounters in everyday life. Although it is not designated as "for children", it would also be well-suited to the bright kid or preteen who is interested in birds but not yet able to go in search of them (although I'd imagine such a kid, if she got hooked, would also want a more traditional field guide to drool over and plan elaborate imaginary trips around… not that I ever did that.) It would make a great housewarming gift for the family that just acquired a yard, and is well-suited for giving to that one relative who always wants to ask you about the bird they saw last week that was about so big, and red, but with some black on it too.
In keeping with this focus, the book is truly a "backyard" guide and not a "field guide". At first I was surprised by some of the species that weren't there, quite common and noticeable birds like the Great Blue Heron and Mute Swan. But it soon became clear that the focus was meant to be primarily on birds that the average householder might attract to his or her own property. Several articles by Hess at the front of the book cover how to landscape for birds in different regions, how to choose and maintain a bird feeder, where to best locate a nest box, etc. Hess also, to my pleasure, includes a few pages on citizen science projects like The Great Backyard Bird Count, and encourages his readers to share their new-found knowledge with friends and family.
The main body of the guide covers 150 species of North American birds that are found in close proximity to humans and likely to be seen well. Some regional specialties, such as Carolina Chickadee and Oak Titmouse, are included, and the balance between eastern and western birds is fairly even. This section is arranged in taxonomic order, although for the absolute novice the book also includes two quick visual indexes, one focused on overall body shape and one on color (although the latter index only includes the major color of the adult male in cases of sexual dimorphism like the Northern Cardinal.)
These birds are primarily identified through illustrations, which are handsome and appear accurate, although I might have liked them to be larger. Photographs are also included for those particularly common or iconic species who get a two-page spread rather than a single page. The species accounts, besides including the traditional field marks, range, similar species and the like, often include notes on what type of feeders, nest boxes, and habitat are best suited to attracting the bird in question. The existence of species outside the scope of the work is noted casually, and the guide does not pretend to be more comprehensive than it actually is, as unfortunately some beginner's guides I have seen do.
The publicity materials for this book promise to "quench your curiosity about the feathered creatures in your midst", but I am more optimistic – rather than quenching, I could see this book growing the curiosity about and awareness of birds, even in many people who might never call themselves birders at all.
Book information from National Geographic Books
Softcover
288 pages; 290 color photographs; 150 maps, 500 illustrations
5 3/8″ x 8 1/4″
© 2011