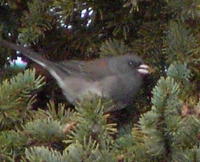 This weekend found the Core Team in beautiful Potter County, PA visiting Sara's folks. Her mother, Ann is, in my humple opinion, the queen of backyard birding. Her secret is that her backyard is actually a farm and that she deploys six different types of feeders. We're happy to say that her methods work well. The Ruby-throated Hummingbirds may have left for the season, but there's still enough diversity here to bring us a new bird.
Last week, we thought we spotted a Dark-eyed Junco, but couldn't make the call. Since this afternoon, we've probably seen 10 or more. These slate-colored beauties are quite at home here on the farm. They're not bashful about having their picture taken either.
I also spotted a Red-breasted Nuthatch, but since Sara wasn't there, it doesn't make the team list. Still, the juncos, along with plentiful House and Song Sparrows, House Finches, Black-capped Chickadees, White-breasted Nuthatches, Blue Jay, Downy Woodpecker, some raggedy American Goldfinches, and the usual crows and vultures make backyard birding seem pretty good. We never picked up that elusive Red-breasted Nuthatch. Two more birds that we briefly viewed, but couldn't spot to Core Team specifications, were the Ruffed Grouse and Common Snipe. At least, we think we saw them.
The centerpiece of this trip to Potter County was the 11th annual Ridgewalk & Run in Wellsville, NY. Ever since Sara lived out in what the locals like to call God's Country, she's been participating in this popular event. This year, she persuaded me to join the group. The two of us, Seth and Christine, and Sara's dad, Will and his girlfriend, Sally, all walked the 6-mile trail. The weather was brisk, to say the least, and the trail was muddy and slick. But the views were fantastic.
We completed the 6 miles, and then jumped in the car to drive 300 more to the Bronx. Yes, New York really is that big, and then some. The day's trials sound like some twisted Olympic event, but one that we would do surprisingly well at. The birding during the Ridgewalk was predictably poor. With 900 men, women, children, and dogs barreling through the woods at the same time, every creature with wings got while the getting was good. We did, however, spot two porcupines hiding up in the treetops. I'm glad that those branches held!