I don't think I've ever done a post on my home patch of Cape Town, South Africa. This place is such an epic birding location that one cannot possibly do the city and its surrounds justice in one post. So I'm going to feature one of my very favorite locations, just 45 minutes drive from the city centre. The little seaside village of Rooiels is famed for being a wonderful location to pick up some choice South African endemics but it is also one of the most beautiful spots in the Cape. Located on the eastern side of False Bay, the strange name "Rooiels" is an Afrikaans word meaning "red alder" and is named after the tannin-tinted river of the same name.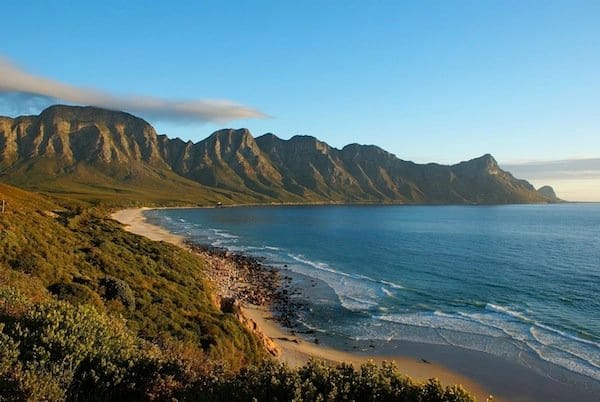 Rooiels vista by Danie van der Merwe
This is arguably the most accessible site close to Cape Town for the legendary Cape Rockjumper, a name that correctly conjures up images of boulder-hopping creatures. These birds, and their closely-related counterparts, the Drakensberg Rockjumper, constantly find themselves on the most-wanted list of pretty much every visiting birder. And rightly so. Mostly, Cape Rockjumpers are found at relatively high altitude and it can take some serious hiking to locate a party of these comics. But at Rooiels, the birds occasionally descend all the way down to sea-level and party amongst the seaside boulders. But not all the time. In fact, even at Rooiels, one can spend a few hours jumping from boulder to boulder in quest of these enigmatic birds. But by George is it worth it! I can spend hours watching these guys forage, hop from boulder to boulder, disappear into crevices, all the while constantly calling to each other to maintain contact.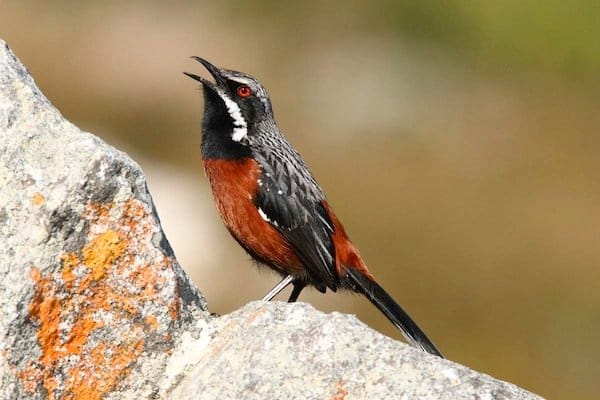 A gorgeous male Cape Rockjumper by Adam Riley
Rockjumpers are really special birds because, although they superficially resemble large chats or perhaps even oversized robins, they have no close relatives. So much so that the two species are placed within their own family, Chaetopidae. Chaetops frenatus, the Cape variety, is endemic to the mountain fynbos vegetation of the extreme southern Cape and therefore has a small range. The species is insectivorous and nests amongst the scree and boulders on the steep mountain slopes. Breeding groups typically occupy territories of around 8 hectares and consist of a breeding pair and one or two helpers. The helpers are often the young from a previous year and they assist the dominant pair with territorial defense, feeding the youngsters and with nest building and selection. What one doesn't really get an appreciation for from photographs is the size of Cape Rockjumpers – roughly the size of Northern Mockingbirds, only perhaps slightly chunkier.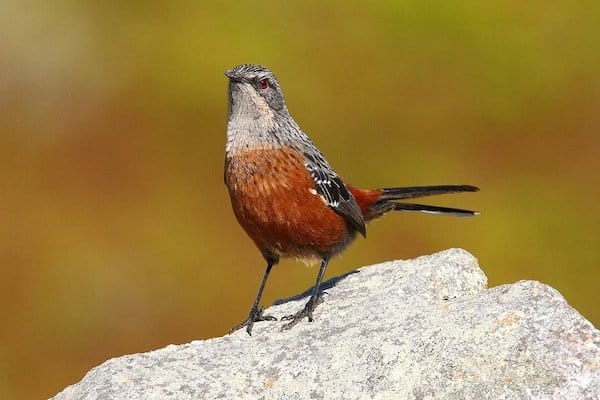 A female Cape Rockjumper by Adam Riley
Although the rockjumpers are undoubtably the star attractions here there is just SO much more. The entire area is covered in fynbos and, with the fynbos comes a dazzling display of various protea, leucospermum and leucadendron flowers. These in turn attract a variety of special endemic nectar-feeders. Endemic Cape Sugarbirds are especially prominent when the leucospermums are in flower and they are joined by one of the most brilliantly colored of all South Africa's endemics, the Orange-breasted Sunbird.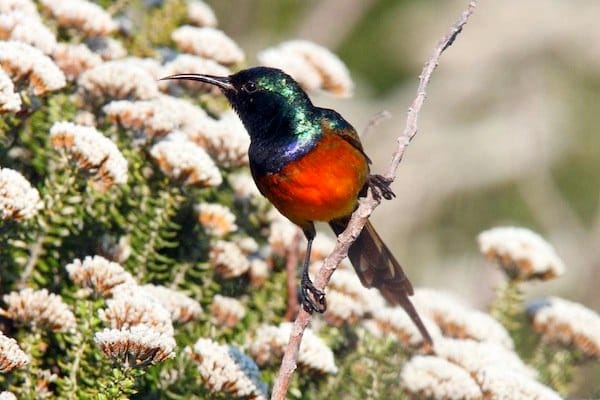 Orange-breasted Sunbirds are common at Rooiels       Photo: Adam Riley
All in all it is quite feasible to see over 20 endemic species in a day's birding at Rooiels. In addition to what is mentioned above, some of the more regularly seen endemics include Cape, Crowned and Bank Cormorants, Hartlaub's Gull, African Black Oysterctacher, Cape Siskin, Cape Spurfowl, Jackal Buzzard, Cape Bulbul, Cape Rock-thrush, Southern Double-collared Sunbird, Cape White-eye and Cape Canary. Another highlight is the eyrie of a pair of Verreaux's or Black Eagles, one of the handsomest eagles on the planet! And then there are the Ground Woodpeckers! These are one of only three ground-dwelling woodpeckers in the world.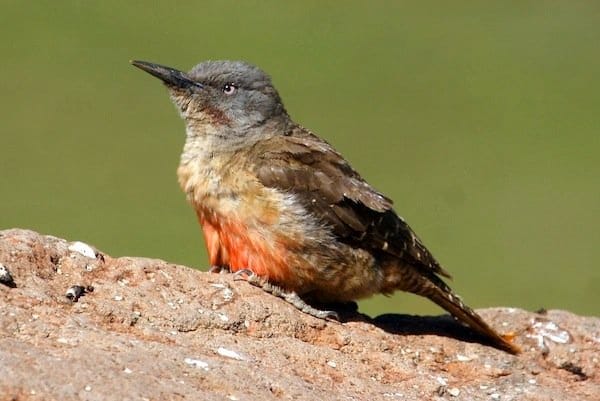 A Ground Woodpecker by Adam Riley
But probably the very best attribute of this gem of a birding spot is its proximity to the ocean. There are few places that can boast such a varied endemic bird-list but even fewer that can offer the visiting birder such excellent land endemics combined with the opportunity to see some stunning marine endemics at the same time! And from July through to December one can sit and watch Cape Rockjumpers, whilst a dozen or so Southern Right Whales propel their massive bodies clean out of the water, then belly-flopping with thunderous amounts of spray.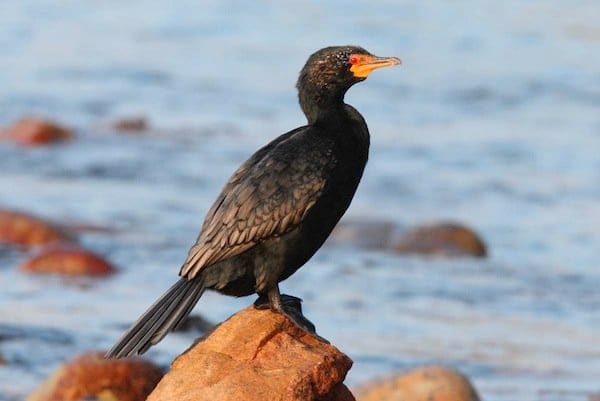 A Crowned Cormorant by Adam Riley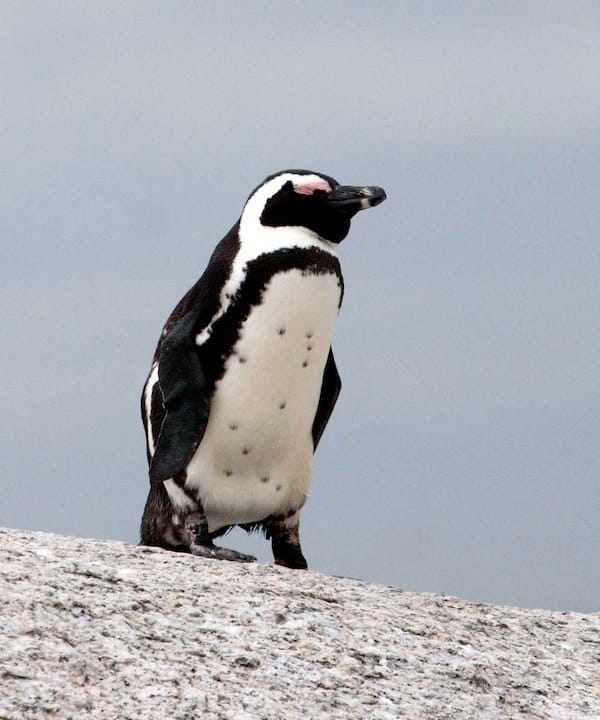 African Penguin by Adam Riley
Rooiels truly is one of my favorite destinations on the planet. So close to Cape Town and yet still so wild. Baboons frequent the area and can be found in large troops foraging close to the ocean. Even leopards still live here and occasionally terrorize the African Penguin colony at nearby Betty's Bay. If you happen to be lucky enough to find yourself in Cape Town, choose a windless day and experience the magic of this place and its birds. And, writing this post has made me realize that I owe Rooiels a long overdue visit.