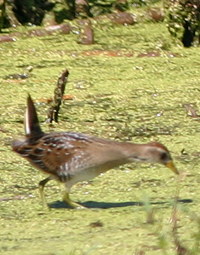 This weekend found the endlessly traveling Core Team at Lake Skaneateles in the Finger Lakes visiting Seth and Christine and her family. This annual pilgrimage to Skaneateles is always one of the high points of our summer. Not only do we enjoy the pleasures of the lake and its surrounding towns, along with the good company of friends and family, but the birding is always fantastic.
On the lake itself, we mainly saw the same woodpeckers, gulls, goldfinch, robins, waxwings, juncos, and other common birds spotted last year. Added to the list were Chimney Swift, Eastern Phoebe, and the ubiquitous unidentified empids. I thought I saw some more Purple Martin, but having only recently become acquainted with the species, I'd rather not presume too much.
The highlight of any trip to the Finger Lakes, at least from a birding perspective, is an excursion to Montezuma NWR. Montezuma, the pride of Cayuga County, never ceases to impress with its predictable array of exciting avifauna. This year, we arrived close to noon on a hot, sunny day, so we didn't see as many birds as usual. However, representatives from most of the prominent Main Pool species made appearances, including Common Moorhen, American Coot, Pied-billed Grebe, Killdeer, Great Blue Heron, American Black Duck, Double-crested Cormorant, and Canada Goose. Of course, Osprey and Belted Kingfisher hunted overhead, though it was clearly too warm for the local Bald Eagle.
Benning's Marsh sheltered the usual variety of water-loving birds, including, among other species, Solitary Sandpiper, Least Sandpiper, Semipalmated Sandpiper, Semipalmated Plover, Greater Yellowlegs, Caspian Tern, and Ring-billed Gull. Montezuma offers a much greater diversity of birds, including various swallows, sparrows, and songbirds not mentioned here. We had only a brief window through which to enjoy the refuge so we couldn't focus on as many birds as we'd have liked. Rumor had it that both American White Pelican and a family of Sandhill Crane, both rarities for New York, were spotted in the area within the last week.
Despite a concerted effort and a great deal of driving, we failed to flush the cranes, which would have been lifers for us. However, Montezuma always provides. Instead of a long, lanky member of the genus Gruiformes, we encountered a much smaller one, the precious, almost doll-like Sora. This lovely rail tried to use a killdeer for cover, but Seth's sharp eyes picked it out as soon as we reached the Main Pool. Another year, another great morning of birding at Montezuma NWR!