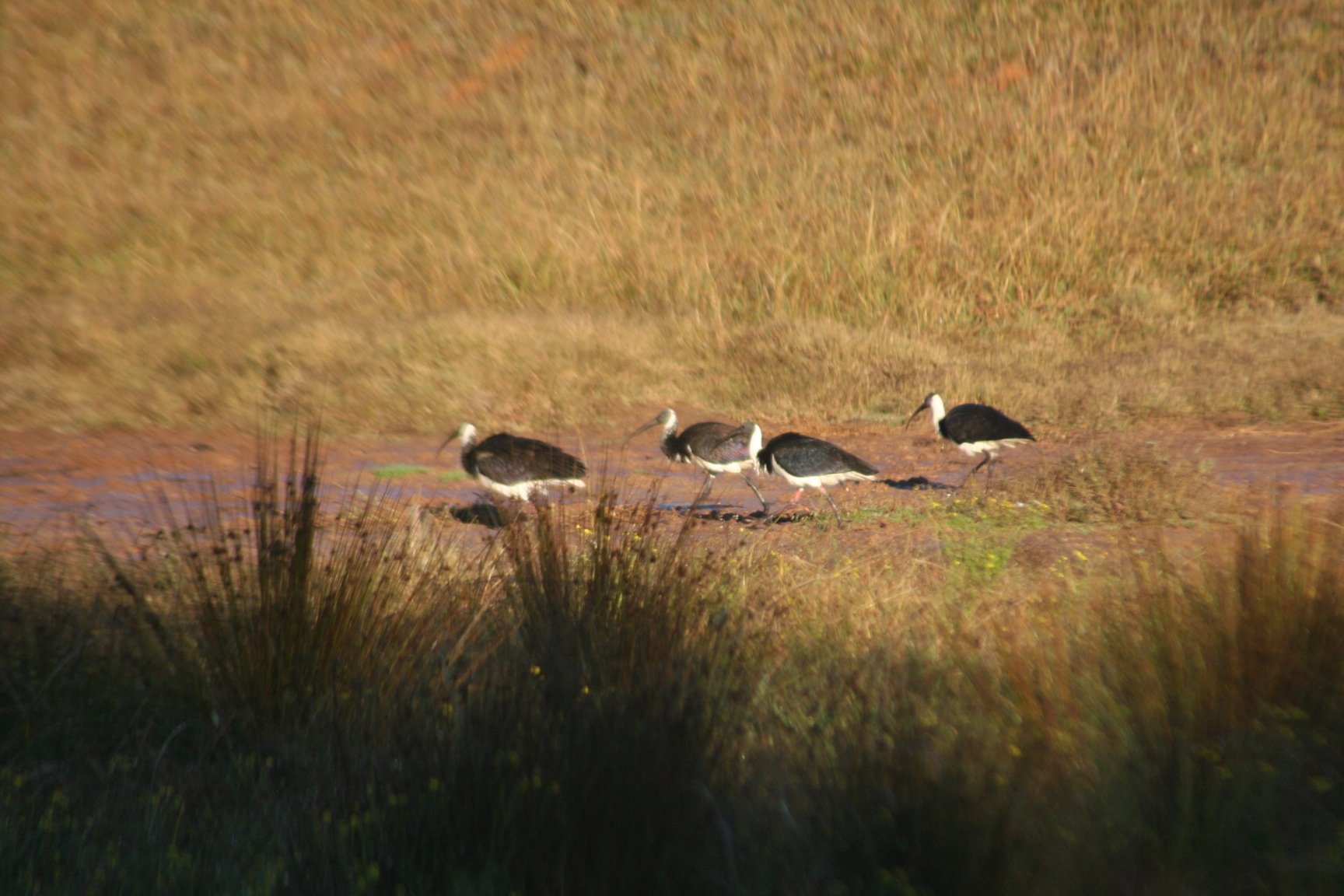 When visiting Sydney I have in the past tended to visit birding sites near the coast and centre, by virtue of that being where my family is. But that is by no means the only birding to be found in Sydney, and on my last visit I was able to visit some new areas that had a different set of birds to those you'd encounter in coastal sandstone heath and rainforest. While planning my four day trip I noticed that the Cumberland Bird Observers Club had an outing on the Saturday I was there to Scheyville National Park. It wasn't somewhere I had been before, situated in the Cumberland Plain between the sprawl of the city and the Blue Mountains, and it was also an opportunity to meet other Sydney birders and be shown around by someone who knows more than I do, always a nice thing. It required an early start and a long drive, but I was up for it.
Even before I reached the meeting spot I was ding well, as in a marshy mud puddle on the side of the road near the park I saw a small flock of Straw-necked Ibis. I pulled over, as this was only the third time I have seen this species, and found a few Australian White Ibis among them, along with Purple Swamphens. Better yet, I saw a small parrortflying overhead, and putting my bins on it managed to identify it as a Red-rumped Parrot. The only other time I have seen this species before was in Victoria, at the same site that I first saw Straw-necked Ibis at as it happens.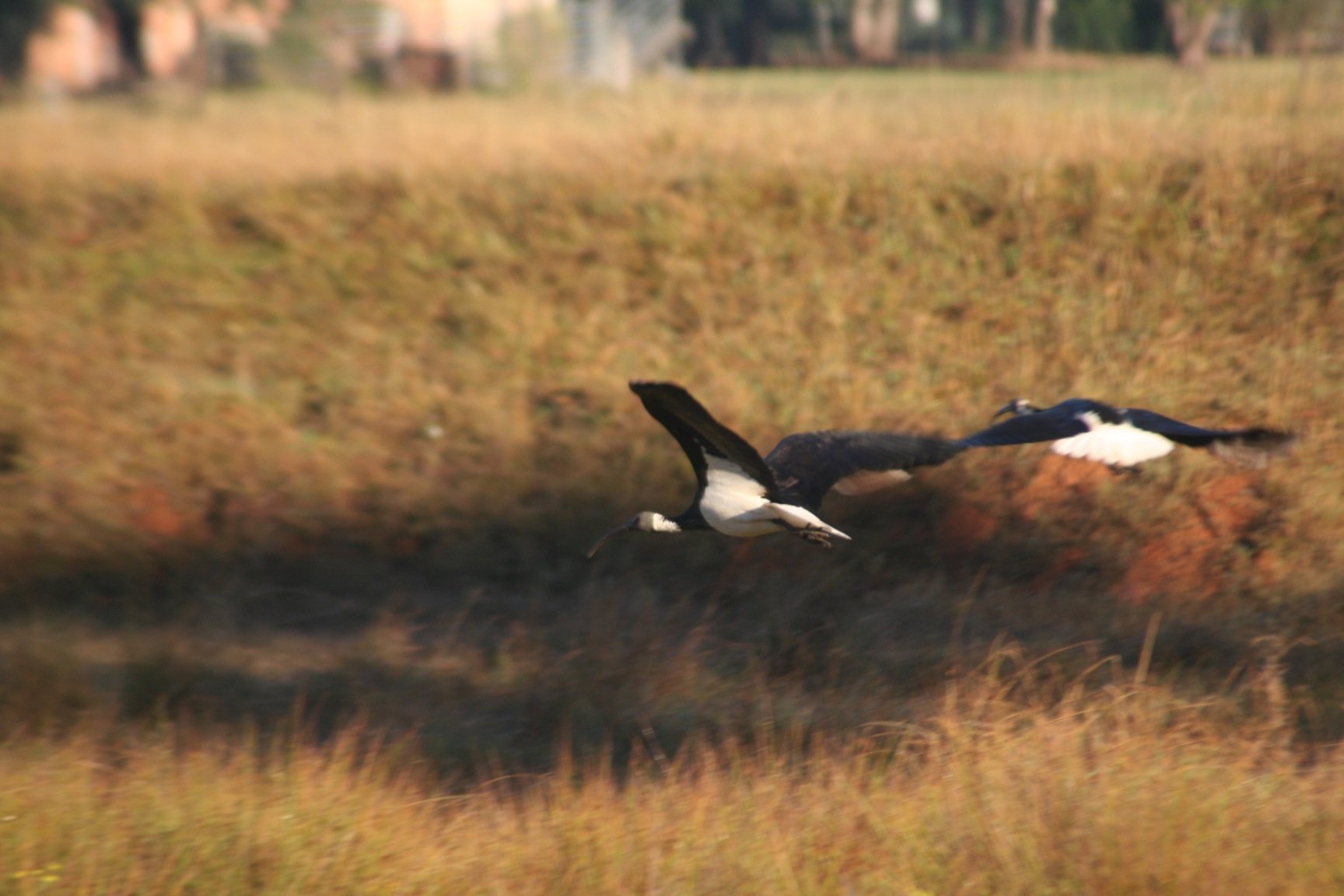 Straw-necked Ibis. Apologies for the quality of my photos, my camera is on the way out. A new one is on the way I hope.
The meet up site was in a town park by the edge of the National Park, and I saw quite a few birds here as well, including Galahs, Black-faced Cuckoo-shrikes, Rainbow Lorikeets, Grey Butcherbirds and Crested Pigeons. I also got to meet the other people on the excursion, who were mostly members of the club and all knew each other and a great deal about birds. They were very welcoming to a complete stranger, and helped me get my lifer Musk Lorikeet. Before we set off on the excursion we had a talk from the leader, Janine, who explained that the purpose of the walk was to promote surveyors for the Important Bird Area programme. The Park and area has been identified as an important bird area, particularly as it is a wintering site for the Regent Honeyeater and Swift Parrot. After a brief run down of the survey methods we set out for our first survey transect.
The first site was on the edge of the forest and soem farmland. Before I parked my car I could hear a huge number of Bell Miners, a type of honeyeater that has exploded in numbers in the park recently. Also noticeable by call were several Eastern Whipbirds. The large number of birders meant it was easy to find several birds quickly, including Yellow Thornbills, some more Red-rumped Parrots, an Eastern Yellow Robin, and a Striated Pardalote. Better yet, as I crossed the road, perched on the wires was a Grey Shrike-thrush. The survey started and the birds kept coming; some Superb Fairy-wrens and Red-browed Finches, then a nice White-naped Honeyeater and a Grey Fantail. As we got further into the forest we finally saw some White-browed Scrubwrens and some Variegated Fairy-wrens (including a fine looking male). Things got quieter, at least on the new bird front, and for the rest of the survey there were a lot of Bell Miners and Whipbirds calling and not much else.  On the way back we did find a Spotted Pardalote, and then possibly the bird of the day, a pair of Jacky Winters. These small flycatcher-like Australasian robins were hawking for insects off a wire fence. They are declining in the park for uncertain reasons, so it was a nice find.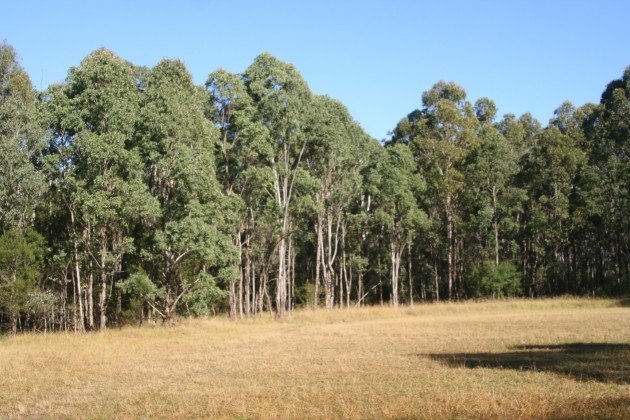 The second site, a forest walk,was a lot quieter, and the only species I added during the survey was a Yellow-faced Honeyeater. After a break for coffee the site got a little better where we heard but couldn't find a Crested Shrike-tit, but did see a Little Eagle high up in the air soaring on thermals. Actually, finding the eagle was why we gave up on the shrike-tit.
The last site, around the park headquarters, was far more open than the earlier sites, with a different set of birds. Walking through a swampy open field the first bird we found was a Golden-headed Cisticola (Australia mercifully only has one species from this genus, making identification a great deal easier than usual). Then, after an Eastern Rosella barreled past, it became the hour of the raptor. First we saw a Black-shouldered Kite, followed by my lifer Australian Hobby perched way in the distance (thanks for the ID help and scope of one of my fellow birders!). After these guys came another highlight of the day, a lazy low level flyover by a pair of supreme Wedge-tailed Eagles. It was outstanding to just be able to lay back in the grass and watch these magnificent and massive birds of prey fly lazily above us. Then, in the distance, another bird of prey, this time a Whistling Kite.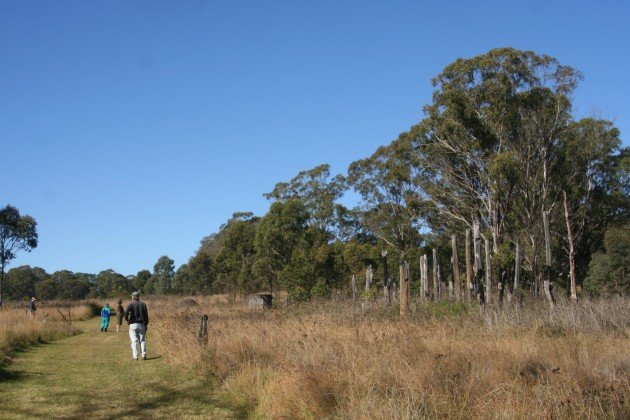 On the way back to the headquarters we passed a barn that was the roost of an Eastern Barn Owl. But even then the surprises were not over; in trees around the headquarter buildings (a site of historical importance, by the way) the sharp eyed members of the Cumberland Bird Observers club found two lifers for me, an Olive-backed Oriole and a Rosy Robin! Could it get any better? Well, sure, as they also located a soaring Brown Goshawk.
After lunch the group moved onto a nearby birding site, Pitt Town Lagoon. One of several birding sites in an area known as the Hawkesbury Swamps, this is a large body of water that can have huge numbers of waterbirds. The walk down started well, with a White-plumed Honeyeater in a tree, followed by another Golden-headed Cisticola (this time a close and great view). From the water's edge it wasn't so much a challenge to find birds as take them all in. A single Australian Pelican on an island demanded the first look, as did the Australian Darter drying its wings right next to it. After that? Well, Hoary-headed and Australian Grebes were diving and popping up all over the shop. Big flocks of Australian Shoverlers had Grey Teal, Grey Duck, Dusky Moorhens and Hardheads mixed in. On the far shore there were White-faced Heron and Cattle Egret, and closer around there were more Purple Swamphens and even some Littel Grassbirds, although for the life of me I could not get those last ones. Another time.
Feeling satisfied, I headed back to my car for the drive back to Sydney. On the walk I got one last lifer, a Double-barred Finch! And as I drove off, some Australian Wood Ducks and a Restless Flycatcher.  Not a bad way to end a bird-filled day! If you are in Sydney be sure to look up the Cumberland Bird Observers Club, because they know their stuff and welcome visitors withopen arms.