I have been fortunate to bird Florida many times, and over the years I've seen most of the specialty birds that people travel from all over to see. I've walked among Wood Storks, looked at Limpkins, scrutinized dozens of Snail Kites, even managed to come across a White-crowned Pigeon or two. Florida has revealed a great many of its birding secrets to me, but it has yet to provide me with the dainty little neotropic Buteo I have sought since my first trip way back in 1993. I have yet to see a Short-tailed Hawk.
I was back in Florida just last week, in Orlando as part of an annual trip with my wife's family. I usually get a day to bird, and for the last couple years that's typically meant I get to search fruitlessly for Short-tailed Hawks in places where eBird and local birders tell me I can find them. Lately this place has been Orlando Wetlands Park, a massive water reclamation facility east of the city. I've written about it before here and it's not too much hyperbole to say that it's spectacular.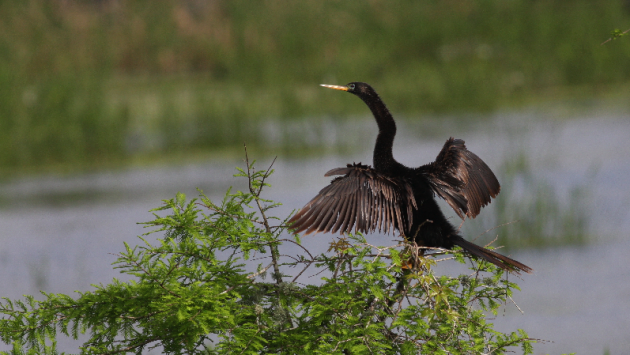 It's nice to find yourself in a place where the birding is relatively easy. In many places in Florida, you can rack up 50 species without too much trouble and Orlando Wetlands Park is no exception.  It's hard to miss the Anhingas and the herons and the Common Gallinules, but it's a great place for bitterns and rails and other sneaky type birds that often require a little extra work. It's easy to miss Purple Gallinule on a visit to Florida if you're not paying attention, but I wouldn't recommend it. It's not a thing you need to worry about here though.
But enough distraction. My goal here is Short-tailed Hawk! In past visits the vultures put up around mid-morning, building up into lazy cyclones of long-winged blackbirds, spiraling upward without a single wingbeat. It is here where I'm most likely to pull out a Short-tailed Hawk. But alas, the weather does me no favors on this day. It's colder, and windy, and the soaring birds are not congregating as they do on better days. So my Short-tailed Hawk dreams are snuffed out before they begin.
One of these days, hopefully in the not too distant future, I'll be able to look up and spot a compact, pied bird of prey soaring overhead. I'll be back in Florida this fall. Maybe it will finally be then.