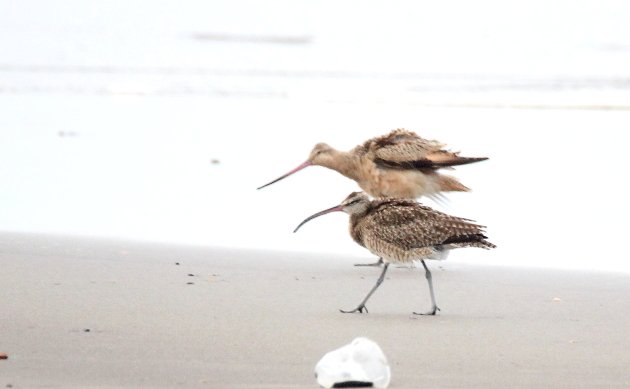 My wife hates heat. And, alas, heat is one thing Mexico's Pacific coast has in excess. Which explains why this birder, who lives only four hours from that coast, had only twice searched there for the region's tropical and coastal species — both times on ministry trips I made without my wife.
But this past week, my wife travelled to the U.S. to visit her elderly father. And I didn't. I stayed here to keep things going at the church we pastor. But on Monday, oh, sweet Monday, I went to the beach… in Lázaro Cárdenas, Michoacán.
Lázaro Cárdenas is, truth be told, and ugly city. It was created by Mexico's government in the last century as an industrial and port city, and has all the lack of charm those attributes suggest. But it is the closest coastal point to my home, and since it is in my state, also serves to round out my life list for Michoacán.
Fortunately, only a few kilometers west of the urban center there are two mangrove estuaries: Barra de Santana, and Barra de Pichi. The first attracts lots of local tourists, because of the many alligators that live in its waters. Bathing there is definitely discouraged! Barra de Pichi has fewer gators. But it does have a very modest hotel right by the water, which made it easy for me to bird at the break of dawn.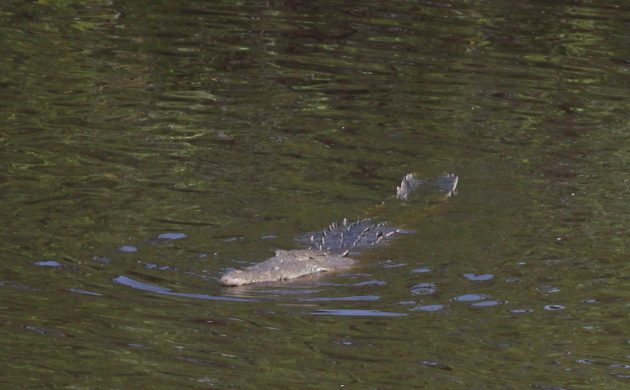 One of many
I saw my first lifer of the trip as soon as I got out of my car, when I stopped at Barra de Santana on the way to the hotel. I heard the unmistakeable song of a Seedeater, but the singer was not Cinnamon-rumped, like he would be at my home. He was my first Ruddy-breasted Seedeater, and he was the first of many. A young male I saw the next morning was just developing his adult coloration: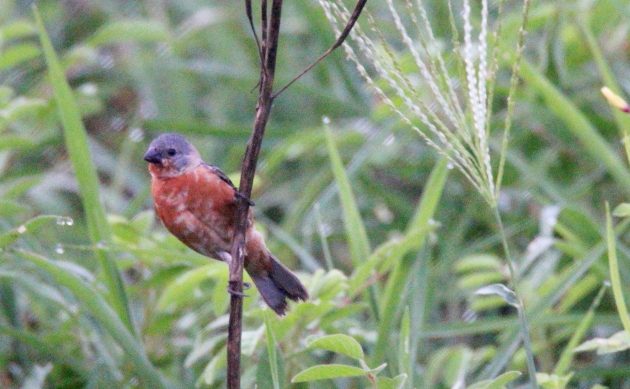 After taking the above photo, I made my way to the bridge over the Barra de Pichi estuary. There, I was reminded again that you need to go new places to see new species. There were Barn Swallows, but there were also Mangrove Swallows and Gray-breasted Martins.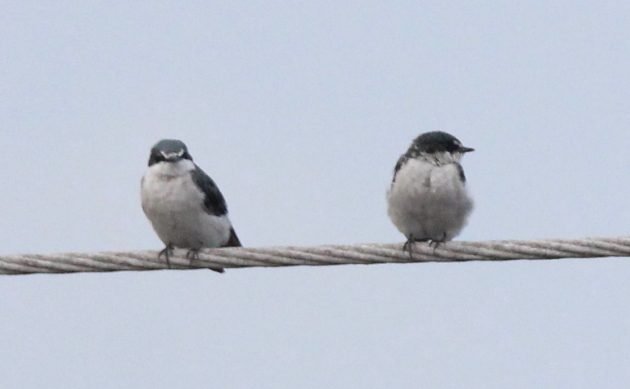 Mangrove Swallows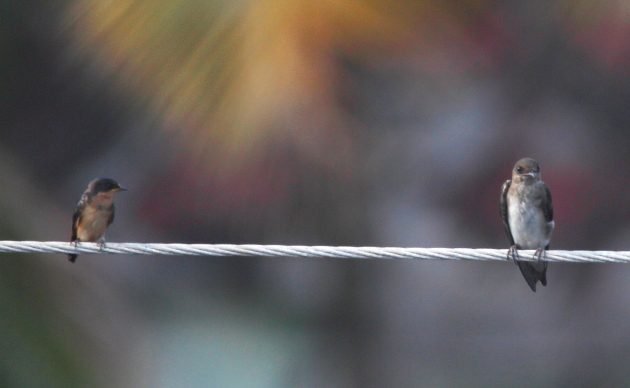 This immature Barn Swallow seemed as interested as I was in the Gray-breasted Martin.
Once I got down to the beach at the estuary's mouth, it became even clearer that I was no longer in the highlands. The lake near my home may boast multitudes of White-faced Ibises, but I must go to the coast to see White Ibises: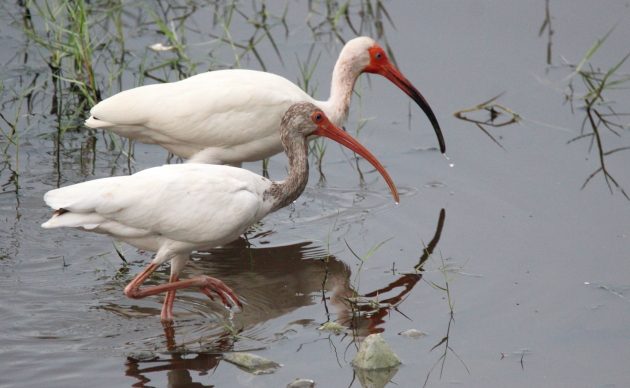 A hurricane was brewing off of Mexico's coast, so the sea made a very dramatic backdrop for those birds that approached it, such as the following recently-arrived Willet and Semipalmated Plover.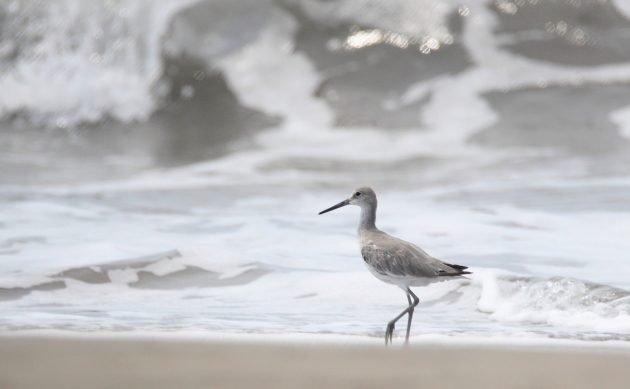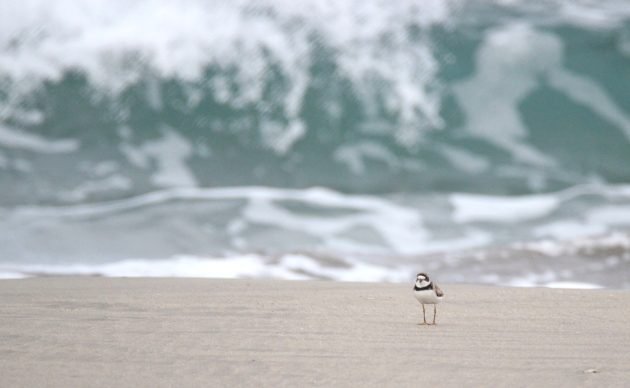 Still, I wanted to visit both estuaries that day. So after a brief break in my air-conditioned room, I made my way back to Barra de Santana. Which is where I had the very best moment of my day. While still standing on that estuary's bridge, I saw what looked like a pterodactyl making lazy circles overhead, and then slowly circling to the ground: My very first Wood Stork!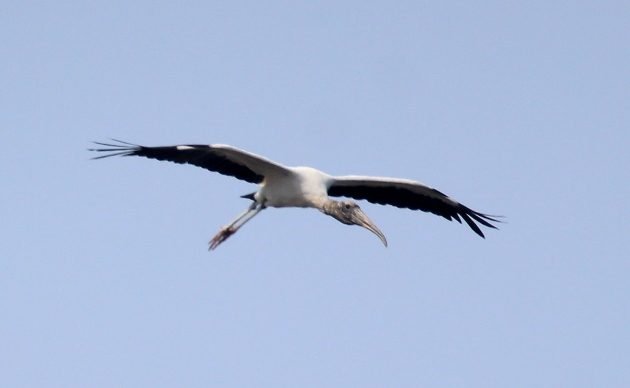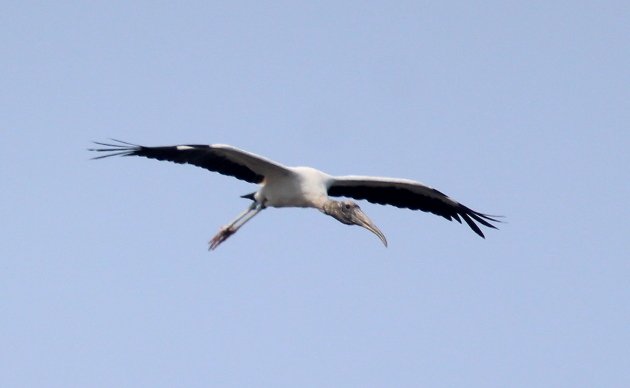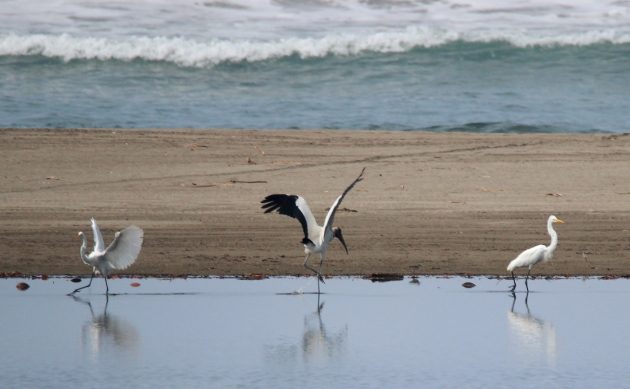 The Wood Stork made those Great Egrets look small!
I've already gone on too long, though I've only scratched the surface. Suffice it to say, even after five years of birding in Mexico, this trip gave me 5 lifers, 8 new life-birds for my state, and 22 year-bird species for 2019. Even the drive home was productive! After determining that the "Banded Wren" songs I had heard in several sites were probably from a different species, I was able to make a quick stop and prove they came from my first Sinaloa Wrens. But the best (except for that Wood Stork) came after I left the coast and headed into the Sierra Madre del Sur: my first and long-awaited photos of Mexico's beautiful White-throated Magpie-Jay.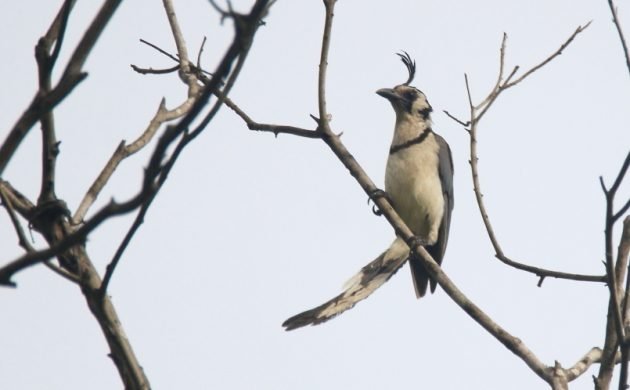 As I said, to see new species, you should go new places. So I went to the beach.