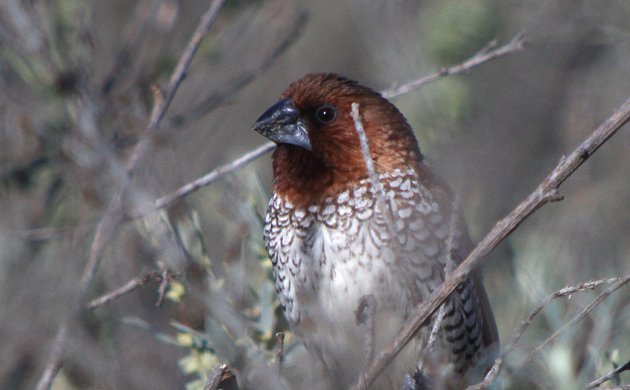 Finally! As of 27 August 2013 the California Bird Records Committee has voted to add the introduced Nutmeg Mannikin to the state checklist. Or, as Seagull Steve puts it:
The dreaded Nutmeg Mannikin has been added to California's official state list by the California Bird Records Committee (aka Bird Police). Not only is this earth-shaking, pants-wetting news for the numerous hardcore state and county listers that reside in California, this courageous decision has implications for the entire nation.
Also known as the Scaly-breasted Munia, Spice Finch, or, more properly, as Lonchura punctulata, Nutmeg Mannikins have been present in California for decades, with counts in the hundreds not terribly unusual in southern California.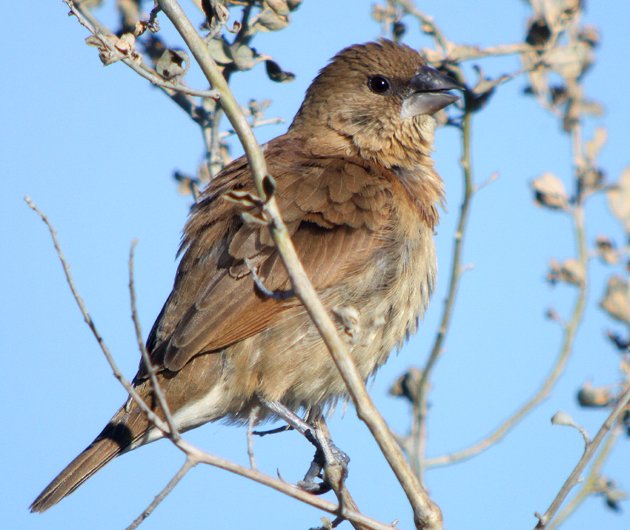 A young or female Nutmeg Mannikin can be a confusing bird to identify for the unprepared observer. This one was spotted back on 1 January 2011 at Upper Newport Bay in Orange County, California, the first place I ever encountered Nutmeg Mannikins.
So what moved the California Bird Records Committee to action? According to the minutes of their annual meeting from January of 2012 there was already movement on Nutmeg Mannikin in the Introduced Birds Subcommittee then:
Nutmeg Mannikin listing package status
[Kimball] Garrett will circulate a package in approximately the next two months to the new committee proposing to include the species on the state list. The package will be based in part on information compiled from eBird with the help of Brian Sullivan. Specimens confirm that the subspecies involved is the nominate L.p. punctulata. Ecological evidence supporting the species' establishment is that Pintail Whydahs, which are becoming more common in parts of Orange County, are now relying heavily on Nutmeg Mannikins as brood parasites.
The use of eBird data is interesting and it shows just how valuable the collected reports of birders can be in figuring out the status and distribution of species. Just check out the map showing Nutmeg Mannikin reports in Los Angeles and Orange Counties.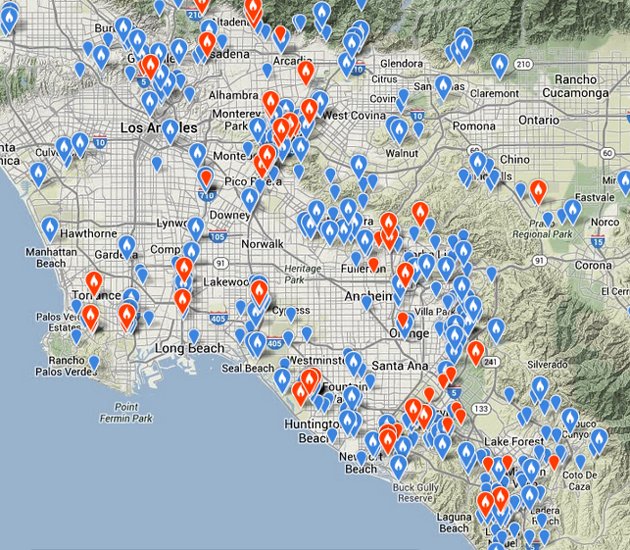 The red markers are sightings in the last thirty days. (Image retrieved from eBird on 1 September 2013.)
Just as interesting is the nugget that Pin-tailed Whydah, an introduced species itself, has adapted to using Nutmeg Mannikins as a host for its eggs. The introduction of a brood parasite is certainly worrisome when you consider how much pressure our native species are already under but when the brood parasite is using another introduced species to host its eggs it seems almost fair. Let's just hope that the whydahs stick to mannikin nests! (And let's also hope that birders stop confusing them with Fork-tailed Flycatchers!)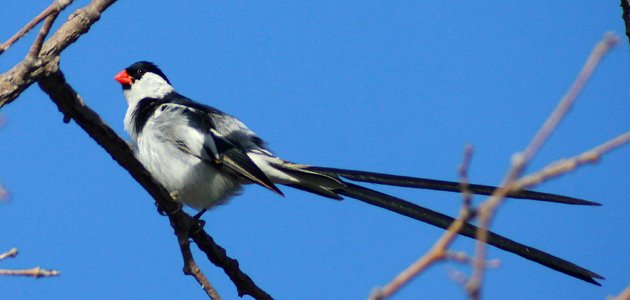 This is a Pin-tailed Whydah in Carbon Canyon Regional Park in Yorba Linda, California.
So, two big questions remain:
When will the American Birding Association add the Nutmeg Mannikin to the official ABA checklist?
Me? I'm just looking forward to my armchair tick!