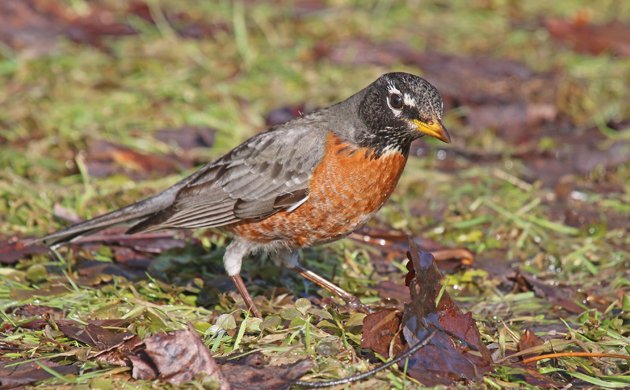 Now that winter's fury is melting beneath more moderate temperatures here in the northeastern United States my thoughts have turned to spring. It won't be long until the first Eastern Phoebe returns, an American Woodcock has already been found in Central Park, and Red-winged Blackbirds have been vigorously calling "Honk-a-ree" for over a week. And, here on 10,000 Birds, we have already had our first comment on an old blog post talking about "stamping" the first robin of spring.
What? Who stamps on robins? What kind of blog is this?
Not to worry, not to worry. You see, back in 2009, I put up a blog post called "First Robin of Spring." Several years later, in 2012, we got a comment from someone named Fred Jacob that said the following:
When I was a boy growing up in Iowa some sixty years ago, we would "stamp" the first robins in spring. You licked your thumb, press it into the palm of your other hand followed by a "stamp" with the bottom of your fist. You could "stamp" as many robins as you wanted and once "stamped", that was your robin and no subsequent "stamps" were binding.

I am mostly sane and not nearly creative enough to think this up, but nobody has heard of this. Can anyone help?
I had never heard of such a thing and extensive use of Google didn't turn anything up at all. But apparently Fred was not alone because over the last three years quite a few people from Michigan, Ontario, Indiana, Iowa, and Nebraska have chimed in to say that they too, grew up stamping robins and some mentioned passing it on to their children and grandchildren. One comment indicated that stamping robins is a tradition of the Pennsylvania Dutch who are, of course, actually German, but if it is a tradition among them it is entirely unknown if it is something that came from the old world with European Robins and was translated to American Robins or if it is something that has only happened here in the New World. Another commented that she had been told that it took one hundred stamped robins to have a wish come true.
So, how about it, folks? Who out there knows when and how this tradition started? Who out there stamps robins? And who else is going to join me in teaching their kids to stamp robins? Wherever this tradition comes from it is fun, teaches kids to keep an eye on the natural world, and has persisted for quite some time. Why not keep it going? Get out there and stamp some robins!