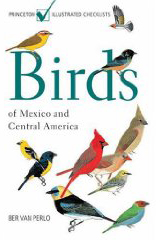 My most recent birding excursion to Guatemala was immensely improved by the addition of two invaluable items. With my new Swarovski SLC 10x42s, I saw so much more than I ever had before. And with Birds of Mexico and Central America by Ber van Perlo, I was able to identify a lot more of what I saw!
My first window into the wonders of the American Neotropics was A Field Guide to the Birds of Mexico and Adjacent Areas: Belize, Guatemala, and El Salvador, Third Edition by Ernest Preston Edwards and Edward Murrell Butler. This book isn't bad at all as either a resource before the trip or a guide in the field. However, it does not excel in either capacity. As light as this volume may be, it simply isn't built for the bush, lacking the form factor or durability of a true field guide. The well-thumbed pages and plates in my own book are literally falling out.
Speaking of books better left back at the ecolodge, how does Ber van Perlo's book compare to the Mesoamerican birding bible, A Guide to the Birds of Mexico and Northern Central America by Steve N.G. Howell and Sophie Webb? Quite well, actually! I'll lend my voice to the choir (including Corey) that preaches the utter primacy of Howell and Webb's labor of love when it comes to studying avifuana from Mexico to Nicaragua. But it's so big. Actually, a more appropriate adjective might be "back-breaking" which is the word that might flash through your mind after you've hauled this massive tome up a mountain or two!
As a field guide, which is to say a guide meant to be referenced in the field, Birds of Mexico and Central America excels. In a miracle of efficiency, van Perlo has shoehorned over 1,500 species into just 7.4 x 5 x 0.8 inches. Birds of Mexico and Central America is only a third of the weight of the Howell and Webb yet covers a wider area, including bird-dense Costa Rica and Panama in its purview. Its 98 color plates include Neotropical residents and migrants with every species earning an individual range map towards the back of the book. The illustrations themselves may not earn kudos from art critics but they invariably convey the essential, although unembellished, field marks of their subjects.
Of course the eminent portability of a guide encompassing all of Mesoamerica demands some concessions. However, I don't see van Perlo's limited text as a major trade-off. For example, as I was strolling the pocket gardens of Hotel Toliman on the shore of Guatemala's Lake Atitlan, I encountered an unfamiliar oriole. Picking through various field marks, I needed simple visual verification of my tentative identification. Fortunately, Birds of Mexico and Central America was stashed comfortably in my camera bag. In mere moments, my life Streak-backed Oriole was confirmed. As this heart-warming anecdote indicates, lengthy ornithological dissertations are superfluous in the field. Give me a decent picture and range map in a well-organized, portable package and I'm all set.
To truly anticipate and understand the birds of an unfamiliar region demands a holistic immersion into reference texts, field guides, bird calls, and trip lists. Such painstaking research pays off in spades once you've actually encountered the objects of your obsession. Yet, when that auspicious moment arrives, you won't have a library of books to thumb through; you probably won't even have internet access. If you're anywhere in Central America, however, and have the foresight to carry Birds of Mexico and Central America by Ber van Perlo, you'll be in excellent shape!
(And if Birds of Mexico and Central America is indicative of the quality and utility of the Princeton Illustrated Checklist series, I look forward to picking up the rest of the line…)