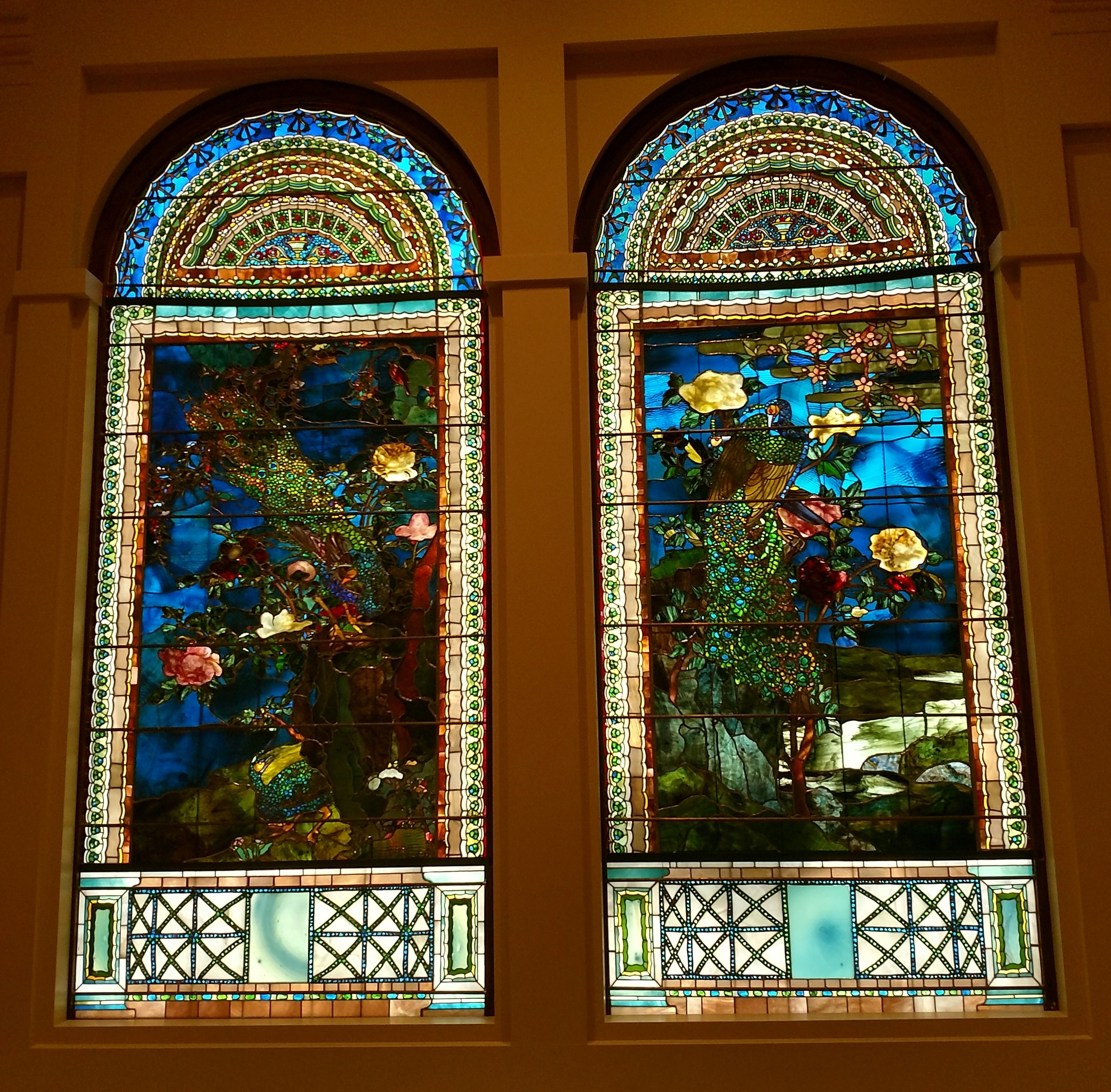 There are a lot of birds in Washington, DC. Oh sure, you can go to Rock Creek Park or the Tidal Basin to seek out living avian species, or visitors can head to the Smithsonian museums for a dose of past and present bird lore from all over the world. In early June, I took note of each museum bird I spotted.
The Smithsonian National Museum of Natural History boasts an entire collection of skins of birds native to the DC area, from large Bald Eagles to tiny Eastern Screech Owls. Located in an odd little hallway, the birds are arrayed as they would appear in real life, staring at me from the other side of the glass. So many of the avian varieties remained hidden for me during the year I lived in the US capitol city – many others no longer roam this urban metropolis in great numbers (like, hello, shrikes?).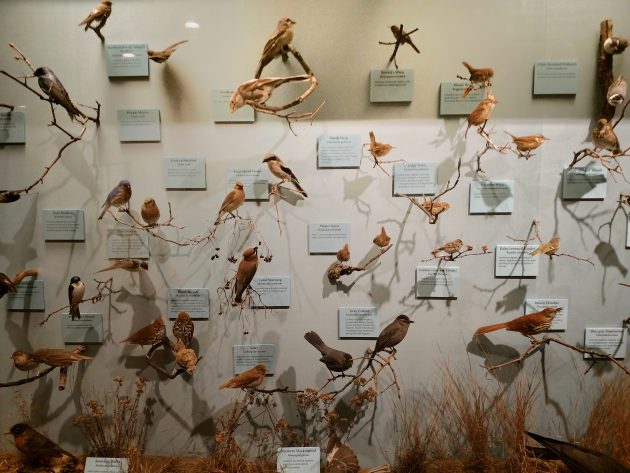 Native bird display at the Smithsonian National Museum of Natural History.
Throngs of people had lined up on the rainy Sunday to see the brand new dinosaur and fossil exhibit, and it did NOT disappoint. In fact, the new exhibit is quite possibly the best I've ever seen, well worth the $100+ million price tag. Large skeletons reigned over the large space, with smaller exhibits, dioramas, and life-sized tree displays showcasing information about our evolving earth through a range of species and life forms. Over and over the exhibit made the point: birds are dinosaurs, birds are dinosaurs, birds are dinosaurs. For any of us who have seen Ostriches or Emus in real life, the link is not hard to believe.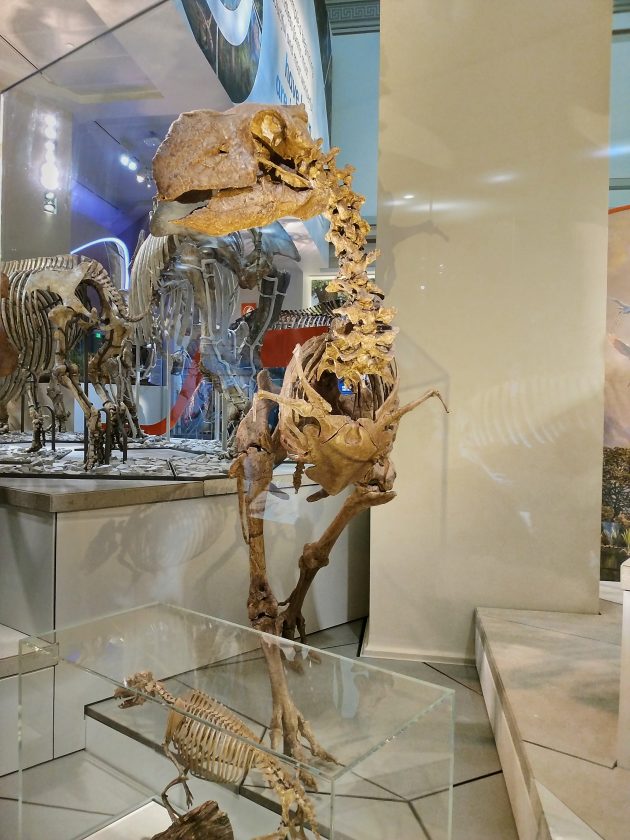 Looks like a bird to me!
Even in art museums birds are plentiful. In the National Gallery of Art an entire exhibit features animals in Japanese art, including a plethora of kimonos decorated with birds the color of jewels. On the second floor of the Smithsonian American Art Museum building, an original John J. Audubon work adorns a hallway, and I remember for the millionth time how large Audubon's paintings stood, both in life and in the imagination of an expanding American populace.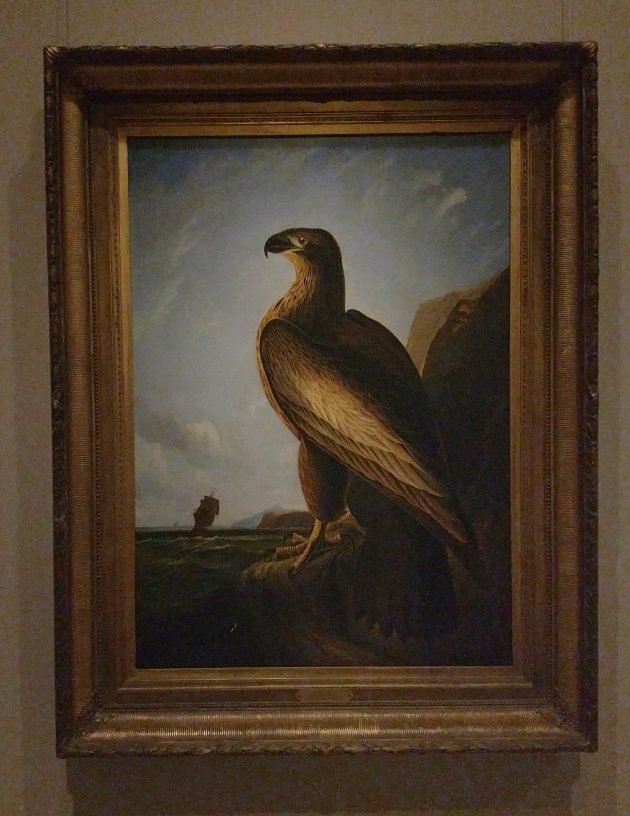 An original John J. Audubon painting, depicting an eagle.
Before heading back out into the rain, before making my way to the airport, and then flying home to Florida, I stopped in front of a stained glass window in the museum. Sitting on the couch directly in front of the multi-hued lights, I gazed upward at the depictions of peacocks, their long tails wrapped around the edges of the glass art. Yes, there are lots of birds in Washington, DC – you just have to know where to look!