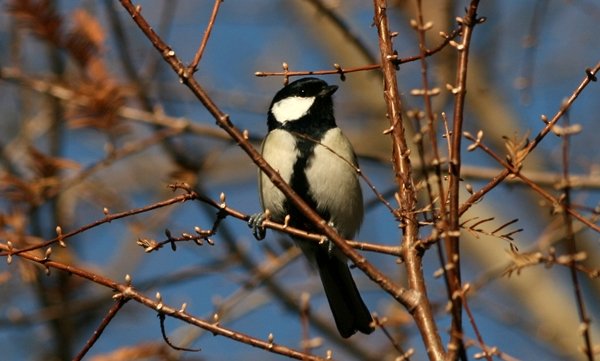 … since this is a family website, I'm not sure I can finish that sentence. (Is "OPP" PG-13?) Suffice it to say, the answer in this case isn't "worm."
Scientists studying Great Tits, of all birds, have shown that the earlier a male awakens, the more likely he is to successfully hook up with the mates of other males. In this study, the males who slept in weren't slackers—the researchers manipulated their circadian rhythms with melatonin implants. But just a 10-minute tap on the snooze button and they not only missed out on all that hot mating action, they were often cuckolded and left raising the offspring of the early risers.
The researchers hope to expand their focus to see how females respond to similar disruptions, and point out that there is a lot to learn on the relationship between mating habits and circadian rhythm. I wonder how this applies to humans, though. Do night owls or early birds seem to get more play?
Great Tit above by Mike Bergin