The World Series of Birding was held in Cape May, NJ this weekend just a few hours from NYC while, at the same time, Empire State avian enthusiasts conducted their own fund-raising Birdathons. Though I was unable to participate in any formal birding activities (and way too bush-league to compete in the WSB) I enjoyed an athletic amount of birding anyway, more akin to a series of sustained sprints than a marathon. One of the highlights of my weekend was without a doubt my excursion to Jamaica Bay Wildlife Refuge, not just on account of the always impressive diversity of avifauna but because my companion for the afternoon was none other than Amy Hooper.
Some of you may recognize Amy as the editor of WildBird magazine, one of the finest and most popular birding publications around. Others may be more familiar with Amy's contributions as a blogger at the wonderful WildBird on the Fly. I'm glad to say that I now know her as a great person to spot birds with, both fun and funny. One imagines that a person in her position might, after all the festivals, tours, and constant stream of awesome North American sightings, grow jaded with birding. Amy, on the other hand, is refreshingly open and enthusiastic, so engaged in this interest that she traveled quite a distance from one of the premiere birding hotspots on the East Coast just to visit another!
Jamaica Bay did, of course, make the trip worth her while and mine. I had an inkling that the day might be productive when, on the way there, I spotted an unexpected Peregrine Falcon perched imperiously on a lightpost off the Major Deegan Expressway, part of the blighted urban landscape in the shadow of Yankee Stadium. As I approached Jamaica Bay, I also noted that all the summer gulls were out, a group which includes ebon-hooded Laughing Gulls.
The magic of Jamaica Bay lies in the convergence of a variety of different marine habitats. This makes the area very reliable for waterfowl in the winter and shorebirds in the summer. Right now, the balance tips a lot more towards the former than I expected. Apart from a passel of unidentified peeps and a lone yellowlegs whose place on the Lesser to Greater continuum was not readily apparent, not a single shorebird was to be seen on the West Pond. Waterfowl, on the other hand, appeared in very healthy numbers, especially Brant with their striking black-velvet upperparts. Gadwall and Red-breasted Merganser also stood out among the usual ducks, geese, and swan. Long-legged waders were better represented, with a nice array of Great Egret, Snowy Egret, Tricolored Heron, Black-crowned Night-Heron, Yellow-crowned Night-Heron, American Coot, and the reliable Glossy Ibis.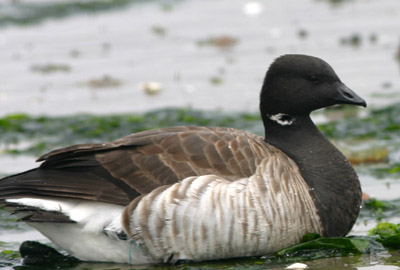 Brant
Glossy Ibis is one of the specialty species you can count on at Jamaica Bay this time of year. Another is Brown Thrasher, which made a number of cocoa-colored appearances, much to Amy's delight. I was thrilled to spot Boat-tailed Grackle, rather than the Common Grackle that pops up everywhere else in the Tristate area. Boat-tails don't look so very different from their common cousins, but their calls are unmistakably distinct, a phenomenon I was surprised to notice. Forster's Tern, Fish Crow, Osprey, and flocks of swarming swallows, mostly Tree, also turned up as expected among the more common species.
Though I was slightly disappointed by the yield of our West Pond patrol, the real action was in the Gardens. Jamaica Bay is such a miracle of ecology that it can actually compete with virtually any other birding locale on the East Coast in terms of warblers and other songbirds during spring migration, while blowing every place else away when it comes to birds of sea and swamp. Lots of exciting passerines had popped up here in the last few days, so we allowed ample time to search for them. Warblers were deliciously abundant; though none of the species found were unexpected — Northern Parula, Yellow Warbler, Magnolia Warbler, Yellow-rumped Warbler, Black-throated Green Warbler, American Redstart, and Common Yellowthroat — they were all exquisitely colored and comported. The real surprise for me were the vireos. The title of this post comes from the fact that we not only spotted Red-eyed Vireo but also my very first, not to mention my second, third, and probably fourth White-eyed Vireo. White-eyed Vireos are astonishingly easy to find in the Gardens of Jamaica Bay right now, so easy that I wonder why I hadn't stumbled upon them sooner. All good things in time!
The day was good for wrens, with House, Carolina, and Marsh making the scene. Sparrows were also pretty interesting. White-throats are still around, white-crowns are finally here, and Eastern Towhee and Song Sparrow are incredibly abundant. We missed out on definitive identifications of further sparrow species, particularly a bird which I'm sure was a Saltmarsh Sharp-tailed Sparrow but lacked the patience to pursue. What can I say? At Jamaica Bay, another bird is always right around the corner, including in this case my first Ruby-throated Hummingbird of the year and, if I'm not mistaken, Amy's first Purple Finch ever. She may not be too concerned about such distinctions but, as an unabashed lister, I have to declare any day that delivers lifers a very, very good one. Even better, though, is a day that delivers a friend to your doorstep, or at least close enough to go birding.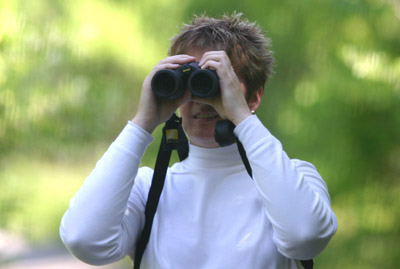 Amy
(Read Amy's scintillating account of the day
here
.)