Though these bloggers have been reserved for our final introductory post do not think for a second that because they are last they are least.  Far from it!  In fact, we had to save this bright bunch of bird blogging luminaries for our final announcement for fear of frightening off other potential beat writers.  This is a serious group of birders here, so serious that none of them know what skulking is because birds don't dare try to hide from them.  On the rare occasion that one of these folks has tried pishing they just said "Pish" once and the bird in the bushes flew out and begged forgiveness.  There are birders and there are bird bloggers and what we have here is a dangerous combination of both.  I just hope this blog can handle it when they bring their birdiness!
Not that I want to take anything away from the first group or the second group of beat writers that have signed up to to blog on 10,000 Birds.  In fact, altogether, such a grand group of bird bloggers has never been assembled anywhere else in the history of the world which means that those of you reading this blog post are actually reading history in the making!  Quick, get out your video cameras and, well, yeah, you can't really film a blog now, can you?  We really need a round table or something for us all to sit around so at least a picture or two could be taken.  But I digress…
Who are these bird blogging beat writers in the third and final group to be added to the blog?  Keep reading and find out!
Alan Tilmouth should be familiar to every bird-blog reader out there on the interwebs.  If you haven't read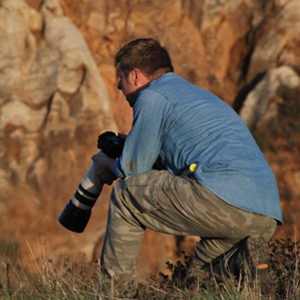 his blog – alan tilmouth: birds words nature images – you don't know what you are missing.  Though Alan's monthly beat will be UK Birding we see that as more of a jumping-off point for all that entails in the 21st century.  So expect to see posts about the technology, the occasional bright idea about birding business and conservation, and how it all hangs together (or not) with four kids in tow.
With a high flying career in business management Alan Tilmouth was once described as an irruptive birder. With the arrival of twins to add to his existing two kids in 2007 he grabbed the opportunity to bring some life changes.  Business sold, he is now a full-time dad, birder, and blogger. Alan lives in Northumberland England's most northerly county, works part-time as part of the birdguides news team, tinkers with freelance writing and tries to figure out how his DSLR works.
Sharon Stiteler needs no introduction to anyone with even a passing familiarity with the bird blogosphere.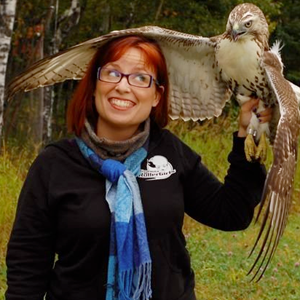 Her ebullient personality is matched only by her digiscoping skills, which are mad.  Sharon will be writing a double beat, on both the Upper Midwest and Bird Feeding, and her posts will appear every other week on Wednesdays.
Sharon Stiteler was given a Peterson Field Guide to Birds when she was seven years old and snapped.  She loves birds – it's just the way she's wired.  Since 1997, she has made it her goal to get paid to go birding. She runs the popular birding blog, Birdchick.com, and has been in The Wall Street Journal, The New York Times, and on NBC Nightly News as well as making regular appearances on Twin Cities' TV and radio stations.  She's a professional speaker and story-teller and her writing can be found in several publications including WildBird Magazine, Outdoor News, and Birding Business. She wrote the books Disapproving Rabbits and City Birds/Country Birds.  When she's not digiscoping, tweeting or banding birds, she's a part-time park ranger and award-winning beekeeper.
Clare Kines, who has a wonderful blog with beautiful photographs, The House and other Arctic musings, that everyone who has ever wanted to visit the far northern latitudes should read, will be the Arctic Canada beat writer.  His posts will appear monthly.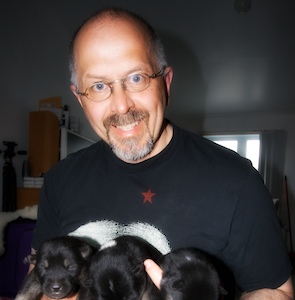 Clare Kines is a retired Mountie and a failed businessman, which apparently qualifies him to be the Economic Development Officer for Arctic Bay Nunavut.  Raised in Manitoba, Clare has lived in three provinces and two territories, managing to get kicked out of all them except this last one. So far.  He has had a lifelong love of nature, never growing out a child's curiosity. Given a Peterson's guide by his grandfather, he made birds a big part of that love. He's led tours to the high Arctic and Cuba, and writes probably the most northerly blog in the world, The House and other Arctic musings.  He considers himself the luckiest man alive, having found great love twice in his life. His first wife, Janice, passed away in 1996. After moving north he met and fell for Leah. They have two fantastic children. He lives in an incredibly beautiful, magical part of the world – a place few people get to know.
Larry Jordan is or should be well-known to 10,000 Birds readers as a bird blogger who is deeply committed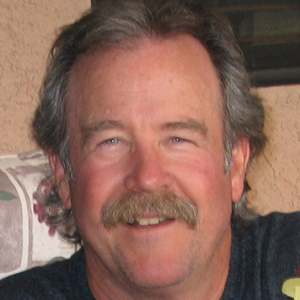 to conservation.  His blog, The Birder's Report, is, like 10,000 Birds, a BirdLife International Species Champion.  Larry will be the West Coast beat writer here and his posts will appear on alternating Wednesdays.
Larry Jordan was introduced to birding after moving to northern California where he was overwhelmed by the local wildlife, forcing him to buy his first field guide just to be able to identify all the species visiting his yard. Building birdhouses and putting up feeders brought the avian fauna even closer and he was hooked. Larry wanted to share his passion for birds and conservation and hatched The Birder's Report in September of 2007. His recent focus is on bringing the Western Burrowing Owl back to life in California where he also monitors several Bluebird trails. He is a BirdLife Species Champion and contributes to several other conservation efforts, being the webmaster for Wintu Audubon Society and most recently, the habitat manager for the Burrowing Owl Conservation Network.
Rick Wright will be known to those familiar with the bird blogosphere as the wordsmith behind Aimophila Adventures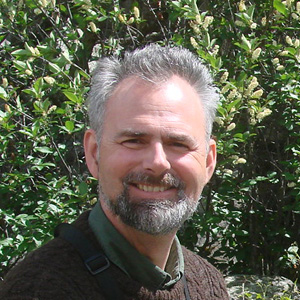 .   A world-traveling bird-tour leader, Rick will still find time to write on the Birds for Worders beat every other Tuesday.
Rick Wright studied French, German, philosophy, and biology at the University of Nebraska. Following a detour to Harvard Law School, he took the Ph.D. at Princeton University in 1990. He held appointments as Assistant Professor of German at the University of Illinois, Reader in Art and Archaeology at Princeton, and Associate Professor of Medieval Studies at Fordham. Now a Senior Leader with WINGS, Rick was a department editor at Birding from 2004 to 2008 and editor of Winging It from 2005 to 2007. A widely published writer, popular speaker, and enthusiastic tour leader in North American and Europe, Rick lives in Tucson and in Vancouver, British Columbia, with his wife, Alison, and their chocolate Lab, Gellert.
Robert Gallardo is no stranger to 10,000 Birds readers.  He guided me during my first neotropical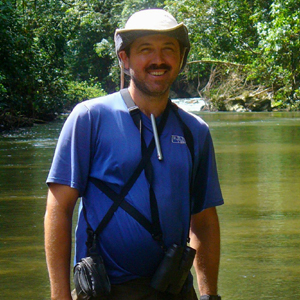 birding experience in Honduras and was kind enough to donate two trips to Honduras to the 10,000 Birds Conservation Club.  He probably knows more about the birds of Honduras than any other living human being which makes him perfect to be the monthly Honduras beat writer.
Robert Gallardo arrived in Honduras with Peace Corps in 1993 and has been a resident ever since.  During his service he was the technical adviser in establishing the first butterfly farm in the country and assisted in most others now found there.  Since the year 2000 he and his wife Irma have managed the Enchanted Wings Nature Center in Copan Ruins. Also since 2000 he has worked as a naturalist guide for many renowned international companies and along with Irma has co-authored two regional bird field guides; Birds of Celaque N.P. and Birds of Lake Yojoa.  He has also produced two CDs; the Orchids of Honduras and the Bird Songs of Honduras.  He has recorded over 20 new bird records for Honduras, dozens of new butterflies, new orchid records and even new species for science.  For more information see Birds of Honduras and La Chorcha Lodge.
Bill Thompson, III is, of course, well-known to anyone reading this blog.  When he isn't busy running one of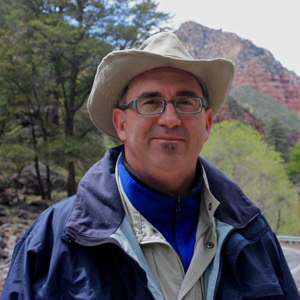 the most successful birding publications in North America he is spending time at Indigo Hill with his family or birding exotic locales with other crazy birders.  His blog, Bill of the Birds, is a perfect introduction to what will be his monthly beat, Offbeat Birding.
Bill Thompson, III is the editor of Bird Watcher's Digest, the magazine founded by his parents more than 30 years ago, in 1978. He is the author of numerous books about birds and nature, including, most recently Feeding and Identifying Birds and The Young Birder's Guide to Birds of Eastern North America, both part of the Peterson Field Guide Series from Houghton Mifflin Harcourt Publishing.  Bill has led birding trips all across North America and has spoken or performed at more than 100 birding and nature festivals worldwide. He has watched birds in more than 25 countries and on five continents.  He is also the blogger behind Bill of the Birds and hosts the birding podcast This Birding Life.
Dale Forbes is a marvelously nice guy who is far too modest about his birding skills.  Were it not for Dale, I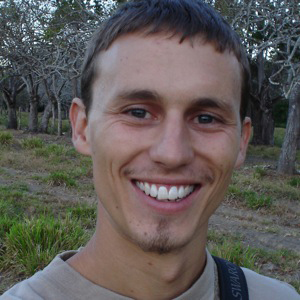 likely would have been entirely lost when trying to figure out the birds we were seeing in Kazakhstan a year and a half ago.  Though Dale normally writes on his own blog, Discovering Alpine Birds, which is loaded with great digiscoping images, he also writes weekly on BirdingBlogs.com and will write every other week here on 10,000 Birds.  His beat will be Looking out from the Alps.
Dale Forbes got his first pair of binoculars for a very early birthday after his dad realized that it was the only way to be left in peace.  Many robins, eagles and finches later, he ended up at university studying various biology things and wrote a thesis on vertebrate biogeography in southern African forests.  While studying, he also worked on various conservation/research projects (parrots, wagtails, vultures, and anything else that flew) and ringed thousands of birds.  Dale studied scarlet macaws, and worked in their conservation, for three years in southern Costa Rica, followed by a year in the Caribbean working on Whale Sharks. After meeting the woman of his dreams, he moved to Austria where he now has the coolest job in the world making awesome toys for birders.  He happens to also be obsessed with photography, particularly digiscoping, and despite all efforts will almost certainly never be a good birder.
James Wolstencroft, known to the bird-blogging world as the Birdman of Arusha, should need no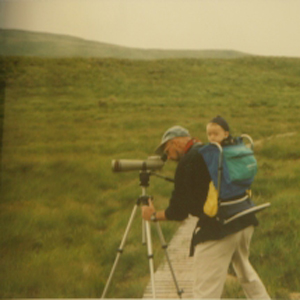 introduction because you should be reading his blog.  He will be posting monthly on a beat specially designed for him, Birds and Man.
James Wolstencroft is originally from Lancaster in the north of England. He nows lives in Tanzania. James claims he was born a naturalist. He has been observing birds, man and boy, for over 50 years. Experience over five decades, across four continents, certainly has given James a broad view of nature. It's an intimate and devout attitude; where respect and love for nature are paramount. Sentiments which, in these prosaic days, all too few nature guides or wildlife professionals feel comfortable in sharing. James has been guiding bird watching and nature tours, off and on, for twenty one years. Furthermore he writes daily about the natural world and especially about mankind's peculiar position within nature, or antagonistic to it. Birds are both his delight and, in a way, a symbol for him. They represent his own yearning for freedom in nature, and his professional concern as an indicator of environmental change.
David Ringer has been blogging about birds for quite some time and is therefore one of the best in the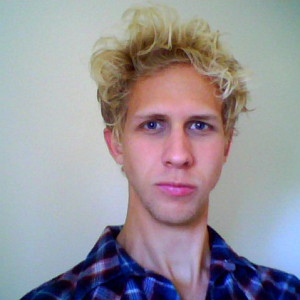 genre.  Though he hasn't been blogging for awhile his blog, Search and Serendipity, is a must-read for bird blogging aficionados.  He will be posting monthly on his 10,000 Birds beat, Taxonomy and Systematics.
David J. Ringer is exploring the world one bird at a time. His fascination with birds and nature began at the age of four or five, and he now works full time in conservation of Gulf of Mexico and Mississippi River birds and ecosystems. He is a writer and communicator whose day jobs have taken him to six continents and more than 25 countries, including Papua New Guinea, Vanuatu, Kenya, and Cameroon. He contributes to several birding and conservation projects on the web, but his home online is Search and Serendipity, a birding blog he started in 2005.
Please give this third and final group of 10,000 Birds beat writers the warm welcome that they deserve.  Don't even try to skulk out there in the bushes of the internet without showing yourself in the comments.  These bird bloggers will know and remember and if you try to avoid them you just might get pished (whatever that means).