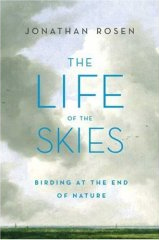 The Life of the Skies: Birding at the End of Nature by Jonathan Rosen is a truly remarkable book possessed of a depth and breadth well beyond the usual birdwatching fare. While we're not in a position to put a copy of this book in the hands of everyone who would enjoy it, we can, through the largess of those sterling philanthropists at Farrar, Straus and Giroux Publishers, share FIVE free copies of this phenomenal work.
Over the next few weeks, we will be giving away free copies of The Life of the Skies. Each giveaway will have different conditions. All of them abide by the following disclaimers: these giveaways are open to everyone and anyone with the exception of Mike, Charlie, Corey, and our immediate families; these giveaways have no cash value; we are the final arbiters of who receives each book; and all local laws, rules, and restrictions apply. (Lawyers in the audience are invited to help us bolster this boilerplate!)
Also, I'd like to thank Julie Dunlap of Pines Above Snow for helping brainstorm contests that are true to the noble spirit of the book. With her strong interest in literary approaches to environmental conservation, Julie brings invaluable insight into how a book like The Life of the Skies touches birdwatchers and nature lovers!
The rules for the first two giveaways are below. I'll be adding to this page as we introduce subsequent contests, so be sure to bookmark it. Also note that even if you receive a book from one contest, you're still eligible to receive other ones. Now have at it and good luck!
1. Help Spread the Word About These Giveaways
This contest, essential to the success of the others, is one of the easiest one to participate it. Simply help us promote the other giveaways of this book by publicizing it. Anyone who posts a link to this page on their blog or website, promotes the giveaways on a related forum or bulletin board, or submits this link to StumbleUpon, Digg, or any other social bookmarking site will automatically be eligible to win our first giveaway. Notify me of the link and you'll be added to the list from which we will randomly select a winner. Only one link per blog will count and links on multiple blogs generate multiple entries; as a matter of fact, the last time we ran a promotion like this, it was the person who spread the word on two different sites who won – total coincidence, but an example of how to play the odds! The deadline to spread the word about these giveaways is Friday, April 11.
Yes, you may reason that publicizing these giveaways may be contrary to your best interest since every additional participant may lower your odds of receiving a book. I should note, however, that by NOT publicizing them, you have no chance whatsoever of receiving the book earmarked for this giveaway. Anyway, as I like to say, this machine runs on karma. Do good and good shall be done unto you.
2. Submit your Photo of Birds in Flight
The title of Rosen's book comes from the D.H. Lawrence line: Birds are the life of the skies, and when they fly, they reveal the thoughts of the skies. Help us figure out what the skies are thinking. Submit your best photo or illustration of a bird or birds in flight to mike AT 10000birds DOT com with "Life of the Skies" in the subject line. This picture must belong to you and by submitting it, you give permission to include it, with attribution, on a compilation page of all the submitted images. All images must be 500 pixels wide by 250 pixels tall. We will not resize submissions, nor will we accept submissions that don't follow these dimensions.
Don't worry if you're not an amazing artist or photographer; the winner of this giveaway will also be determined randomly. By the same token, keep the stick figure swans and blurry flocks of starlings to yourself! The deadline for this contest is Friday, April 4.
WINNER: Grace Clark of Borrego Springs, CA
3. Comment on a Nuanced Statement
Jonathan Rosen asserts that birdwatching is intimately connected to a journey we all make to find a place for ourselves in a post-Darwinian world. What does that mean? Visit this page, peruse the quoted paragraph, and share your thoughts in the comments section. It's as easy as that. One random commenter will win! The deadline for this contest is Monday, April 7.
WINNER: Michele Kines
4. Receive by Giving
The Life of the Skies is like a gateway drug, potent enough to tempt a person from just reading about birdwatching to actually indulging in it. We want you to be the dealer. Identify someone you know, whose address you have and are at liberty to share, who isn't a full-blown birdwatcher yet but could be with the right impetus. Present the best case in one paragraph of 100 words or fewer for why your nominee would be the best recipient of The Life of the Skies and not only will he or she get one, but you will too. The deadline for this contest is Saturday, April 12.