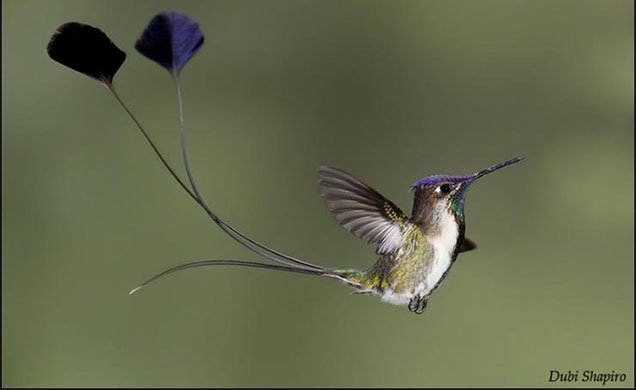 In preparing for my first trip to see the Marvelous Spatuletail (Loddigesia mirabilis), I decided to read as much as I possibly could. I had The Birds of South America by Rudolph Meyer de Schaunsee; which described the locality where this bird occurs, and had a brief description that highlighted the long tail feathers with terminal racquets. Back then, there were some odd paintings of this outlandishly ornamented hummingbird, but the graphic material at a time was nowhere near the stunning photos and videos now available on the internet.
Without a hummingbird feeders to ensure that we would see a spatuletail, we set off to look for one at the location given to us by other birders. It was not hard to find a spatuletail at the right flowering bushes, but they all looked to be either females or young males. Indeed it is now a well established fact that adult males are a small minority in the spatuletail population. After seeing many females and young males, which resemble the female, I saw a spatuletail that had two small, dark, skipper-like butterflies, seemingly revolving around the bird's body as it hovered at a flower. With the poor light conditions and a murky view, that was my first impression. I then realized that the bird was actually an adult male; it later perched on a branch and I was able to see the long tail and racquets!
My good friend Walter Mancilla put together this amazing video that shows adult males on display. You will see what I meant by two dark, skipper-like butterflies around the bird's body I saw during my first encounter with an adult male. Also, notice the nesting female, which I believe is the first ever video documentation of a spatuletail's nest.
Featured Photo: Dubi Shapiro