The Beat Writers at 10,000 Birds are perhaps the single greatest conglomeration of nature writers ever to be assembled in the history of the internet.  We are pleased to announce that such a stellar crew of scribes has yet another impressively talented member interpreting the natural world for the readers of 10,000 Birds.  That's right, there is another Beat Writer at 10,000 Birds!
Mike Freiberg is the latest addition to the amazing group that is the 10,000 Birds Beat Writers.  He will be posting every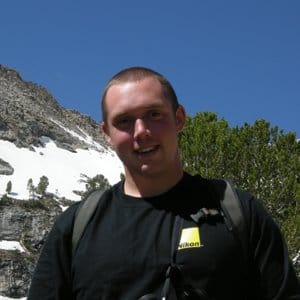 fourth Thursday about Bird Identification and /or the birdlife of the Rocky Mountains.  Mike is a familiar face to anyone who regularly attends birding events as he is one of the faces of Nikon Sport Optics for the birding world.
Mike Freiberg grew up in Philadelphia, PA, where his family introduced him to the world of birding. Over time the hobby grew into a career. He attended Iowa State University where he earned his B.S. in Animal Ecology. His summers during college were spent as a biological technician, monitoring breeding birds for Point Reyes Bird Observatory in Eastern Oregon, and also five seasons in Black Hills, SD, working for the Rocky Mountain Bird Observatory.
As his passion for birding grew he decided to travel Latin America; he has spent time in Mexico, Guatemala, Venezuela and a great deal of time in Brazil. One of his most memorable birding experiences was the six months spent in Northeast Brazil performing research on a new species of bird called the Araripe Manakin. Mike is currently the Birding Market Specialist for Nikon Sport Optics and provides outstanding content for the Nikon Birding Blog.
In addition to Mike joining up as a Beat Writer, there are other changes to the Beat Writer posting schedule.  All monthly writers will have their posts appearing either at 7 AM on Thursdays or at 1 PM on Sundays.  To see the exact schedule, please feel free to click through to the 10,000 Birds Beat Writer page.
We are excited about these changes at 10,000 Birds and hope that you are too.  Please help us give a warm welcome to Mike Freiberg. Welcome aboard, Mike!  We all look forward to your first post tomorrow!