This report on The Razorbills' day at the World Series of Birding was submitted by Hope Batcheller, the impetus behind the New York State Young Birders Club.  In it she details the day's efforts, efforts that were hopefully supported by at least some 10,000 Birds readers (you can still support the team for more info on how see the end of the post). It seems like The Razorbills had a great day and here's hoping they repeat these results (or better) next year and for many years to come!  By the way, all photos and text, other than this italicized section, are solely Hope's and she reserves all rights.

Last Saturday, May 9th, I participated in the World Series of Birding (WSB) in New Jersey.  My team, The Razorbills, consisted of five young birders from New York State: Brent Bomkamp (15), Benjamin Van Doren (15), Brendan Fogarty (16), Jacob Drucker (16), and yours truly.  We were raising money for the New York State Young Birders Club. As some of you sponsored our team, I suppose you'd like to hear what happened!
The WSB is a midnight-to-midnight birding and fund-raising event sponsored by the Cape May Bird Observatory that takes place annually in NJ.  During those 24 hours, our team traversed the whole state. From the Great Swamp National Wildlife Refuge, to the Wantage Grasslands and High Point State Park in the north, to mudflats and saltmashes in the south, we covered a huge variety of habitats.
My mom and I drove to NJ on Friday morning, where we scouted the Wantage Grasslands, High Point State Park, and Delaware Water Gap National Recreation area with fellow team member Benjamin.  Scouting is a crucial component to any successful Big Day, so even this small amount was very helpful.  On Friday afternoon we headed to the hotel where we'd spend the night (er, afternoon/evening).  There, we mooched additional scouting information from other teams (thank you Subadult Skuaz, Diving Dabblers, Redheads, and Hudson-Mohawk Merlins), before crashing into bed for a fitful afternoon's sleep.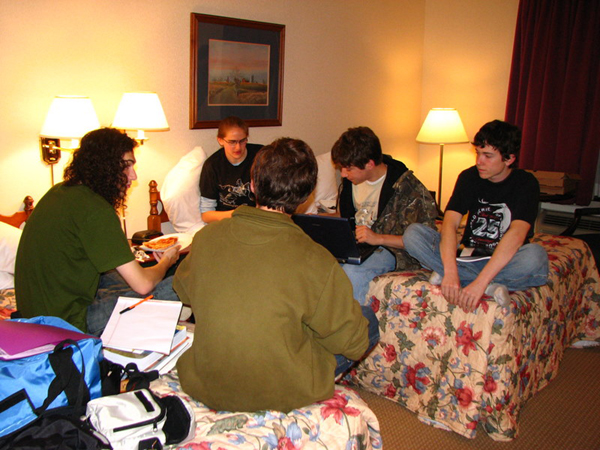 On a Big Day, timing and route planning are key.  If you waste time at one place, other stops will be rushed.  So, before heading out by 11:30, our team met and discussed our route plan: Great Swamp National Wildlife Refuge, north to the Wantage Grasslands and High Point State Park, south through the Delaware Water Gap, then a quick shot to Brig (aka Edwin B. Forsythe NWR).  From there, we'd visit other shorebirding locations, saltmarshes, and southern forest habitat across Cape May County.  A ridiculous itinerary, yes, but this whole event is ridiculous, so what else should be expected?
—–Random story time: Run-ins with other teams are often entertaining.  Teams are not allowed to share bird sightings with each other during the Big Day, nor commit acts of violence against each other, but there are no other rules governing encounters.  When there are 40+ teams running roughly the same route as you, you're bound to run into someone.  There were the people at the observation tower at Brigantine who scolded us for moving around and shaking their scopes (whoops, sorry…).  There are the teams who glare at you as you walk by (feeling competitive?), and others who smile, wave, and comment on the weather (makes you wonder what they saw that made them so happy).  Most helpful of all are the people who yell bird identifications and locations to their team members: fair game for any other teams in the area!—–
By midnight, we were at the Great Swamp, awaiting our first bird. Seconds after midnight, a whistled call drifted across the marsh…Sora!  Woodcock, Virginia Rail, and Marsh Wren soon chimed in their voices, too. Next stop, Wantage Grasslands (after getting lost along the way, and laughing at the GPS unit's voice). The grasslands were, in one word, wet. We managed to hear a Yellow-billed Cuckoo's flight call over the rain, though, and soon Grasshopper and Savannah Sparrows began their dawn songs.
Now that daylight was fast approaching, the pace picked up. We zipped away from the grasslands, on to High Point State Park. Cruising with the van doors open yielded several needed species, including various warblers (Wilson's!), Yellow-bellied Sapsucker, and a Ruffed Grouse. Continuing south, we gradually picked up other new birds. Culver's Lake, a migrant hotspot, was excellent, and other locations yielded Red-breasted Nuthatch and Golden-winged Warbler. By 9:30 we were on the road to Brigantine: right on schedule.
—–Random story time: To elaborate on the GPS unit…it gave directions in a creepy, low, echoey-room, evil-sorcerer voice. In addition to the regular turn-right-in-one-half-mile directions, it also had other things to say. Instead of saying "recalculating" when you take a wrong turn, it said, "let me consult my magic book." And at 2:00 am when we'd been on the highway for half an hour (and it happened to be a full moon), it randomly warned us to "Beware of hitchhiking werewolves."—–
Unfortunately, we didn't to so well in the south. Waterfowl were notably lacking at Brigantine, and our areas for southern passerines were dead silent ("cardboardy", as Jacob would say). We did get Red-headed Woodpecker at Tamerlane Campground (sketchy place…most of the trailers' decor included something involving Budweiser). And Purple Sandpiper was at the Concrete Ship off Cape May Point. And the Black-necked Stilt, rare in New Jersey, was at the Cape May Meadows. And the Cattle Egret. And the Yellow-breasted Chat… Ok fine! It wasn't tooo bad, just the waterfowl and herons were lacking.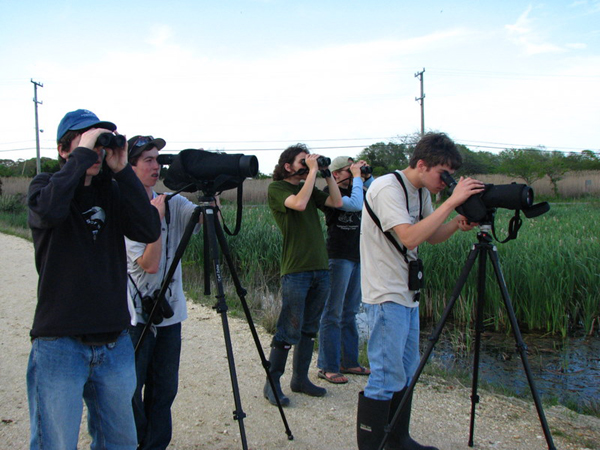 —–Random story time: At Higbee Beach, at Cape May, mosquitoes were everywhere. Daylight was fading, and we weren't sure where to look for our desired birds. We were mildly exhausted, too. After some arguing, we decided to check a spot where Benjamin had seen a Yellow-breasted Chat last fall. Swatting at mosquitoes, we waited impatiently for anything to call. Ah-HA! White-eyed Vireo – a new bird for the day! Not bad for this random place…as least these mosquito bites were worth the bother. No Yellow-breasted Chat yet, so Brendan started doing a joking imitation. To say the least, this "imitation" was hilarious, and we were all silently roaring with laughter. Suddenly, from the bushes, a real chat responded with a single call note. My jaw dropped, but not everyone had heard it, so Brendan continued imitating. The chat responded again, this time with a call followed by a short trill. We all burst out laughing, and much colorful language was used.—–
More thunderstorms and rain kept us in the car for a while (thank heavens for the car, as one lightning bolt hit 30 yards away…), and soon darkness came on. We unsuccessfully visited a few more night-birding locations before heading to the Finish Line.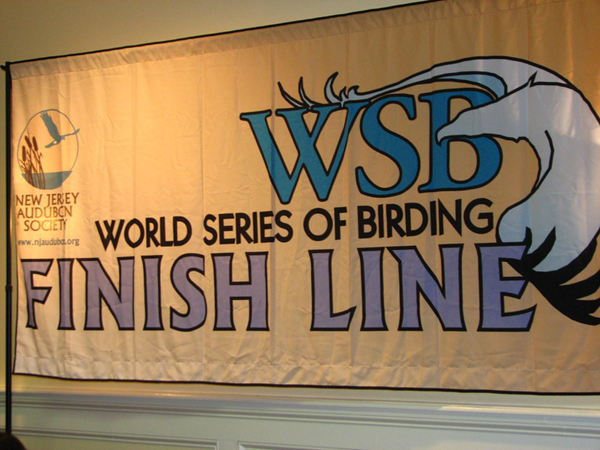 Our total of 175 species placed us third in the youth division, and 12th overall (out of 7 in the youth division, and 75ish overall). It was a great day! Many thanks to those who supported us; our team raised over $1500 for the NYS Young Birders Club!!! Looking forward to next year…
Good birding, and enjoy the rest of May,
–Hope Batcheller
P.S. If you're still interested in making a pledge for the NYS Young Birders Club, it's not too late! Shoot me an email at: hope.batcheller AT gmail DOT com.