It has been virtually forever since I last visited Jamaica Bay.  And by virtually forever I mean, of course, that it has been since 20 September, over four months, since I last laid eyes on the West Pond, the North Gardens, or any other portion of the wonderful wildlife refuge that has provided so many memorable birding moments.  Of course, this meant that the refuge was not happy with me and decided to try to kill me.  Not surprisingly, mud could not be used, mostly because it is winter and the mud is buried under snow and ice and is frozen itself.  No, the refuge used a bird and treacherous footing to try to take me down.  Happily, the diabolical plan of the sentient wildlife refuge was foiled and I came out on top though I now fear what might be waiting for me should I dare enter the confines of the East Pond this coming summer.  Huh?  Keep reading and this will eventually make sense.
Regular readers will understand my love-hate relationship with Jamaica Bay Wildlife Refuge.  I love the refuge but it hates me.  It has tried to kill me before, both by starving me and sending hordes of bugs my way and by setting a pit trap and stabbing me.  Despite my two near death experiences at the refuge I visit often because the birding there is some of the best in Queens.  So with a morning to myself that I could use for birding purposes this weekend I figured why not take mass transit to Jamaica Bay and see a bunch of birds that I have not yet seen this year in my home borough?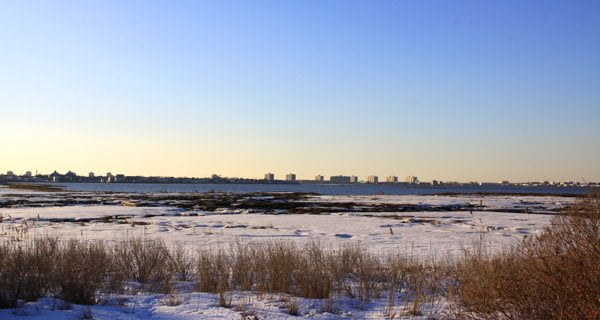 It was a quarter to eight when I stepped off the Q53 LTD bus on Sunday morning and the sun was shining brightly onto gleaming white snow and ice from a bright blue sky.  The new bird feeders behind the visitor center, there after tireless lobbying by the Birding Dude, were oddly bereft of birds, and the only passerines I spotted on my slide to the West Pond were White-throated Sparrows.  And, yes, I said "slide" because that was essentially how I navigated the slight slope from the visitor center to the south edge of the West Pond.  The trail was icy!  I was very glad that I had my spotting scope along as its tripod served as a walking stick and saved my bottom from meeting the ice at high velocity several times.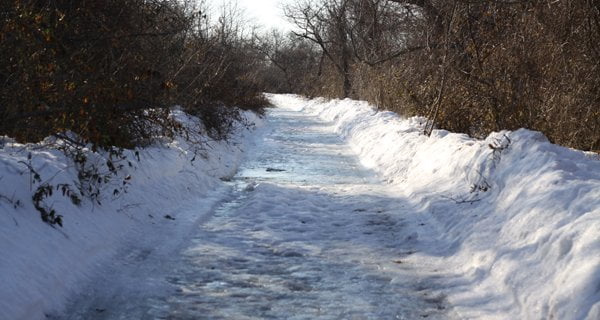 Once I actually reached the West Pond I as disappointed that the only only opening in the ice held only Canada Geese and American Black Ducks.  A scan o the bay, however, turned up a variety of birds, including my first Snow Geese of the year, lots of Bufflehead, some Great Cormorants, and Common Goldeneye.  When I stopped scanning a started moving again the sun had melted just enough ice to put a thin layer of water on top of the frozen stuff, making the trail even more treacherous.
Once I rounded the corner at the far end of the pond I was starting to regret having decided to walk the entire West Pond loop.  Then a small bird flitted up from one of the few bare patches of gravel and perched on a snow bank.  It was a Snow Bunting!  And it was my first ever in Quee…no, no, the far west edge of the West Pond is technically over the border in Brooklyn!  I still wanted a picture so I started to set my scope down at which point my feet flew out from underneath me and I barely averted breaking my neck.  The sudden motion flushed the bunting which flew due east, straight into Queens!  Yes!  A new Queens bird!  And Jamaica Bay had failed in its attempt to kill me!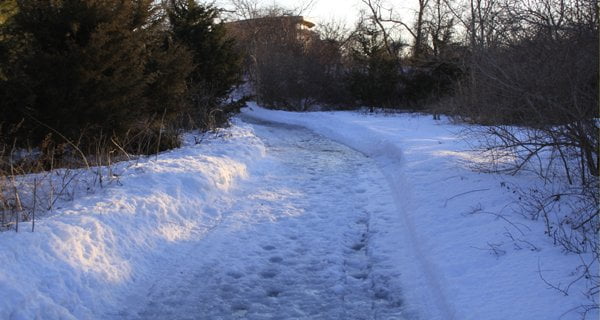 After the bunting the rest of the birding was anticlimactic.  Sure, I added Northern Mockingbird to the day list, as well as another mimid, a Gray Catbird.  And, yes, I slogged through snow to the East Pond and saw some waterfowl over there in what little open water there was, including several Northern Pintails and a Common Merganser.  But I wasn't going to top a brand new bird for me in Queens, that's for sure!  Rather than press my luck and give the refuge another opportunity to kill me I hopped on the bus and made my way home, surprising Daisy and Desi by getting home over an hour before they expected me.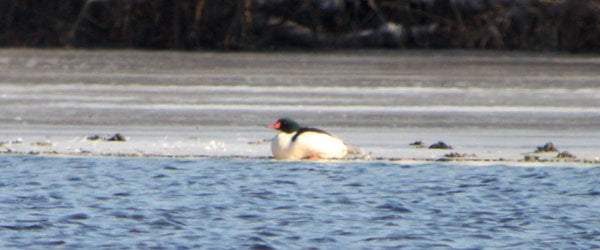 I can't wait for spring!
…