Nothing is quite as much of a downer to a birder than the summer doldrums. Migration hasn't really kicked in, the breeders aren't tied to breeding territories any more, and it is hot and sweaty outside. Uncomfortable weather and a lack of birds make birders grumpy. What can a bird blogger do but try to write his way out of the summer doldrums? Nothing! I'm sorry, dear reader, for inflicting upon you once again my dreadful doggerel.
The Summer Doldrums
Winter is cold and covered in snow
And spring can be fickle like fate.
Fall can be bad when the winds fail to blow
But none are as bad as the season I hate.
Sweat sticky and salty slips into my eyes,
The sun beats down and my patience it tries,
The birds go quiet or into disguise
In the season I loathe and despise.
Summer is horrid. Summer is gross.
It makes me florid. It makes me morose.
Those who like summer are sick in the head;
The proper reaction to summer is dread.
How can you bird for a day in the summer?
Look for shorebirds? Man what a bummer.
Seeing a godwit, plover, sandpiper?
I'd rather be blasted to the belt named Kuiper.
Stilt Sandpipers. Yippee.
What other birds can you find in summer's dog days?
What birds can you pick out from the heat and the haze?
Sparrows are missing; wood-warblers vamoose.
Who wants to spend time with a Canada Goose?
Tanagers, woodpeckers, gnatcatchers – missing!
Birders are left with just reminiscing
About spring's migration and rare bird surprises
Or even, horribly, watching butterflieses.
It is disturbing what birders will turn to
In desperation for something to watch.
Me? I'd rather just drink a cold brew
Or even a glass of nice blended scotch.
Driven to drink by summer's hold
Is something I never considered.
But when there are no birds out there to behold
A birder can't help being embittered.
There is nothing we birders can do
To hurry to the end of the summer.
All we can do is make it through
While we try to avoid being glummer.
Soon we will enjoy the winds from the north
And hordes of migrants will surely burst forth.
Autumn will come, the leaves will change shades
And forgotten will be blogger's summer tirades.
The earth will continue its trip round the sun
And winter and spring will start and be done.
It will be June and then the solstice –
Ended will be three seasons of bliss.
I must become a reverse Arctic Tern
Spend northern summer in Australia and then return
To the north once the sun has passed its zenith
I think I'll start this plan forthwith.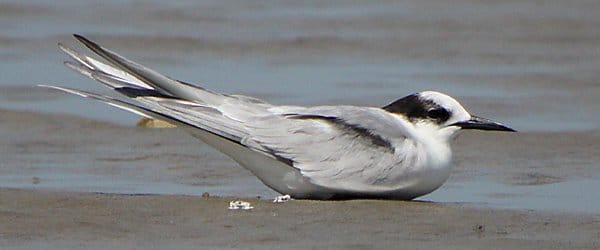 Arctic Tern – the opposite of what I must be
Though it is undoubtedly true
That if with this plan I went through
I would complain about those darned kangaroos
So I'll just stick with what works – a nice cold brew!
Summer is best spent drunk and indoors.
That's how I'll spend mine – how about yours?
…
If you liked this post and would like to browse the entire archive of poetry posts on 10,000 Birds please check out our Bird Poems page.
…