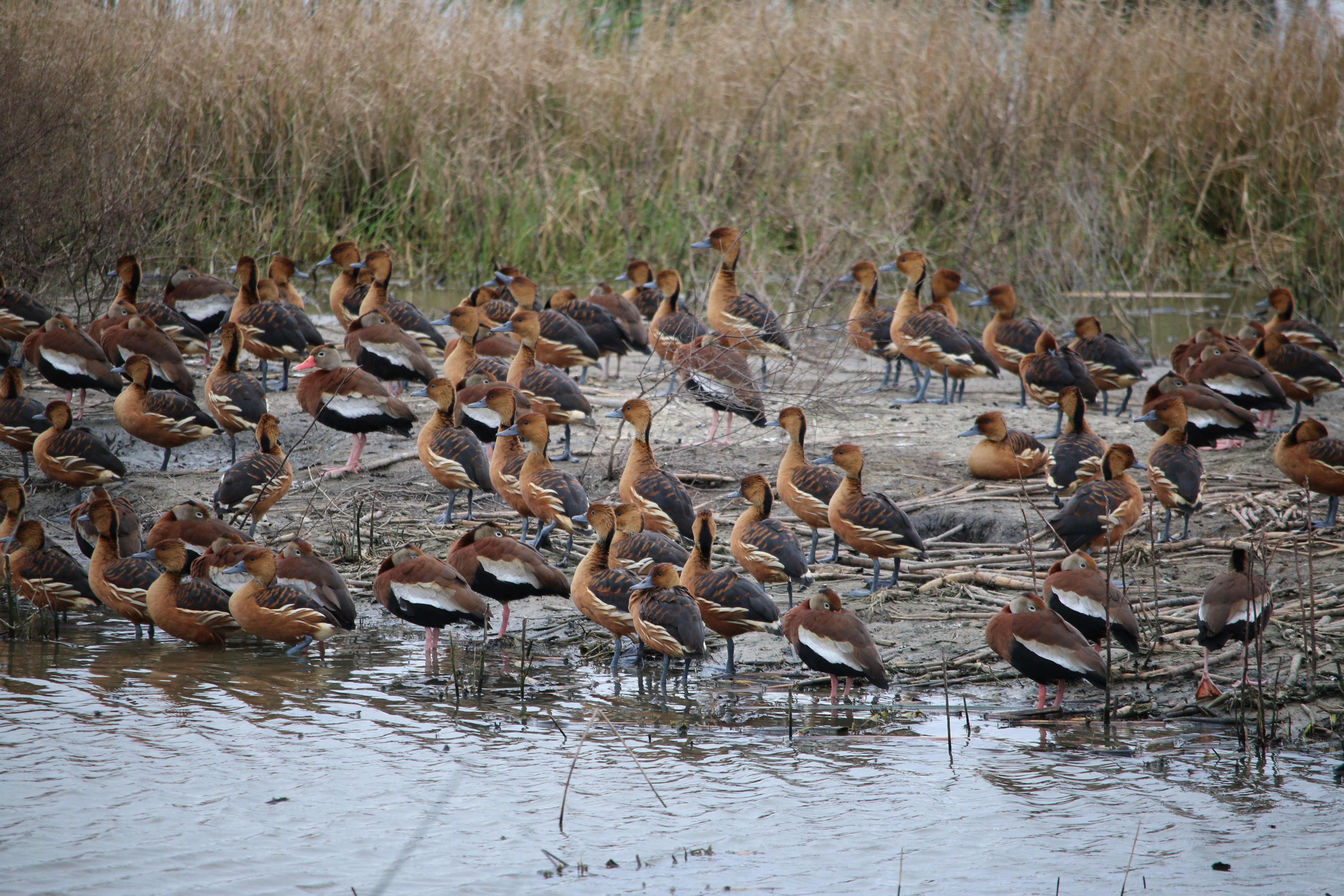 I couldn't believe it. On a sandbar in the center of the Anahuac National Wildlife Refuge, hundreds of ducks swirled around each other or lay down to take cover against the punishing wind. February had brought zipping breezes and cloudy skies to this part of coastal Texas, but the birds didn't seem to mind. What made my eyes widen? The waterfowl flock was made up of two very unique looking species: the Fulvous and Black-belled Whistling Ducks. Not only had I never seen the two together, I had never seen Fulvous Whistling Ducks at all!
Encompassing over 30,000 acres, the refuge protects birds of course, but also butterflies, mammals, and more. The driving loop provides ample viewing opportunities of the surrounding wetlands, and a wooden boardwalk takes birders close to the action. My husband and I zipped up windbreakers and pulled down hats to stay warm as we traversed the raised path, watching Common Gallinules, White-Faced Ibis, and American Coots probe for food along the exposed mud.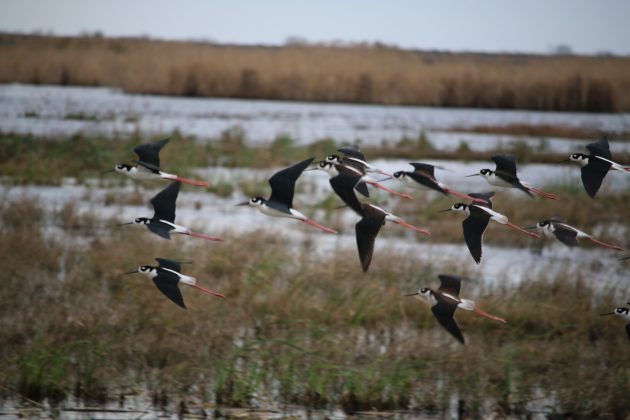 A flock of Black-necked Stilts flies past me.
While the whistling ducks may have been the highlight, there were birds everywhere. In the distance I spotted two species of cormorants, and as we watched the water an entire flock of Black-necked Stilts made a pass before settling down in the waving reeds. Gadwalls mixed with Green-winged Teals in the shallows, while Northern Harriers and Bald Eagles searched for prey from the skies above.
In different circumstances, I would have remained on that boardwalk for hours, letting the different migratory species making this refuge their stopover reveal themselves one by one. But it was just too cold. Now, I'm from Maine, and I was bundled up. You'd think I would be able to stand the frigid temperatures, but the dampness of the Texas coast was just too much when mixed with the driving winds. After noting as many species as possible, I high-tailed it back to the car. We drove slowly along the loop road, with the windows down, but the views didn't compare to those from the boardwalk.
Have time along the Texas-Louisiana coast? I recommend stopping in as many of the wildlife refuges as possible. With nearly a dozen to choose from, there are habitats for every birder!