If I had to give up any one month of Northeastern United States birding, April might just be the one. Winter's own waterfowl and arctic specialties have finally flown, but the bulk of spring's migrants have yet to arrive. Yes, some travelers do trickle in each week, including the first warblers of the season. But since I destined to be denied a decent look at an American Woodcock, I'd just as soon spend April abroad to return for May migratory fireworks.
Unfortunately, I'm not going anywhere this April, so the Core Team determined to make the most of this past weekend by getting outside before the deluge hit. The second largest recorded amount of rainfall in NYC history puts a damper on even the most ambitious weekend plans. But we were lucky enough to make it to Marshlands Conservancy the day before the skies broke.
The big draw of Marshlands Conservancy is an easy path that puts you right on the Long Island Sound. The rugged, mussel-encrusted shore promised lots of "seaweed adventures" for Mason; he finds scrambling across perilously slick rocks just to ravage another bed of bladderwrack, popping each vegetable balloon between his little fingers, to be great fun. Keeping one close eye on my intrepid offspring, I focused the other on my first Osprey of the season, newly settled into the local platform. The sound still sustains plenty of Buffleheads, along with the usual waterfowl, but I also spied possible scaup, goldeneye, and a lone loon, probably Red-throated, in the distance. I also noted a pair of flashy Greater Yellowlegs, a set of Snowy Egrets, and possibly a Willet, though I'm not sure about that last one.
The land birds were all expected species, from the iridescent Wild Turkeys that greeted us to the common woodpecker species – Downy, Red-bellied, and Northern Flicker – that followed as along the trail. I'm always happy to see titmice, jays, cardinals, mockingbirds, robins, and the like, but the songbirds that sustained me through winter aren't enough anymore. That's why I was so happy to see Tree Swallows back in their houses, the uncontested masters of a broad swathe of brown meadow. These agile birds, brilliant in a hundred hues of shimmering blue, are among the first species to arrive in spring. It's fitting that they get the stage to themselves for a while, because they've got serious star power!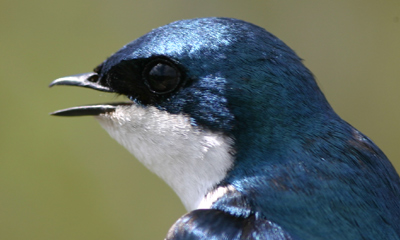 Tree Swallow