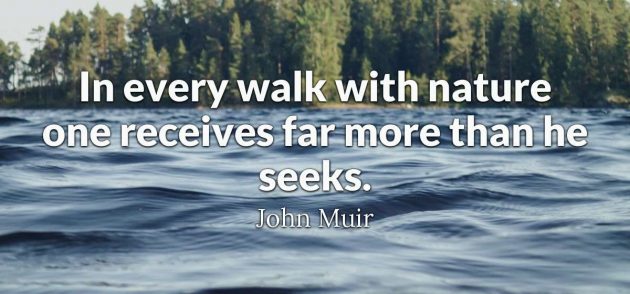 As we enter the second century of protecting, preserving, and respecting our wild spaces, certainly no one would actually consider undoing, reversing, and exploiting our national parks, forests, and monuments. Right?
And yet, it has begun.
Minnesota's Superior National Forest is now on the radar for underground mineral mining. In an area known for 'the cleanest water in the world,' 234,000 acres were sheltered from mining exploration…until now.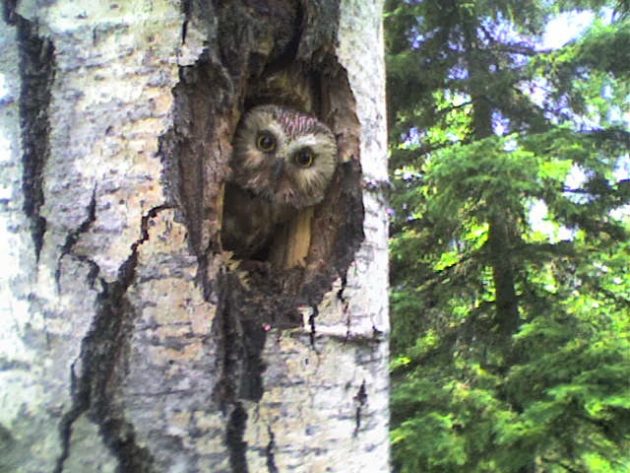 Saw Whet Owl, Superior National Forest. Photo by © Albert Herring
Under fire for the last 30 years at varying degrees of effectiveness, the pristine Arctic National Wildlife Refuge is threatened again by salivating oil company execs and their political cronies.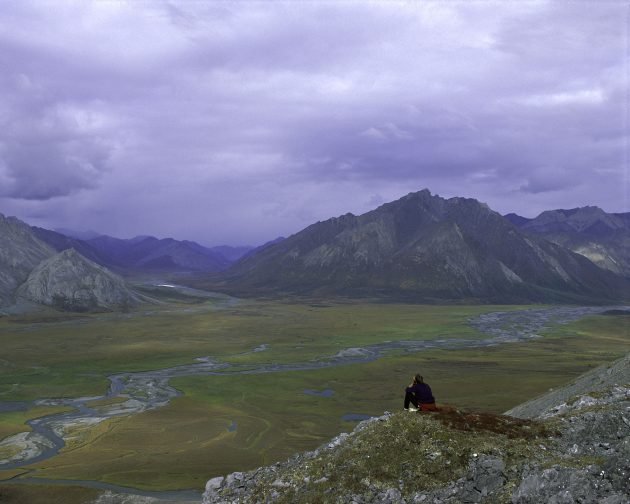 Arctic National Wildlife Refuge. Photo courtesy of Steven Chase, USFWS
Chaco Cultural National Historic Park, a World Heritage Site in New Mexico, teeters back and forth with ongoing lawsuits. Rich with archeological importance, this area is in the path of light, noise, and air pollution from oil and gas extraction.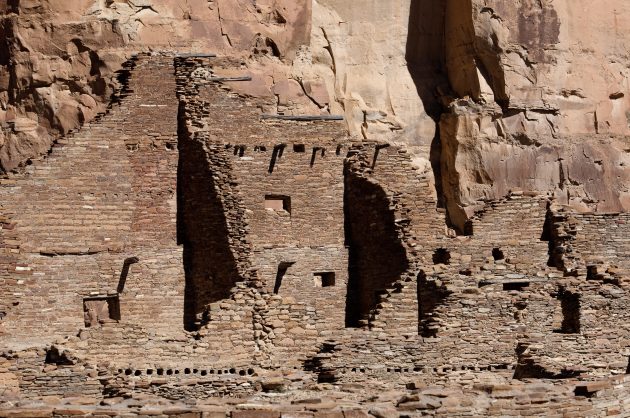 Chaco Cultural National Historic Park. Photo by © P Sullivan
As recently as May of this year, the current administration proposed a Bureau of Land Management auction of 4,200 acres of public land in northern Arizona. The area crosses the Little Colorado River and lies within three miles of the Petrified Forest National Park. Oh, did I mention the auction is for drilling and fracking WITHOUT those pesky encumbrances of public and environmental reviews!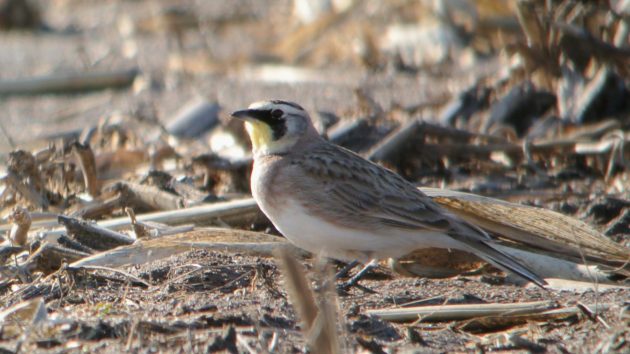 Horned Lark. Photo by © Andy Reago & Chrissy McClarren
The Bears Ears National Monument (a protected public lands designation given to sitting presidents under the Antiquities Act) recently lost 1.1 million acres, or 85% of our public land, with the stroke of a pen.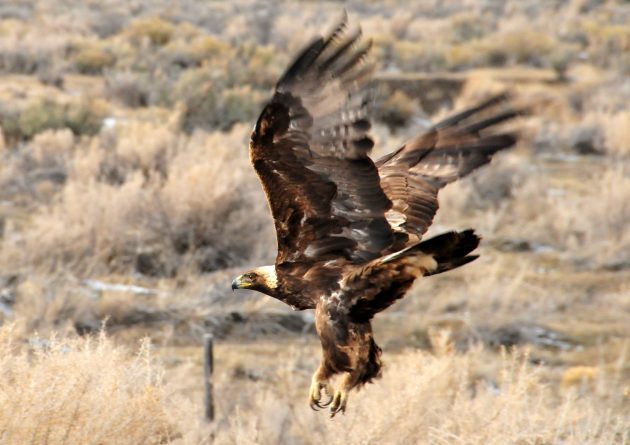 Golden Eagle. Photo courtesy of USFWS
The Grand Staircase-Escalante National Monument was similarly stricken by half.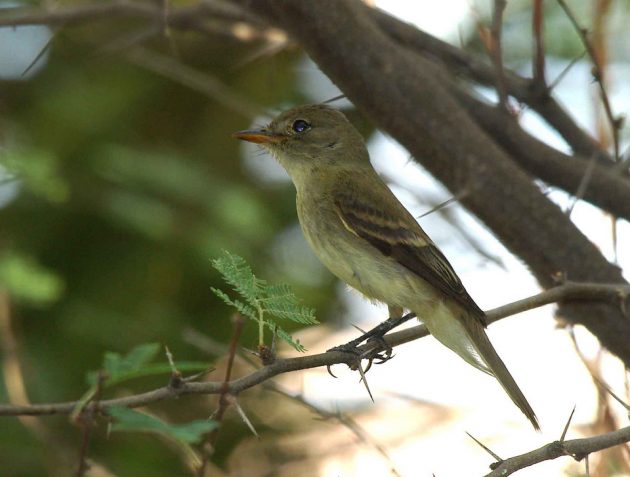 Southwestern Willow Flycatcher. Photo courtesy of USFWS
This is the first presidential reversal in nearly six decades, during which time we've expanded our understanding of habitat preservation and the interconnectedness of all life on our planet. Or at least I thought we had…
So I sign petitions and write articles like this one. As a stakeholder in the health of our environment, I also communicate regularly with the decision-makers. Below is the (form) letter I received about my disapproval of 1) drilling in any of our protected lands, and 2) the 'reclassification' of public lands for the benefit of resource extraction. After all, removing resources is the exact opposite of protecting resources.
Here's the not-altogether-unexpected reply: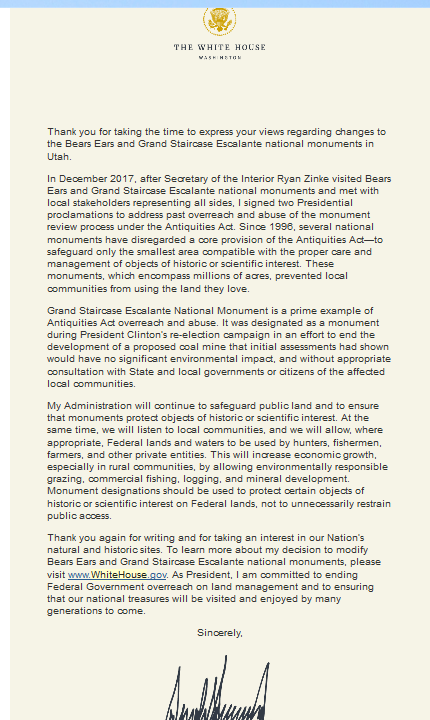 The 'official' response to my letter of concern. © The White House
I was going to highlight the inaccurate parts. But, alas, I'd have colored practically the whole letter. The main touch point used by the current administration continues to be "protect" us from "overreach and abuse." What needs protecting are our habitats, wildlife, clean air and water, et. al from abuse of power!
The verdict is still out on whether presidents can legally shrink national monuments (as this was too ridiculous to consider when the Antiquities Act was writ).
Perhaps the better question in the current race to destroy our public lands is this: Will we allow the climate deniers, polluters' puppets, environmental nightmares, and their unqualified leader to scribble away a century of protections?
Join me, won't you!?
Minnesota's Superior National Forest PETITION
Arctic National Wildlife Refuge PETITION
Chaco Cultural National Historic Park PETITION
Little Colorado River PETITION
Bears Ears National Monument ACTION
Grand Staircase-Escalante National Monument PETITION
~