I like to fish every now and again, especially if I can get out on a boat. A group of us decided to find out what the island marinas had to offer us. I really wanted to go out on a pelagic birding trip, but the only one around embarked out of Cape Hatteras, 78 miles to the south. A fishing boat at least promised the chance to see a stray pelagic bird.
Fishing out of Long Island or New Jersey, I've never had trouble getting a seat on a head boat. Captains in those places seem to have a keen awareness of the demand for their services and fill it admirably. Not so on the Outer Banks. We could not for the life of us get onto a head boat. This is not too hard to believe since there were only two boats servicing the 40 or so mile stretch of island from Corolla to Oregon Inlet. Two boats to meet the fishing needs of thousands and thousands of vacationers. Pathetic. It's obvious that the marinas are desperate to push their charter services, but anglers looking for a $30 spot on a head boat are a different market from those willing to spend $1000 on a day of deep-sea fishing. Even worse is the fact that the boat out of Oregon Inlet won't even take reservations over the phone. As luck would have it, this was the one we called. What a disappointment.
As a consolation for all of the driving, we rented some rods and fished off the Nags Head Fishing Pier. Although we caught nothing worthwhile, I was nice and close to the seabirds and even spotted a new bird on the beach, a Willet in a territorial dispute with some grackles.
On the morning of our last real day at the Outer Banks, Sara and I launched kayaks out of the Currituck Heritage Park. The water was a bit rough, but that just made the paddling more fun. Shorebirds were scarce, but we added a lifer anyway, a gorgeous Wilson's Plover. We also spotted one lonesome American Black Duck. The other seabirds, the gulls and terns, were more interesting anyway.  They let me float incredibly close as they perched on their pilings. We got great looks at Royal and Forster's Tern, as well as some intense looking Osprey.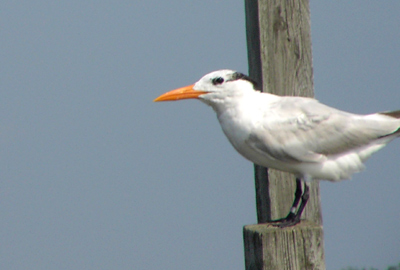 Royal Tern
And then our OBX experience was at an end. We loaded out and shipped out early for parts west. We were dropping in on some family near Winston-Salem, NC while we were in the state, albeit almost 400 miles away. From there, it would be D.C. Metro area and then home.
As the loblolly pines of the Carolina coast gave way to taller conifers and hardwoods, our family obligations took precedence over birding.  The total for the trip was 1532 miles, 50 species, and 4 lifers. The Outer Banks are an ideal vacation spot. However, August does not offer a lot of variety as far as birds are concerned. That's alright, because birding wasn't really our focus. I think any time would be a great time to visit OBX.